Theater
Review: Conviction at the Rubicon Theatre
Carey Crim's New Drama Feels Stubbornly Old-Fashioned. On Wednesday, September 10.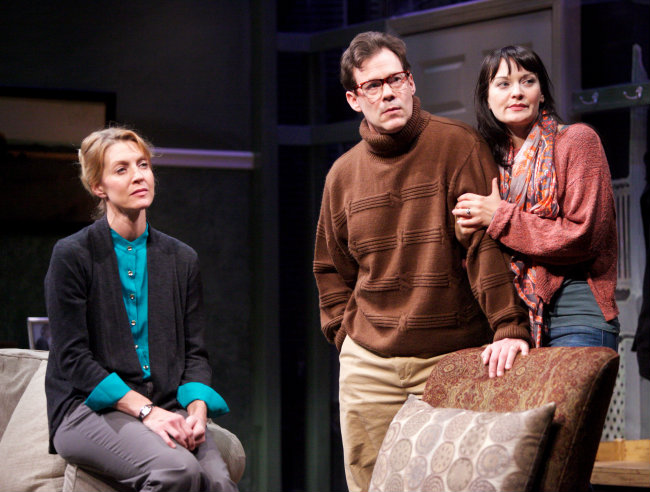 The odd thing about Carey Crim's new drama Conviction, currently running at the Rubicon Theatre, is how stubbornly old-fashioned it feels. Written in the style of kitchen-sink realism (the actual setting is a suburban living room) and addressing a hot-button social issue (in this case, forbidden intimacy between a teacher and student), it comes across as a lost play from a 1950s anthology. True to the rigid structure of dramas from that era, it even features a character implausibly blurting out damaging revelations as the climax approaches. This may be a world premiere, but it's also nostalgia night.
Tom Hodges (Tom Astor) is a popular high school theater teacher. As the play opens, he, his wife Leigh (Elyse Mirto), and their best friends Bruce (Joseph Fuqua) and Jayne (Julie Granata) are drunkenly celebrating following the opening of his Romeo and Juliet. A late-night phone call from the principal leads to a blackout.
When the next scene opens, three-plus years have passed, and Tom is just returning from prison, convicted for having sex with one of his underage actresses. Leigh and their teenage son Nick (Daniel Burns) have done their best to cope in his absence, but his homecoming, while welcome, opens up lots of old wounds. Tom continues to proclaim his innocence, but even those closest to him have their doubts, and their wariness makes it difficult to settle back into old, comfortable grooves.
Leigh, an overworked, harried nurse, is in some ways the central character. Her need to believe in her husband's innocence takes an enormous emotional toll on her, especially as she watches her son sink deeper into delinquency. While Murto does a fine job in conveying her jumble of emotions, she can't do anything about the fact that Leigh, and the others, feel more like generic elements to convey plot and theme rather than fully rounded human beings. Their lack of definition — making Tom a walking font of trivia hardly gives him a distinctive personality — seriously mutes what should have been a devastating final scene.
Conviction was workshopped at the Rubicon; this world-premiere production originated earlier this year at the Bay Street Theatre in Sag Harbor, N.Y., with a different cast. Director Scott Schwartz shapes the scenes well and elicits fine performances all the way around, with Fuqua particularly vivid as the nerdy history teacher who stands by his friend and former colleague. Anna Louizos' set seems rather conventional at first, but offers some interesting surprises as the evening unfolds. The play, alas, does not.
Conviction runs through Sunday, September 28 at the Rubicon Theatre (1006 E. Main St., Ventura). Call (805) 667-2900, or visit rubicontheatre.org for tickets and info.