News
Unfair Sentencing in Santa Barbara?
Protesters Question Justice System at Vigil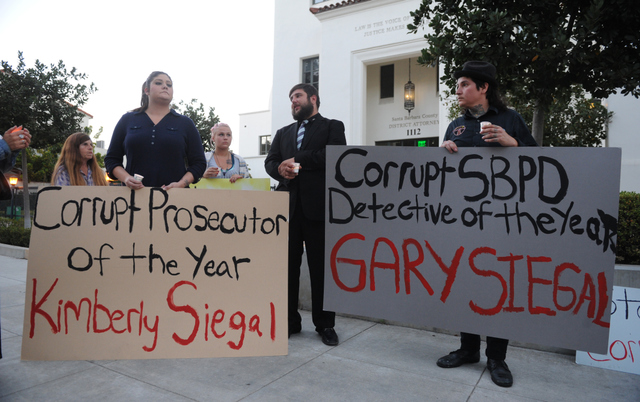 Editor's Note, 9/17/14: An earlier version of this story incorrectly stated that Adriana Jaimes had registered as a gang member.
"They are more worried about our tourists than our little ones," said Marcie Mendoza of Santa Barbara city and county officials Thursday night at a vigil held by the advocacy group PODER to shed light on unfair trials and sentencing. Mendoza said she has a nephew who pled guilty to murder and is serving an 11-year prison sentence. Although there was no evidence of his guilt, she claimed, he did not want to risk a worse punishment than the 11-year sentence he received. She has another family member, she said, who received a $20,000 bail for stealing a beer from Trader Joe's.
Meanwhile, the activists are decrying the fact that a man who threw a Molotov cocktail at the Isla Vista Foot Patrol station was released without bail and with words of encouragement from Superior Court Judge Clifford Anderson, who told him, "You've got a lot of people who are rooting for you and a lot of people who think you need help, so keep in mind that you've got a lot of friends out there."
"If that were anyone else," said Brandon Morse, a UCSB student involved with a number of area political organizations, "they probably would have been facing terrorism charges." If Elliot Rodgers, responsible for six murders in Isla Vista, were Latino, Morse conjectured, when his mother called the sheriff for a welfare check, not only would they have checked to see if he owned any weapons, they would have sent a SWAT team.
A handful of about 20 attendees at the vigil were related to men charged by the DA with robbery and gang enhancements relating to an incident on August 22, 2012. Those include Adriana Jaimes, who faced charges for having contact with her husband while he was allegedly evading police. Her husband, Luis Jaimes, is serving a five-year sentence. Adriana took a plea deal, the conditions of which included her registering as a gang member, she claimed. (Her plea actually did not require her to register.) Currently studying nursing at SBCC, she says she will have to leave town after her husband is released because he will have two strikes on his record.
PODER member Marissa Garcia said that prosecutors will often, rather than seek the truth, threaten and scare defendants in order to coerce them into taking a deal. She also feels that it will be difficult for her husband to get a fair trial after the police publicly shared his photograph and named him as a suspect arrested in a major police operation called "Falling Dawn."
Furthermore, she worries that the prosecutor on the case, Kimberly Siegel, is married to Police Detective Gary Siegel, who testified in the gang injunction trial. "Detective Siegel fared miserably on the stand with the injunction," said Garcia, referring to the fact that Judge Colleen Sterne, in rejecting the city's petition for an injunction, criticized the statistics that the Police Department presented. "A flaw exists when a prosecutor is relying on testimony by a member of the police force whose report is crucial for the benefit of the prosecution," she wrote in a press release. "Kimberly Siegal has personal interest in protecting her husband, his career and their livelihood."
Although he would not comment on the specific case, Assistant District Attorney Hilary Dozer said that accusation rests on the assumption that Kimberly Siegel prosecutes cases that her husband investigates. He said that whenever the DA has concerns about an actual or perceived conflict of interest, the office submits the case to the California Attorney General for review. Furthermore, he said, "If it appears to someone that a conflict exists, we can present those facts to the judge, and the judge can make a decision based on the actual facts that exist in that case."
Another defendant in the case, Christian Botello-Ontiveros, has chosen to go to trial. His girlfriend, Rosemary Perez, attended the vigil with their one-and-a-half-year-old son. "Not only does it affect him, but it affects his children and his family," she said of the possibility of incarceration.
But a confluence of mandatory sentencing laws, racially unequal enforcement, overburdened public defenders and prosecutors, and overzealous policing have led to a degradation of justice for all, said the activists who organized the vigil. According to PODER, Santa Barbara has a 70 percent pretrial incarceration rate, meaning that 70 percent of the people in the overcrowded County Jail are still awaiting trial. That rate, according to them, is about 10 percent higher than Los Angeles County.
Morse added that with the paltry pay for jurors, working-class people who are also often of color are unable to sit on juries; defendants are thus not adjudicated by their peers. For all these reasons, he is calling for an independent police oversight committee with subpoena power.
"Our right to due process," Morse said, "has fundamentally broken down."