News
Climate Change in the Air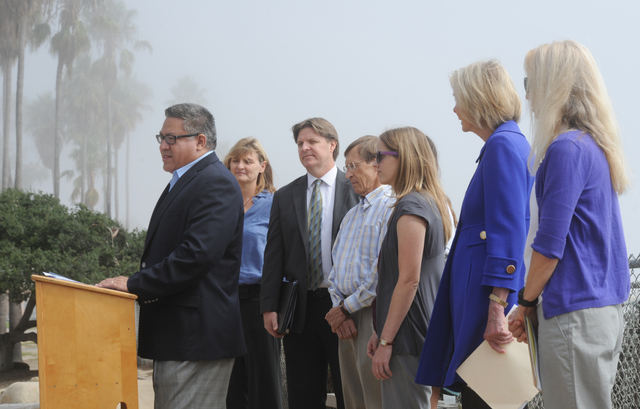 Standing with their backs to heavy fog pierced by beams of sunlight, area politicians and UCSB researchers gathered on Wednesday near the bluffs at the university to participate in a round-table discussion about the nexus between national discussions and local efforts to combat climate change.
Mentioning the massive New York City protests calling for international action, Representative Lois Capps spoke about happenings at the national level. Capps talked about her recent efforts, including providing funds to spruce up water infrastructure to prepare for climate change side effects like drought, monies specifically for coastal regions, and research grants to tackle public health impacts like heat waves and respiratory illnesses.
Last November, Supervisor Salud Carbajal headed for Washington, D.C., to participate in a Climate Change Task Force — partly on a recommendation from Capps. Together, Carbajal said, the 26-person panel proposed 500 recommendations to help governing bodies create resilience to natural disasters, agriculture, and public health. Those hundreds of recommendations will be compressed into 50; a report is to be published on October 3.
Carbajal said his recommendations largely include ones dealing with public health, transportation, and housing. Also crucial, Carbajal said, are vulnerable populations that are hit the hardest when disasters strike. To help solve this, Carbajal said we should "focus on making resources are there in advance."
In July, President Obama announced a number of actions, such as federal support for smaller governments to build better infrastructures to prepare for impacts of climate change, design preparedness plans, and allocate resources to Native American tribes; some of these proposals were included in Capps's bills.
Representing UCSB was Monique Myers, who told reporters about an assessment — funded by a program through NOAA — to study the vulnerability of beaches, wetlands, and watersheds spanning the South Coast. The results are expected to be completed by the end of next year.