Sports
UCSB Soccer Pulls Off Spectacular Win
Nick DePuy's Last-Minute Goal Stuns No. 3 UC Irvine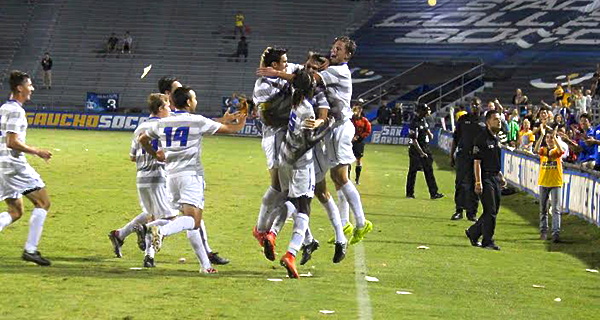 Nick DePuy is making it a habit. The sophomore sensation netted his second consecutive game-winning goal, this coming in dramatic fashion. With the game seemingly heading to overtime, DePuy unleashed a left-footed shot from 35 yards that went over the outstretched hands of UC Irvine goalkeeper Michael Breslin and into the back of the net with a mere 36 seconds left in the regulation, giving UCSB a 1-0 victory over the third-ranked and previously undefeated Anteaters in a Big West soccer match in front of 4,731 at Harder Stadium. "You cannot script a game like that," said UCSB head coach Tim Vom Steeg.
Winning late versus UC Irvine has been routine for UCSB in recent years. Two seasons ago, Nic Ryan beat the Anteaters with a game-winning goal in the second overtime. Last season, Kevin Garcia-Lopez gave the Gauchos the win with under two minutes left.
DePuy knew what he needed to do as Vom Steeg reinserted him into the tense match with 15 minutes left in regulation.
"With 15 minutes left I asked Nick how he felt. He said he felt good. I said, 'How's that left-footed shot?' He said, 'It's great, it's ready to go.' I said, When you shoot it, make sure it's in the right-hand corner," said Vom Steeg, jokingly, of his conversation with DePuy. "So, I directed him exactly how to do that one. So, I put him back on the field."
While it didn't happen exactly like that, Vom Steeg has worked his personnel magic once again. Vom Steeg, in his 16th season as head coach of the Gauchos, is renowned for his ability to move players around the field, and get the most out of them. Since being pushed up to forward from the midfield, DePuy has scored three goals in four matches.
"You know how it is, you start kids in the back. It's the (Chris) Pontius rule," said Vom Steeg, referring to the star forward of the 2006 national championship team who is now a standout player in MLS with D.C. United. "You start them in the back and you keep pushing them forward, until they keep scoring. It took us too long to do Pontius. (Luis) Silva, should've done it his junior year, but waited until his senior year. So, Nick, we're doing sophomore year."
All of this magic came after a disappointing first half performance, when UCSB was only able to muster a single, unthreatening shot attempt. "I thought we got ran over a little bit in the first half. I thought we weren't ready for the speed of play," said Vom Steeg. "I actually thought that [UC Irvine] was the best team we've played all year, better than UCLA. And we weren't really ready for that."
But they held the Anteaters scoreless.
The Gauchos came out of the locker room a lot stronger after Vom Steeg encouraged them to use "the energy they had in the locker room and the disappointment they had at halftime and take it out in the second half."
Reed McKenna was dynamic in attack for the Gauchos, especially in the second half.
"I thought Reed [McKenna] gave us a great 25 minutes," said Vom Steeg. "He just absolutely ran up the field, tired those defenders out, went back and forth, was dangerous."
With the win, UCSB (6-3-1 overall, 2-0-0 Big West) handed UC Irvine (8-1-2 overall, 0-1-1 Big West) its first loss of the season, and continued its impressive start to Big West Conference play.
"We played, in my opinion, the two biggest challenges that we'll face in our conference (Cal State Northridge and UC Irvine)," said DePuy. "Getting two wins out of them means everything."
The Gauchos capped off an impressive six-game home stand with a record of 5-1-0.
UCSB hits the road for four straight games, beginning with a match at Cal State Fullerton (4-5-2 overall, 0-2-0 Big West) on Thursday.
"We got a big couple of games on the road and hopefully (we'll) get some results," said DePuy.
For the full story, see presidiosports.com