Starshine
'80s Dancing Is the Only Tolerable Workout
Keep Your CrossFit; I Want to Bust Out the Belinda
Apparently there's a thing. When you turn 40, you're supposed to get serious about an exercise regimen. No more making do with occasional hikes and swims, or riding your bike to the bakery and calling it cardio. It's the do-or-die decade: Do commit to intense frequent fitness or die flabby. And maybe fairly soon.
When my peers began turning 40, I noticed with queasy alarm that they all dispersed to disparate and equally unappealing corners of the workout world. Some bought fishnets, made up a saucy/violent alias, and joined the roller derby, where they regularly earn bruises the size of personal pizzas. Others leapt from the barstools and pedicure chairs where they spent most of their time and became instant triathletes — as though they'd always been superheroes under their clothes and had just been pretending all this time to be wusses like me. Still others enlisted in the CrossFit corps, satisfying a long-latent urge to be shouted at and brought regularly to the brink of vomiting, while occasionally touching their sweaty faces to parking-lot asphalt.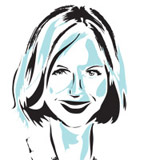 No, thank you. I've tried lots of fitness fads for lots of years: Yoga. Pilates. Kickboxing. Power walking. Strength training. Something with stretchy bands. Something with Hula-Hoops. Meh. They're all just … misery with props. The instructors say, "Pain is just weakness leaving the body," but what I hear in my head is "Pain is me leaving this maliciously mirrored sweatbox and making love to a buttermilk donut in my jammies."
The truth is you can tell a lot about a person by the kind of exercise she does. You can judge her physical endurance and personal discipline, her psychological resilience and tolerance for competition.
But since I've never been mistaken for having any of those things, I'm going to tell you what kind of exercise I prefer. And you can judge for yourself what it says about me.
I just want to dance like I'm in a 1980s music video.
There, I said it.
I want to headbang with The Cult, shimmy to the B-52s, and mug like Madonna. I want to slam to the Beasties, play air guitar with Van Halen, and slither like Tawny Kitaen on the hood of Whitesnake's Jaguar. I want to sweat from spinning like a dervish to The Jesus and Mary Chain, and I want to be Ren McCormack in Footloose. God, I gotta cut loose.
I know. It's dorky. I'm sorry. I tried to be competitive. I wanted to be disciplined. But no amount of "controlled breathing" or "dynamic stretching" can mask the fact that most exercise is painful, and that pain hurts, and that hurting is painful. Also: ouch.
The only time I'm panting and smiling (okay, the only other time) is when I'm busting out the Belinda, shuffling like MC Hammer, or moonwalking with Michael. Because moving to those musical memories transports me instantly, effortlessly to a brief moment when I had climbed free of childhood but hadn't yet brushed up against the burden of adulthood. Or the agony of the chair pose. Back then I had unlimited energy and a fully functioning right shoulder. I had a boom box and MTV. And leg warmers. Really, a lot of leg warmers.
I'm no Paula Abdul, but cue up some INXS, crank up The Cars, lemme hear some Love + Rockets or Jane's Addiction — and I swear I can keep moving and grinning until all the CrossFitters have gone home to shower and consume mass quantities of meat.
No pain … no pain.
I can't be the only forty-something female out there who doesn't fit into the Lululemon oeuvre and would gladly pay for the opportunity to dance with other fitness fallouts to the music of our youth. We just want to feel for an hour like we're the over-shoulder-padded vixens in a Duran Duran or A-ha video. Is that so wrong?
I'm telling you, fitness entrepreneurs are missing out on a potentially huge market here. So I guess I have to launch it myself: Starshine's Crazy '80s Dancercise. Inspirational quote: "Pain is having to do lunges without leg warmers."