Dance Club
Wildcat Lounge
15 W. Ortega St., 962-7970
Nine winning years in a row now for the place the kids call the Shitty Kitty—actually owner Bob Stout calls it that, too, on their alarmingly decadent website. Wildcat has been around for more than two decades now and has evolved into a perfect version of what it first meant itself to be—a juke joint for hip kids. Best part? The cool comes in all sizes, shapes, colors, and sexual persuasions. Thursday is farm-to-bar happy hour with comp pizza from next door at Nardonne's; the first Saturday of every month is DJ Bling; Tuesday is all-request night (that has to be cuckoo); and Sunday is the notoriously welcoming Red Room gay night. The plush red-leather upholstery on the wall says it all, no matter which catnip you choose.
FINALIST: SOHO RESTAURANT & MUSIC CLUB
Place to Hear Live Music
SOhO Restaurant & Music Club
1221 State St., 962-7776
It's 20 years now since the Hansens took over a bluegrass bar's failed revival and turned the brick-and-exposed-beam club into what is clearly the city's best-known nightclub. "We're so happy to win," said Gail. "And as to why we win, my son said it the other day, asking, If you had a favorite band, which place would you rather see them—a little 300-person venue or a huge place? I think that's why people like us." And after two decades, those people probably know SOhO plans to stick around.
FINALIST: SANTA BARBARA BOWL
Gallery
Sullivan Goss, An American Gallery
7 E. Anapamu St., 730-1460
Here's a roll call of great Santa Barbara artists: Meredith Brooks Abbott, Ken Bortolazzo, Colin Campbell Cooper, Lockwood de Forest, Hank Pitcher, Nicole Strasburg, and Howard Warshaw. It may not be all the greats, but it is a party we would attend gladly, and it's just some of the people Frank Goss and his very successful "American Gallery" were showing at press time. He has a lot of other artists, too. This would be enough for most other stores.
FINALIST: WATERHOUSE GALLERY
Museum
Santa Barbara Museum of Art
1130 State St., 963-4364
Larry Feinberg, museum director, couldn't be happier. "All of us at the museum, staff and trustees, are delighted that the community has honored us again this way. We will continue to try to offer a range of exhibitions and programs so that everyone in S.B. feels there is something in the museum for them … something they find interesting and enjoyable, something they have never experienced before."
FINALIST: SANTA BARBARA MUSEUM OF NATURAL HISTORY
Dance Company
State Street Ballet
2285 Las Positas Rd., 563-3262
Rodney Gustafson's company has always been audience-friendly. Highly narrative choreographies grace time-honored musical pieces ranging from the classical repertoire (this year including Scheherazade and The Nutcracker) to popular music, with ever-more-popular seasons, a touring company that boasts a 90 percent rebooking rate, and a company that trains new dancers. It's the city's en pointe appointment with movement, drama, and grace.
FINALIST: SANTA BARBARA DANCE ARTS
Theater Company
Ensemble Theatre Company
33 W. Victoria St., 965-5400
"We've been in the new theater just shy of a year," said Jonathan Fox, executive artistic director. The theater company, which had it's humble origins in the Alhecama Theatre nearly four decades ago, moved into a home of its own in the arts corridor, a stone's throw from the Arlington and the Art Museum. "It was exciting and nail-biting this last year," he explained. The sound system wasn't perfect, and they opened with A Little Night Music, an act of sheer bravado. "But now it's all coming together, air conditioning, the acoustic problems, everything is tuned and tested." Fox and company is looking to an exciting season that includes a musical play by Tom Waits. "We're thrilled to win," he said of being voted best. "It's a palpable sign that we are reaching out into the community and they are reaching back."
FINALIST: PCPA
Classical Ensemble
Santa Barbara Symphony
In its 61 years, there have been six permanent directors, innumerable guest directors, and an astonishing number of guest soloists from Yo-Yo Ma to Hélène Grimaud. The orchestra that began at the Lobero Theatre and moved to the Granada, over to the Arlington, and, after the renovation, back across the street to the Granada, evolved from a strictly homegrown gang to employing musicians from here as well as the rich field of Los Angeles players—many of whom have worked on motion picture scores and in big concert halls. Best of all, however, the symphony since 1953 has tried hard to belong to the city—it's made music relevant to a town that has tangled cultural roots and a populace of college-educated folk as well as those who love to party at the pops show on New Year's Eve.
FINALIST: CAMERATA PACIFICA
College Night
Baja Sharkeez Mesquite-Mex Broiler
525 State St., 845-9572
We know the weekend begins early in college, and Sharkeez has a plethora of ways to celebrate what old people used to call So Happy It's Thursday: two drinks for $5, half off pitchers for people playing beer pong on the premises, and a giant discount on party buckets of beer. It's more like an alcohol theme park than a watering hole, and even though Sharkeez has moved across the street from its once-cavernous headquarters, the scholars who invented the long weekend still know how to get the party started.
FINALIST: SANDBAR MEXICAN RESTAURANT & TEQUILA BAR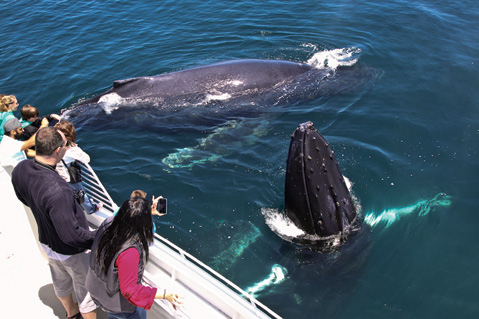 Whale-Watching Tour
Condor Express
301 W. Cabrillo Blvd., 882-0088
For about $90—and the rate fluctuates by season, depending on the population of spectacular animals available—you can spend somewhere near four hours in the Santa Barbara Channel coming close to whales. We live in a place crossed by all sorts of them: blue, humpback, and gray—not to mention dolphins, seals, and the alien-looking basking fish. The Condor has a conditional guarantee at the discretion of the captain to give another free ride if the one you scheduled turns up zero leviathans. But the big ones are out there, and these are the people with the equipment and experience to best find giants in the sea. Imagine if Ahab had a Condor Express.
FINALIST: DOUBLE DOLPHIN
S.B. Tour Company
Land and Sea Tours
216 Arboleda Rd., 683-7600
They call it Land Shark, and if you've never been on it, we suggest taking the next bus/boat you can catch. For about $25, you can cruise through town—bet you forgot how picturesque the old place is—and then head down to the harbor and slide into the briny blue. Next stop is a cruise around the pier in the water, waving to the seals and seagulls. When Aunt Georgina comes from Medicine Hat, Canada, you ought to take her out there. Who knows? This might be the visit where she puts you back in the will.
FINALIST: S.B. ADVENTURE CO.
Best Beach
Butterfly Beach
You have to admit: There's poetry in the name—it's the exact opposite of Rattlesnake Canyon. Gourmet sand, not many rocks, and a nice little-wave beach means you have small fear of crossing paths with grumpy professional wave-shredders. (Besides, surfers prefer Hammonds and other points slightly south.) The beach is dog-friendly the closer you get to Santa Barbara, and it has the beautiful Biltmore and Coral Casino on the southern end. There are usually places to park, though on scorch-y weekend days, everything is subject to chance. All in all, it's a rich person's neighborhood with natural amenities to spare that anyone can afford to visit.
FINALIST: ARROYO BURRO BEACH (AKA HENDRY'S BEACH)
Funk Zone Spot
The Lark
131 Anacapa St., 284-0370
It's safe to say that The Lark consolidated the idea of the Funk Zone and, come what may, gave it the real sense of place a lot of people were waiting for. The food is remarkable—unorthodox enough for a town that has long subsisted on a combo of great ethnic, cheap fare and safe expensive dining. Items like bone marrow, the highly addictive duck pâté, and even the supercharged popcorn that comes first to your table are revving up the taste buds for big comfort items like hanger steak, chicken, and fish. But the best part is the young, exciting atmosphere hovering around the mostly outdoor seating. The crowds are still coming, and after eating there, you can radiate out into the new part of town that The Lark polished into being.
FINALIST: FIGUEROA MOUNTAIN BREWING CO.