News
Mayor Blasted for Alleged Conflict-of-Interest
Strange Bedfellows Emerge in Freeway-Widening Debate
It was not merely a case of politically strange bedfellows hooking up; the new couplings — emerging from the festeringly persistent debate surrounding plans to widen Highway 101 — qualify as downright kinky. Improbably teaming up on one side was Sara Miller McCune — outspoken lefty-liberal publisher and behind-the-scenes political potentate — and Andy Caldwell, the right-wing mouth forever roaring on behalf of conservative watchdog group COLAB. And if you include the conservative outrage expressed by Joe Armendariz — the artfully bellicose voice for the Santa Barbara County Taxpayers Association — it could even be considered a ménage à trois.
The target of their combined wrath was Santa Barbara Mayor Helene Schneider — normally regarded as a smart, mild-mannered, and strategically sensible liberal — who they demanded should resign from the Santa Barbara County Association of Governments (SBCAG) — during this Thursday's SBCAG meeting — on which she sits because of a purported a conflict of interest.
Not only has Schneider consistently opposed the freeway-widening plans that the SBCAG board voted to support in May by a vote of 11-2, she led a recent effort — unsuccessfully — to have City Hall file a lawsuit challenging the adequacy of the project's environmental review. After Schneider's efforts failed in behind-closed-doors deliberations three weeks ago, she issued an op-ed announcing her support for a lawsuit filed on similar grounds two weeks ago by a brand new organization created at the last minute by environmental law specialist Marc Chytilo for just that purpose.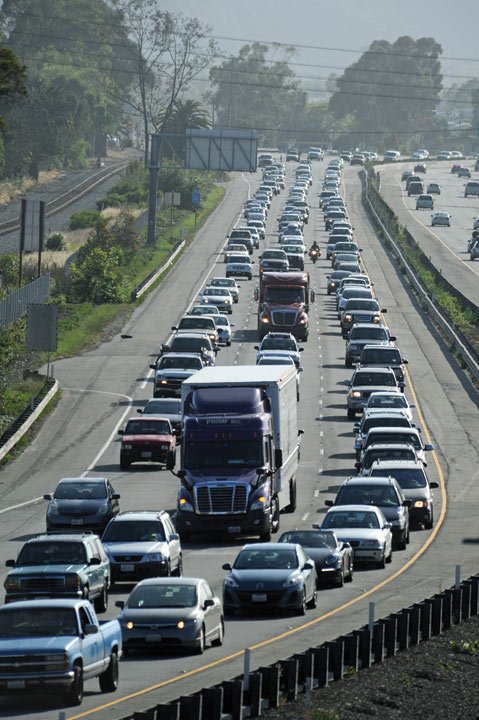 Coming to the aid of Schneider — at one time the darling of Santa Barbara's moderate feminist-leaning, lefty-lib machine — was none other than Supervisor Peter Adam — the most bombastically outspoken conservative elected to public office in Santa Barbara County in the past 20 years. Adam, it should be noted, cast the only other vote against the freeway-widening project in May, and he has been the focus of conflict-of-interest objections similar to the ones filed against Schneider.
Although the melodrama content of Thursday's throw-down was high, the legal issues were sufficiently narrow that the outcome was all but preordained. At issue was whether Schneider could participate in closed-session deliberations to discuss how SBCAG should respond to the lawsuit Chytilo filed. Fellow board members Salud Carbajal, Steve Lavagnino, and Janet Wolf all expressed reservations about having Schneider — who made clear her support for the lawsuit — in the same room as they discussed how they should respond to it. Because Schneider has no material interest in the outcome of the lawsuit, nor is she a party to it, assistant county counsel William Dillon argued quietly but emphatically that no conflict of interest existed and that her free speech rights should be considered paramount. Lavagnino, Carbajal, and Wolf — all strong supporters of the freeway-widening plans — obliquely and not so obliquely suggested Schneider recuse herself anyway because of the appearance of conflict. They intimated that her behavior violated the proverbial "smell test." Schneider declined their overtures. She insisted the comments she made in the op-ed supporting the lawsuit are consistent with what she's been saying about Caltrans' freeway-widening proposal for the past two years and in no way prejudiced what she might say or do in closed session about the lawsuit. Schneider vowed to her colleagues that she would keep strictly confidential anything said in closed session about that lawsuit. On the procedural merits, Dillon's argument prevailed. "This is basically a matter of free speech," he said. "You don't lose your right to free speech if you happen to be a member of the minority."
The broader question of what damage Schneider may have inflicted on herself and her cause has yet to be seen. That Sara Miller McCune would send a delegate to the meeting to read a scathing letter denouncing Schneider suggests the fence mending between the two would be a major construction project. McCune has supported Schneider in the past. Given the major money she commands — she once offered to buy the Santa Barbara News-Press from owner Wendy McCaw and had the funds to back up the gesture — and her role in a wide array of civic ventures, McCune's alienation from Schneider could have major implications on Schneider's plans for future office — the subject of much rumor and speculation — when she's termed out as mayor three years hence. In fact, there are unconfirmed rumors circulating that McCune is considering a recall campaign against Schneider.
In a letter read by actor Bobby Lesser — spouse of nationally renowned journalist Ann Louise Bardach, herself a vocal supporter of the freeway-widening project — McCune expressed "dismay and outrage" that Schneider would oppose a project endorsed in 2008 by 79 percent of the electorate and again this May by 11 members of the SBCAG board. "We do not live in a dictatorship, nor in an oligarchy," she scolded Schneider. She also accused Schneider of instigating the Montecito Association to sue Caltrans over the EIR. Ted Urschel, president of the Montecito Association, disputed that charge, stating, "That's totally false." He said Schneider never approached him or any other boardmembers that he's heard from. He did confirm the Montecito Association held a special meeting on September whether to sue or not. "We thought we could engage more constructively through the political process rather than just be obstructionists," Urschel said. "People are getting down in the mud on this."
McCune — channeling through Lesser — described the mayor's support of the Chytilo lawsuit as a "jaw-dropping solicitation directly at odds with the overwhelming number of voters and their elected representatives in the county." By so doing, McCune charged, Schneider was putting at risk $450 million in funding for a project that will relieve tens of thousands of motors the daily misery of gridlock.
In an interview after the meeting, Schneider rejected as "ridiculous" the notion she's jeopardizing $450 million in construction funds. "That's simply not true," the mayor asserted. She said 79 percent of the voters approved a 2008 bond measure that set aside $140 million to underwrite the cost of widening the freeway from Milpas Street to Mussel Shoals. In addition, she said, another $170 million in gas taxes was set aside by SBCAG for the project. The rest of the money needed to complete the project has not been identified or secured. "It doesn't exist," she said. Schneider also claimed the gas tax revenues would otherwise have gone to local road maintenance and infrastructure repair efforts. "I'm not against freeway widening. I'm for it. But I want it to be the best project it can be," she insisted. By making sure the environmental review document is as accurate as possible, Schneider said, she's attempting to do just that. "Imagine the uproar if we let Caltrans skate by with a crummy document when we insist private developers dot all their 'I's' and cross all their 'T's,'" she said.
It's worth noting that many of the arguments Schneider is making about alleged deficiencies in the EIR have been consistently echoed by former city administrator Jim Armstrong — who just retired — and also by every member of the city's Planning Commission. They all insisted the Caltrans project should have been amended to include a roundabout at Olive Mill Road and that the Union Pacific Railroad bridge by the Cabrillo Boulevard bird refuge be widened to prevent traffic from backing up along Cabrillo. More centrally, however, they objected that the environmental document failed to adequately acknowledge the additional traffic jams the freeway widening would create when the increased traffic flows coming from the south starting backing up during morning rush hour between the Mission Street and Las Positas Road interchanges. "We were told all along that Caltrans would rather be sued than recirculate the document to make it better," Schneider said. "They've been sued. They could have avoided this."
Schneider's posture with regard to Highway 101 has been seriously clouded by the role played by her longtime campaign manager and political confidant, Jeremy Lindaman. Up through this January, Lindaman also worked as a paid consultant for Common Sense 101, a group of Montecitans insistent upon maintaining Montecito's existing left-lane on-ramps and off-ramps. When Schneider showed up earlier this year in Sacramento to threaten the coastal development permit Caltrans will ultimately need from City Hall, she flew up with a contingent of Common Sense 101 activists.
Ironically, it was Schneider and Lindaman who urged David Landecker into last year's City Council race because, they claimed, then-candidate Gregg Hart had a fatal conflict of interest. Hart, who works by day as a political strategist and spokesperson for SBCAG, has been an energetic supporter of the freeway widening as proposed. He's also been critical of what he's termed Schneider's obstructionism, insisting there have been — and remain — more effective and less confrontational ways for her to achieve her goals.
Hart prevailed in that election despite Schneider and Lindaman's strong support for his opponent. Throughout the campaign, Schneider repeatedly objected Hart should be precluded from participating in key decisions involving Highway 101 because as an SBCAG employee, his paid job was to secure approval for the freeway widening. Why, she demanded, would voters elect someone who was disqualified from participating in one of the most important decisions confronting City Hall?
At the time, Hart took exception, citing legal advice from then–city attorney Steve Wiley that his employment with SBCAG did not technically qualify as a conflict of interest under state law. Wiley has since been replaced by Ariel Calonne, who has since advised that Hart's conduct was also bound by a common law interpretation of conflict of interest. In that, Hart could experience divided loyalties — the two masters rule — because he worked both for SBCAG and served on the City Council. As a result of this advice, Hart has chosen to recuse himself from any council participation — either in closed session or in open meetings — on highway-widening matters.
Schneider's critics contend that it's hypocritical for the mayor not to recuse herself for the same reason. But she insisted her circumstances are qualitatively different from Hart's. Unlike Hart, she said, she doesn't serve two masters, only one.
Based on Thursday's debate before SBCAG, it remains uncertain how persuasive such arguments will be. COLAB's ever apoplectic Andy Caldwell expressed outrage that Schneider would violate a deal laboriously hammered out between North County and South County interests over freeway widening. The north, explained Caldwell, agreed to hold its collective nose and support a deal that included funding for expanded rail service — much supported by Schneider and South County politicos — even though they believed the transit component was at best a utopian fantasy of alternative transit advocates. If Schneider wanted to turn her back on the deal, Caldwell argued, SBCAG should call her bluff by disavowing its commitment to rail transport.
Fourth District Supervisor Peter Adam came to Schneider's rescue, though only sort of. On free-speech principals, the outspoken Adam thoroughly had Schneider's back. Elected officials, he said, were elected to represent the people who put them in office. "If we don't have debate," he cautioned, "we're not doing our job." When elected officials act in a quasi-judicial role — weigh facts and apply land-use law — they are cautioned not to express opinions in advance as they could be accused of pre-judging their decision. The closed-session discussion at hand — how to respond to the Chytilo lawsuit — was clearly not of that realm. Adam, never one to bite his tongue, has been taken to task by his board colleagues, for speaking out of turn, and in one instance he was, in fact, persuaded to recuse himself.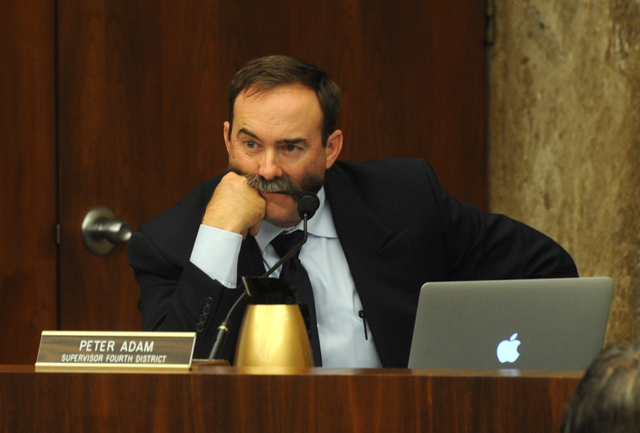 But Adam's support proved to be a double-edged sword. He explained that he, too, voted against the freeway-widening plan because it required the expenditure of $170 million in gas taxes that would otherwise have gone to road repair and infrastructure maintenance, issues close to Adam's heart. He expressed interest in Caldwell's suggestion that "the lane and a train agreement" be revisited. Increasingly, there's been murmuring that the commuter train component of the spending deal is untenable because it relies on the active cooperation of the Union Pacific railroad, which owns the tracks. According to Supervisor Salud Carbajal, Union Pacific has proven to be an exceptionally demanding and difficult dance partner, and that negotiations with the company could best be described as "three steps forward and four steps back."
At this point, Carbajal said, it appears there's reason for optimism that Union Pacific might be persuaded to change the Amtrak arrival and departure schedules so that they coincided with the work schedules of the thousands of commuters making the daily trek from Ventura to Santa Barbara. But that, he cautioned, assumes new railroad siding could be located on the tracks by Sea Cliff Lane and Ortega Hill. It also assumes a location can be established in Moorpark to park a train to meet the schedules of working commuters.
Throughout all the simmering insider-baseball melodrama, Hart — city councilmember and SBCAG employee — has insisted Schneider would be better served by working collaboratively with her SBCAG colleagues to pursue the Union Pacific bridge widening and the Olive Mill roundabout. By pursuing litigation — and then supporting it as she has — it's been suggested that Schneider is biting the hands that could feed her. She, in her op-ed, charged that she's been subjected to not-so-veiled threats for pursuing what she deems the city's best interests.
Given the seismic impact of Sara Miller McCune's letter, it's questionable whether it's possible for McCune and Schneider to kiss and make up. Schneider said she saw McCune briefly at a recent fundraising event. "She told me, 'I'm mad at you,'" said Schneider. "I said, 'Let's talk about that.' And since then, she's left town."