Opinion
Trouble in Shangri-La
Flaws Afflict Ballot Measures Everywhere
ELECTION FEVER: Okay, okay, you're sick of the election. Sick of the millions being thrown around by Chevron and Big Oil fighting Measure P. Weary of a freeway debate that never goes away.
Waiting, waiting for Jerry Brown and Lois Capps to be (ho-hum) reelected. What's an election if there's no suspense? An Agatha Christie with the surprise ending printed on the back cover?
But it could be worse, much worse. You could be living in Malibu, where celebrities are waging growth wars. (Rob Reiner, Tom Hanks, Barbra Streisand, et al, versus The Developer.) "Dueling millionaires," as L.A. Times columnist Steve Lopez puts it.
Slow-growthers against, among other pestilences, infuriating traffic on the Pacific Coast Highway, separating beach-dwelling show-biz folk from their duties and second homes in Tinseltown.
"Good Lord, you've gotta love Malibu, which finds itself at war over a November ballot measure that proposes to put a chokehold on development and save Shangri-La from ruination," Lopez writes.
"If they don't do SOMETHING, proponents argued at a [recent] meeting … the most PRECIOUS place on Earth could end up looking like CALABASAS!" Lopez warned. (Caps are his.)
Since when do latte-sipping, Oscar-lusting celebrities care about development, for Pete's sake? In Malibu, Victoria Principal has donated $100,000 for the campaign. Reiner headlined the rally, which had such names as Dick Van Dyke and Doors drummer John Densmore in the audience. Money's been kicked in by Hanks, Streisand, James Cameron, and Steven Spielberg. Malibu only has 13,000 residents but more clout and bucks than a dozen burgs like Calabasas ever will. "This is a town that rejected a sewer system for years to limit building, despite evidence that septic tanks were fouling the beaches," Lopez recalled.
Malibu has its Measure R (for Reiner), and we have our Measure P, for anti-pollution. Measure R opponents include developer Steve Soboroff. He claims Measure R is "deeply flawed." When you're opposed to a ballot proposition, you always attack it as "flawed," the same tactic Big Oil's using against our Measure P.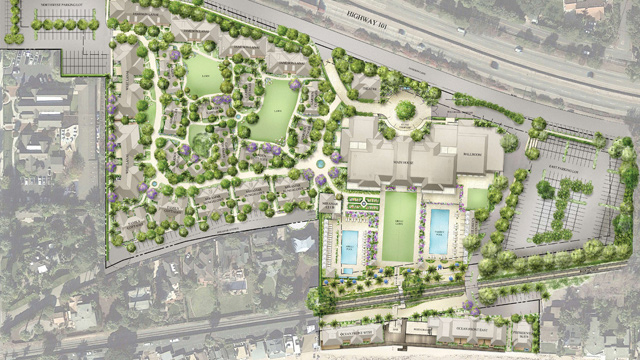 HOTELS IN WAITING: Meanwhile, here's the latest on Santa Barbara's development picture. Three biggies are in line to get off the ground.
In July, Rick Caruso, owner of Montecito's demolished Miramar, announced revised plans for a 170-room hotel. He's hoping for an opening in 2017 ​— ​after planning agencies clear the decks.
On lower State Street, La Entrada de Santa Barbara, once Bill Levy's long-running but bankrupt proposal, has gone through numerous incarnations with a new developer. Grading is due to begin soon, and building drawings are in final plan check. The three blocks, including the California Hotel, will have 123 hotel rooms, 22,326 square feet of commercial floor space, and 264 parking spaces.
It's been so long since the city approved the late Fess Parker's second hotel on East Cabrillo Boulevard that the city wants a revised agreement from the family. Then, officials say, the family can pursue one of two options: go ahead with the previously approved 150-room concept with new building permits or pursue a revised project, possibly with fewer than 150 rooms.
THE HEIRESS: It's a classic story. The shy, plain, young, rich woman is pursued by a handsome young man. She's smitten, but has he really fallen in love with her at first sight or with her money? The Heiress, by Ruth and Augustus Goetz, as suggested by Henry James's 1880 novel Washington Square, is well-played by an excellent cast, headed by Avery Clyde as Catherine. Judy Garey directs. The production by the Theatre Group at Santa Barbara City College plays at Garvin Theatre through November 1.
CHARLIE ALBRIGHT: He's young and exuberant and plays the fiddle like a virtual stick of dynamite. Taking the Hahn Hall stage October 15, Charlie Albright asked the audience to suggest a few random notes and then transformed them into what sounded like a full-fledged symphony. (Thanks to UCSB Arts & Lectures.)
MICHAEL LEWIS: The author of Flash Boys and other highly readable books about the scalawags who run (ruin) Wall Street talked about the creative benefits of "indolence" for a writer in a Granada appearance last Wednesday (also sponsored by A&L). Hard to see how he has time to be indolent.