News
Drought Emergency Persists Despite Trick-or-Treat Rains
Possible New Water Source for Montecito Emerges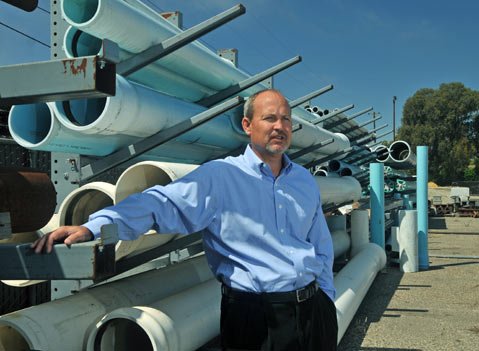 Although the South Coast was blessed with nearly an inch of rain this Halloween — providing a nice trick-or-treat twist to the parched landscape — it barely put a dent in the drought. County Water Resources director Tom Fayram noted how his dog enjoyed frolicking in the downpour last Friday night but cautioned the county supervisors, "We need more rain. We always need more rain." By then, the supervisors had grown punch-drunk and giddy after an exceedingly long day. "Don't be greedy," cautioned supervisor Steve Lavagnino.
Fayram was present to twist the supervisors' collective arm for $675,000 to fund a major study on the groundwater basin supplying 150 square miles of land near Los Alamos. In recent years, that basin — dubbed the San Antonio basin — has reportedly dropped about 50 feet, but such indications are preliminary, sketchy, and borderline anecdotal. For many years, most of the land was used for cattle grazing and dry farming, so groundwater conditions weren't so pressing a concern. Much of that acreage has since been converted to wine-grape cultivation, so the stakes are now considerably higher.
That $675,000, by the way, only pays for one year of a five-year study. The total project cost is projected to weigh in at $2.5 million, of which the County of Santa Barbara will be on the hook for $1.5 million. The rest will come from the United States Geological Survey (USGS), which will be responsible for the nuts and bolts of the actual work to be done, and Vandenberg Air Force Base, which pumps from the basin in question.
In a meeting less crammed with beefy agenda items, the study would have occasioned more debate. Farmers and ag interests had expressed concern that the info provided would be used to justify new rules and regulations binding their operations. Even Andy Caldwell, the ever-present voice for North County ag and business interests, didn't bother to show up, though he submitted a speaker's slip. Two weeks before, he told the supervisors the study was a waste of time and that the money should be spent building more reservoirs to hold more water.
At that same meeting, supervisor Doreen Farr expressed concern about the extent to which the San Antonio basin had been strip-mined. On one hand, she observed, the county was grateful to purchase 1,000 acre-feet of state water entitlements from Vandenberg. But what if that meant the base had to pump the basin even harder to compensate for the loss of state water? Wasn't that a case of robbing Peter to pay Paul? None of these matters surfaced on Tuesday, so eager were the supervisors to punch the clock, go home, and attend the political festivities and wakes that inevitably occur every election night.
In other water news, the Montecito Water District remains very much the bastard stepchild looking for an adoptive parent. Montecito may have money, glitz, and glam, but it has a tiny reservoir and a groundwater basin incapable of holding much more than the proverbial gob of spit. In what was $50,000 worth of feel-good drought therapy, the district's Board of Directors held a standing-room-only presentation on a desalination facility it can never realistically hope to build.
According to the very thorough report prepared by an outside consultant, it would cost the district anywhere from $68 million to $84 million to build a new desal plant at one of four hypothetical locations. Those figures, however, do not include operations costs. The consultant's report also intimated that a desalination plant could go from the hypothetical to the fully permitted and environmentally vetted by the last quarter of 2017. One location studied as a suitable site for associated piping was the Miramar Hotel, now owned by L.A. developer Rick Caruso.
This announcement elicited guffaws of laughter at the meeting; the Miramar has been the subject of knockdown, drag-out land-use battles for 10 years that have wiped out two prior developers. The notion that a desal plant could be green-lighted in two years struck many in attendance as ludicrous. But ludicrous times call for ludicrous measures, and the drought has pushed Montecito residents to extremes not experienced elsewhere on the coast.
The Montecito Water District was imposing rationing when other districts could barely bring themselves to declare a Stage One drought, and customers have really throttled back. But if state water deliveries next year keep pace with this year's, Montecito will find itself high and dry. So spending $50,000 on a wet dream about desalination might not be the craziest gesture imaginable.
In the meantime, the Montecito Water District has been playing socks-off footsy with the owners of the Slippery Rock Ranch located in the foothills of Goleta in hopes of "large scale extraction and transportation of water." That prospect, however, was met with chilly resistance from Goleta Water District manager John McInnes, who on October 29 sent Montecito manager Tom Mosby a polite but curt "no way in hell" note. McInnes objected that when the Slippery Rock wells are pumped hard, it will have an adverse impact on the Goleta water basin, not to mention on nearby creeks located on land controlled by the National Forest Service.
For Montecito, however, the Slippery Rock proposal offers salvation to the desperate and is regarded like a winning lottery ticket found under a couch cushion by those facing imminent foreclosure. According to Mark Lloyd, a land use agent representing the Slippery Rock owners, the 800-acre ranch lies over an underground aquifer almost as big as Goleta's with a storage capacity of 200,000 acre-feet. By way of comparison, that's on par with Lake Cachuma. Lloyd said that hydrogeologic studies indicate the basin has a safe yield of 2,000 acre-feet a year; that's the amount that can be taken out with the reasonable expectation it will be replenished by natural recharge. But, he said, the Slippery Rock aquifer could be pumped much harder in emergency years — up to 10,000-15,000 acre-feet — with the anticipation that it would then be allowed to lie fallow for several years.
Under such a scenario, Lloyd suggested the ranch's water basin — known as "The Chalice" — could provide a permanent drought buffer to all the water agencies on the South Coast, to be pumped only when necessary. Likewise, by pumping The Chalice, Montecito and the City of Santa Barbara would not feel the imminent sense of urgency to commit to a costly desal project. Lloyd said the USGS has recently confirmed the existence of an earthquake fault that limits the lateral migration of water underground. He said there are two functioning wells already installed to carry the water to Goleta Water District customers or to customers further south in Santa Barbara or Montecito.
The ballpark costs involved, Lloyd estimated, would be around $500,000. And that, he argued, equates to about $500 an acre-foot, far less than the $1,300 area water agencies spent last year to buy surplus state water from rice farmers north of the San Joaquin Delta.
At issue is whether The Chalice is "continuous" with the Goleta water basin. McInnes said the historical record strongly suggests that it is, meaning that when The Chalice is pumped, the Goleta basin is drawn down, too. "Basically, they're offering to sell us our own water," he stated. McInnes acknowledged the theoretical possibility that the two basins are in fact separate, but he was exceedingly skeptical. "Two of those wells were operated before; we operated them," he said. "The trees nearby were dying, the downstream creeks dried up, the neighboring property owners complained, and the Forest Service sent letters. It was very contentious." Since then, he noted, the USGS authenticated the existence of the earthquake fault bordering The Chalice, new owners bought the land in 2007, and they've hired experts and technicians all arguing that the adjoining water basin is separate.
Right now, the deal is dead. McInnes has insisted the Goleta Water District be given sole authority to shut down the Slippery Rock wells if need be. Lloyd insisted an adverse impact would have to be demonstrated before the pumping could be curtailed. For both, the issue is non-negotiable. For both, the position of their counterpart is a certified deal killer.
In the meantime, however, Lloyd is offering to conduct whatever groundwater studies Goleta deems necessary. And any water that would be pumped, he said, would be given away free of charge to whatever water agencies participated. But once such studies were complete, the water would be available only by sale. Lloyd declined to say what the going rate would be; McInnes said the proposed contract would obligate participating water agencies to pay $2,000 an acre-foot. That's the high end of what surplus state water can now be purchased on the water market.
Josh Haggmark, water chief for the City of Santa Barbara, is taking a cautious wait-and-see attitude about the Slippery Rock deal. "I think it has a lot of promise for the next drought, but I don't see it saving us in this one," he said. Haggmark said the number of regulatory and environmental hurdles to be overcome are substantial and that some of the claims made by the Slippery Rock contingent need to be verified. "There's a lot of 'wow' numbers being tossed around," he said. "There's still a whole lot of work that needs to be done."
In the meantime, Mosby and others in Montecito are broaching the subject of some form of unified management over the underground storage basins. It makes no sense for there to be so many separate — and at times conflicting — water agencies, they've suggested, when the South Coast is really one geographical entity. While such notions seem inherently sensible in a theoretical universe, it would necessitate a level of planning and cooperation never witnessed in a water universe controlled by the dictates of "I've got mine."
Lastly, all this talk about desalination plants — either in Montecito or the City of Santa Barbara — has put Carpinteria Valley Water District manager Charles Hamilton a little on edge. The City of Santa Barbara is poised to spend $34 million just to recommission the desal plant it built 20 years ago. Hamilton, who resides in the City of Santa Barbara, sent a note to Haggmark suggesting he would be well advised to subject his desal plans to a more rigorous cost-benefit analysis. Hamilton questioned whether more water could be saved — hence secured — for a lot less money if the city put its cash into new landscaping instead of new pipes and pumps. What could be saved, he asked, if 1,000 homes were re-landscaped from traditional lawns to drought-tolerant plants?