News
Piedra Blanca Trail to Twin Forks Camp
Hiking Up from the Sespe River
Hike: Moderate day hike up Piedra Blanca Creek to Twin Forks Camp; suitable for sturdy children five and above
Mileage: Five-mile roundtrip with some elevation gain
Time: 2.5 hours driving, and about four hours hiking, including 30 minutes for bag lunch at Twin Forks on gushing Piedra Blanca Creek
Maps: Tom Harrison Maps, Sespe Wilderness Trail Map
Twenty-three years ago, in March 1991, I had backpacked 2.5 miles with my 9-year-old son from the glorious Sespe River over to tiny Twin Forks Camp, where we could count on locating water during a seven-year drought. This USFS camp is pitched close to the confluence of Piedra Blanca Creek's North and Middle Forks, with 6,700-foot Pine Mountain looming high above northward.
Today I still recommend this modest 2.5-mile trek to Twin Forks even though we're now enduring a three-year drought — my hiking pal Chris Caretto had never been to Piedra Blanca or Twin Forks Camp, and in early November I wanted to confirm that water is still flowing along the upper stretches of this wonderful drought-defying watercourse. The denouement to my 1991 backpack was the famous "March Miracle" rain that helped to end the five-year drought. Readers should note that back then "rainfall in some parts of the state in March [1991] was 250 percent over average and that snowpack in the Sierra Nevada, runoff from which is a major water source, has increased from 17 percent of normal at the beginning of March to 73 percent of normal yesterday [March 29, 1991]."
In 1991, my son and I were caught in a dazzling deluge at Twin Forks around 2 a.m., and we waited until we could see and then scrambled out like wet coyotes at dawn's first light. I'd been worried about flash flooding on Piedra Blanca Creek and about getting my 70-pound son safely across the formerly dry Sespe River right next to Middle Lion Campground where we had parked my ancient VW van. After so many false predictions by the weather services between 1984 and 1991, I simply disbelieved the "rain" forecast for the weekend we went to Twin Forks.
It's 61 miles from my tiny house on Santa Barbara's Westside to the parking lot just above the Sespe (and marked as the Piedra Blanca Trailhead). You drive the 101 south to the Highway 33 off-ramp at Ventura, proceed to Ojai and go left just before entering Ojai, continue on the 33 (the so-called Maricopa Highway) past Wheeler Gorge and continue several miles to the well-marked turnoff onto Rose Valley Road — there is only a right turn, and you continue on hard road about six miles to the very end (at the last, do not take the Middle Lion Campground spur, but stay left nearer the Sespe River). You enter a parking area with several "no camping" signs.
We began hiking at 8 a.m. on a beautiful, rain-washed Sunday morning, November 2, and despite the 20 or so cars in the spacious parking area, we saw no other people. It's about 0.4 miles down a steep trail to the dried-up Sespe River stream bed, and then you hike through hard chaparral and small oaks, ascending a bit. Despite about an inch of much-needed rain on the Halloween Friday, there were only cobbled white rocks and a rugged "wash" to cross at the river, and then two or three more creekbed sections since the Sespe is very wide here. Getting across to the other riverbank, we encountered a large trail sign, and it indicated the Piedra Blanca Trail goes left (west): Technically you're now on the historic Gene Marshall-Piedra Blanca Trail and could conceivably backpack the 18.5 gnarly miles up and over the high ridges to Reyes Creek Campground — but everyone who tackles this strenuous shuttle backpack starts there at Reyes Creek and ends here at the Sespe Gene Marshall Trail. If you turn right you end up on the Sespe River Trail and eventually downriver at Willett Hot Spring and Harman Camp.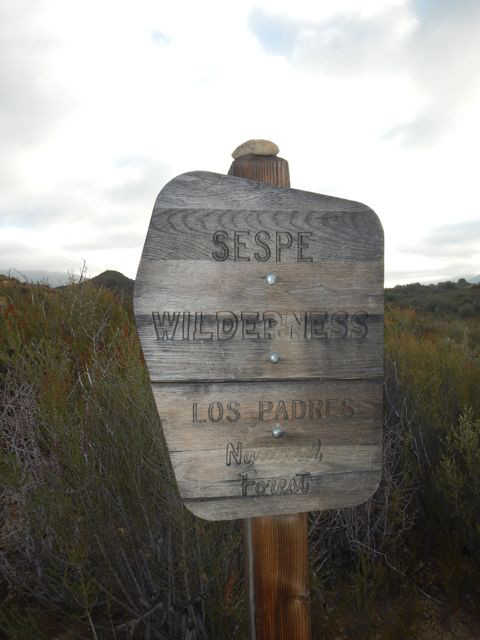 But we head west, and after a bit we turn north, inland, and ascend with enormous Pine Mountain filling the huge horizon high above us north and east. We see the official Sespe Wilderness sign showing us we're now in the federally protected primitive zone signed into law in 1992. The Sespe contains 219,700 acres of Los Padres National Forest.
Soon we enter the picturesque 600-acre piedra blanca (white rock) formation which bestows its name to this area and to the flowing Piedra Blanca Creek, which we cross later. The "playground" nature of these wondrously shaped rocks have lured many day hikers and backpackers here, although we think most of the cars at the trailhead are either deer hunters or quail hunters (both are in season).
Surprisingly, we encounter copious water in Piedra Blanca Creek after bisecting the weird white rock formations. The walking isn't especially steep, and although it's a Sunday and we saw so many cars at the trailhead, we don't hear any gunshots or meet anyone until entering the riparian glade of Piedra Blanca Camp itself, 1.8 miles in from the Sespe River creekbed.
About six men and 15 boys, certainly Scouts, were in their second night at the very spacious campsite dominated by huge oaks, and they were laughing grimly about the intense rainstorm they'd "enjoyed" on Friday evening. I could see from the kids' shining faces that it was a memorable experience, unplanned and painfully genuine. Here were some boys who haven't unfriended nature. Whatever one may think of the Boy Scouts and their national policies, they certainly do get young fellows out into the wild.
We joked with these hardy packers and then walked another gorgeous 0.3 miles to Twin Forks Camp — it's a small bench above the flowing creek with one fire pit and only enough flat space to house a single tent, maybe two. It was difficult scrambling through the deep, rocky creek bed and then up to the oak-shaded campsite.
After sitting on boulders for 30 minutes at the bare site (no table) while we gnawed our paltry snacks, Chris and I resolutely walked back down to the Sespe River, scrambling a bit in the outlandish piedra blanca crazy rocks, and then up the 0.4 miles to my truck. If we had gone ahead from Twin Forks, it's an intense 3.3 miles on up the Gene Marshall Trail to Pine Mountain Lodge (6,000 feet), a large empty meadow just below Pine Mountain. The prospect of snow above and an 11.6-mile round trip blunted our hiking desires, so we headed happily back to Santa Barbara.