Sports
Team of the Month
SBCC Football Getting it Done with 'Every Man' Approach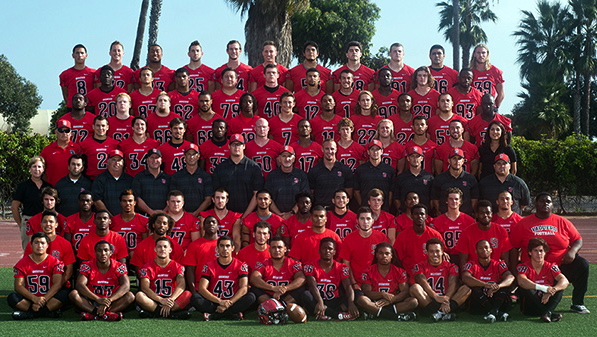 Texas A&M football has a tradition called the 12th Man, which started when a former player was called from the stands during a game against the top-ranked team, suited up, and stood ready to play when called upon. The fans have carried on the spirit of that gesture with their undying support of the team.
The SBCC football team has an "Every Man" approach, and it's catapulted the Vaqueros to a record-tying seven straight wins in a season. Coach Craig Moropoulos doesn't have to call players out of the stands. He just looks to his bench to find a 12th, 13th, 14th, 15th, 16th man ready to fill in for an injured starter. And those replacements aren't just filling a hole, they're making an impact.
In a recent game at Antelope Valley, Marvin Millett got his chance at running back and all he did was rush for 137 yards on seven carries and score two touchdowns in a 49-21 win. In a game against L.A. Southwest, Rodriquez Jones replaced a missing player on the defensive line and recorded a team-best two sacks and four tackles for a loss.
Depth has definitely played key part in the Vaqueros' success. "One of most pleasant things for me as a coach is having guys step up," said coach Moropoulos said. "We've had a lot of guys come in and step up, starting their first games. That makes us much better. We see they can play and they see they can play. And when the other guys come back, we're just that much deeper."
Millett is a perfect example. He's part of a stable of fine running backs and the freshman from St. Louis finally got his chance against Antelope Valley and had a stellar game. He had touchdown runs of 51 and 58 yards. "He realizes he's in the stable and he realizes he's in with a lot of talent," said Moropoulos of Millett. "He waited for his opportunity, never complained one second, got his opportunity against AV and the rest is history."
The starters have been pretty good, too. Freshman quarterback Brandon Edwards runs an efficient offense. The statistics bear that out. The Vaqueros average 195 yards passing and 194 rushing. Moropoulos said Edwards' steady play has been a real positive.
Sophomore linebacker Brandon Nicastro spearheads a defense that is allowing just 19 points a game, eighth best in the state. That's impressive in JC football, where high-scoring games are the norm. Other defensive standouts include ends Jay Terry and Ezra Taylor, linebacker Jake Pettit and defensive backs Khaliel Ahmed Shegog and Zach Arnell.
Moropoulos felt this team had something special after it bounced back from a season-opening loss against San Bernardino Valley and won at 33-27 at Hancock.
"That was a real indicator of what these guys are made of because Hancock is a good program," he said.
A key to any successful program is the coaching staff, and Moropoulos can't say enough about his assistant coaches. "I give a lot of credit to my assistants because I'm blessed with good ones," said Moropoulos, citing Kevin Almlie, the defensive coordinator; Rob Adam, who handles strength and conditioning, and special teams; Dan Lever, the offensive line coach; and Adam Grant, an NFL lineman who is helping Lever.
"Those guys are fantastic and a big, big help. The players have come together and are playing confident, and a lot of credit goes to those guys. Being around this coaching staff is lot of fun," said Moropoulos.
It's part of the "Every Man" concept. Every man is contributing to the team's success.
For the full story, see presidiosports.com