Arts & Entertainment
California Crossing with Cracker's David Lowery
The Frontman Pulls Double Duty with Camper Van Beethoven at the Lobero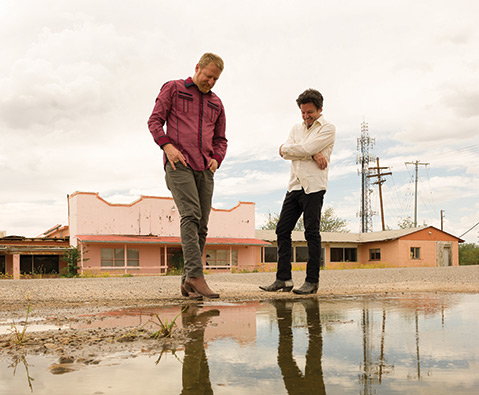 When it comes to cultish alt-rock followings, David Lowery's presence looms large. As the frontman for fusion-y alt-rock act Cracker, Lowery weaves country, blues, and grungy guitars into songs that verge on smartly crafted prose. As the head of the equally brainy, slightly louder, and decidedly more avante-garde Camper Van Beethoven, the singer plays up his abstract side. And together, both acts have helped fuel Lowery's more-than-three-decade-long career.
Next Monday, December 29, Camper Van Beethoven and Cracker co-headline a bill at the Lobero Theatre in support of Berkeley to Bakersfield. The double album, which saw its release last week, is Cracker's first in over five years, and its material spans the places — and stylistic range — of the band's lengthy career. I recently caught up with Lowery from his home to talk writing tactics and late-career revelations.
Did music factor in pretty heavily when you were a kid? Well, my mom is English, and my dad was in the military, and they met in England in the early '50s. If you were a cool kid growing up in England in the '50s, you were listening to — I don't even think they called it country music yet; it was hillbilly music. So we listened to a lot of country, bluegrass, and folk growing up. But English people are just kind of hipsters, so my mom went to see the Beatles when they first started. It was a lot of rock 'n' roll and a lot of country music in my house. I was always around it, even though neither of my parents played anything.
What led you to the guitar? Well, my sister started learning banjo, and I started learning guitar to sort of accompany her. But then she stopped playing, and I kept playing.
And you moved around a lot? Yeah, but mostly we grew up in Southern California. I'm proud to claim the Inland Empire as my home. I know it's not really glamorous, but somebody's got to do it; somebody's got to stick up for the Inland Empire. [Laughs.] I remember as a kid, the city held a contest for a new slogan, like a bumper-sticker slogan for the Inland Empire. Me and my buddies wrote in "We Will Kick Your Ass." [Laughs.] It failed, but I still think it's really appropriate.
I have family down there. I think it might be one of the weirdest places in Southern California. Yeah. My sister lives there still, and I enjoy going back. It's an interesting place. It perfectly explains Cracker from the rock 'n' roll through the punk-rock thing to the country roots stuff. We're a product of that area at that time for that reason, you know? I was in Santa Cruz for eight years, too, but most of the people that I played with up there — Victor [Krummenacher], the bass player for Camper; Chris Pedersen, the drummer for Camper; and Chris Molla — were all from the Inland Empire. So even Camper is an Inland Empire band, really.
When did you start working on Berkeley to Bakersfield? I probably started on it in May/June 2013. After we finished the last Camper record, I sort of immediately started working on the Cracker stuff. I did most of the country disc before the Berkeley disc. The Berkeley disc was sort of just an accident. It was right before Halloween 2013, and Davey Faragher and Michael Urbano and I discovered that we all had a few days free, so we went to Michael's studio in Berkeley to write some songs. We ended up writing all the music for that Berkeley album in those three days. We ended up with these two really distinct projects, and we thought about kind of weaving them together on one disc.
What made you decide to separate it into two albums? Drew, the guy who mixed it, and my wife, who's also our manager — I should say that she was our manager first. She always wants me to tell people that. It's not a Spinal Tap situation. [Laughs.] She's been in the music business for 30 years. But we were all sitting around listening to it, and we all agreed that it was two different records, which led us to just making it a double disc. It's conceptual; it tells a whole story, and it continues with my Joan Didion–style essays. I feel like they're not really songs anymore; they're more like essays about California. [Laughs.] That's what I've turned into.
When you get a song idea in your head, is it pretty obvious from the start that it's going to be a Camper song or a Cracker song or a solo song? Most of the time it is, but it's not always. There's a song on that Camper album New Roman Times that is actually a [Cracker guitarist] Johnny Hickman and me song. It was sort of a strange track, and after a while I realized that Camper would flesh it out better. I gave it to them, and they immediately got it, figured it out, and put all kinds of weird shit on it, and it was perfect. So it's not always obvious, but most of the time it is. In Camper Van Beethoven, you have some sort of hybrid, folky, psychedelic things, and then you mention two of the following: space aliens, weird conspiracy theories, or hallucinogenic drugs. If you use one out of the three of those, then you're fine. [Laughs.]
[Laughs.] How long into the 30-year career did it take to figure out that formula? Twenty years. Yeah, it took about 20 years to figure that out. [Laughs.]
Have you had any other late-career writing revelations? Yeah. A friend of mine asked me if I'd ever tried to get up and write a song first thing in the morning. I was like, "No! Why would I do that?" But he compared it to being stoned; like you listen back later, and the stuff is still good. [Laughs.] So I tried it, and I discovered that if you wake up at 6 in the morning and try writing a song, a lot of the times you have the whole thing recorded by 9 a.m. and your phone hasn't even rung yet. The last two Camper records, and most of the Cracker double disc, all the words and most of the vocals were sung before 8 in the morning. It's really bizarre.
4∙1∙1
Cracker and Camper Van Beethoven play Monday, December 29, at 8 p.m. at the Lobero Theatre (33 E. Canon Perdido St.). Call 963-0761 or visit lobero.com for tickets and info.