News
Volunteers Needed for Homeless Survey
Countywide Data Will Help Place Most Vulnerable in Housing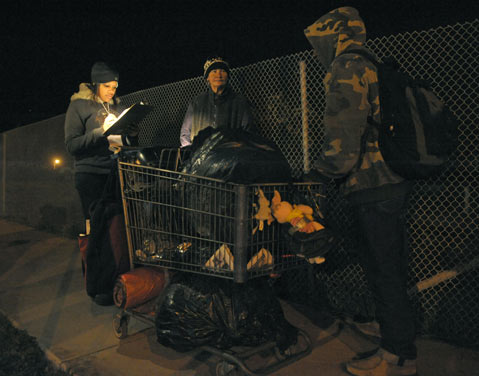 Thirty homeless people died in Santa Barbara County in 2011 — on the streets, in shelters, in their vehicles, or elsewhere — but advocates around the county say current efforts to collect more data on homeless individuals will help save many of the most vulnerable from premature death.
Thanks to a survey called the Vulnerability Index, said Debra Hamrick, a team leader for an area homeless outreach group Common Ground, service providers have been able to identify who could die on the streets this year, who needs medical insurance, and who needs mental-health care. "For example, we are working with a homeless woman who is 80 years old, so she will pass not on the streets but either in hospice or the hospital," said Hamrick.
On January 28 and 29, Common Ground will work with the Central Coast Collaborative on Homelessness to conduct their third countywide survey, which measures an individual's physical health, mental health, and drug or alcohol addictions to prioritize and serve those in need of urgent care. Santa Barbara is one of about 185 communities around the country that uses the index, which they combined in 2011 and 2013 with the biennial homeless count required for funding from the U.S. Department of Housing and Urban Development.
This year, as in past years, the groups are looking for at least 400 volunteers to complete the survey effectively. "The more volunteers we have, the more accurate count we can get, the more information we can collect, and the more efficient we can be in our support," said Hamrick.
Steven Gruver, the South County volunteer coordinator for Common Ground, said it is no coincidence that the number of homeless deaths dropped from 40 in 2009 to 30 in 2011. The survey began that year, and since then, more than 1,000 individuals have been placed in housing.
"We use this data throughout the year," said Gruver. "Every two weeks, there are is a large call between a bunch of homeless service providers, and we work through the top 150 most vulnerable and we assign them homes. We hope to get them housed, as well as provide them the services that they need, and we get that data all in one swoop."
As of now, only 280 volunteers have signed up, but Gruver feels confident more people will join in the effort. In 2011, about 500 people volunteered, and in 2013 there were about 650 volunteers.
This year, the groups are hoping to collect more data more efficiently, as they have combined the Vulnerability Index with the Service Prioritization Decision Assistance Tool (SPDAT) to give a more complete picture of the specific needs of each individual, and they will be collecting the data using a smartphone app.
"SPDAT is a little bit better for what we're trying to do," said Jeff Shaffer, community coordinator for the Central Coast Collaborative on Homelessness. "It will actually tell us whether people need the Housing First strategy or whether people are Housing Ready."
The Housing First strategy, Shaffer said, is "for those who have been on the streets longest," as it provides housing to people before asking them to make changes like quitting drugs or alcohol, while the Housing Ready strategy best fits those who are able to stabilize first at a shelter then build an income to afford a home. "In our county, we want to learn to do all of the strategies well," said Shaffer, "and this survey helps us gain the information to do that."
Many advocates said that the survey's impacts last long past the two mornings spent canvassing chilly, pre-dawn streets, parks, and shelters, as the services begin long-term relationships with homeless individuals, and many volunteers decide to keep coming back.
"When I was a volunteer," said Hamrick, "I was really touched when I was out in the early morning and I was getting to meet people as they were just coming out of their camps and their mobile homes and the places that they sleep at night. And then suddenly, they're telling you a story about what happened in their lives. I felt I was just so privileged to know their story."
Volunteer training sessions will take place on Wednesday in Lompoc at the City of Promise Homeless Shelter from 5:30-8 p.m., on Thursday in Goleta at the Goleta Valley Community Center from 5:30-8 p.m., on January 21 in Santa Maria at Crestwood Christian Fellowship from 5:30-8 p.m., and on January 24 in Santa Barbara at the Earl Warren Showgrounds from 10:30 a.m.-1 p.m.
For more information, check out commongroundsb.org.