Outdoors
Paddling the Big Sur Coast
The Author Explores a Chunk of the Breathtaking Coastline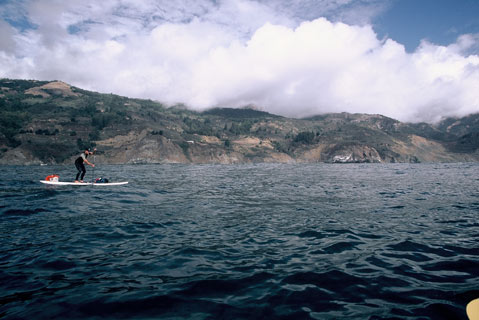 I've driven Highway 1 along the Big Sur Coast and often wondered what's below those towering cliffs. I found out last October when I kayaked along a good chunk of the breathtaking coastline. Two former U.S. National Rowing Team members, Patrick O'Hea and Will Miller joined me at the trailhead of Andrew Molera State Beach, where we portaged two stand-up paddleboards, one kayak, and a boatload of gear a mile to the water's edge. It was to be our easiest launch over three days. On a full tide, we easily paddled past cresting waves smothered in Elkhorn kelp, leaving the Point Sur Lighthouse in our wake.
We paddled for roughly 15 miles when it was time to find a campsite before it got dark. However, I quickly learned there really aren't that many beaches along the Big Sur Coast to land on. Several beaches we encountered wouldn't allow a landing due to large surf. I knew, though, that the beach at McWay Falls would suffice, where deep water forced swells to gather momentum before depositing them on a steep beach.
We landed without incident, pitched tents, and dried soggy gear. Relaxing within the last moments of sunset, we knew a mild storm was approaching, due to hit in the morning. It wasn't long before we were lulled to sleep by the constant rush of McWay Falls and the thundering surf.
It was a gray, drizzly dawn, and the surf was pulsing with the incoming tide. After we packed our gear, it began to rain and visibility was poor. After helping O'Hea and Miller through the surf, it was my turn to launch. The larger surf wasn't helping, with some knee-high backwash gaining steam off the rocks to my right, making it difficult to steady my kayak for a launch. Needless to say, I didn't time it well and found myself paddling downhill into the trough of an oncoming wave. I tried to blast through it, but the wave was so thick I instead found myself surfing the wave backward. My stern hit the sand, and I cartwheeled out of my kayak. My head scraped the soft, wet sand, and a yard sale of gear ensued. I dove after my dry bag full of camera gear and then tackled my kayak before it was swept out to collide with the next wave.
After regrouping on the beach, I caught my breath and tried again. This time I paddled out unscathed. I met up with O'Hea and Miller, and we paddled south in the rain for a long 22-mile stretch against a southeast headwind and big swells reverberating off the Mordor-like cliffs.
Once we rounded Gamboa Point, the sun popped out as we paddled passed Limekiln State Beach. I took a look at my map where it actually said "sand" was to be found inside several upcoming coves, but as we continued south, early winter swells had already ripped it out, or the surf was too big to land anyway.
Sunset was approaching, and I was getting worried I wouldn't find a safe place for us to land. Sand Dollar Beach wasn't a likely landing spot because it's a swell magnet. It was eight- to 10-foot waves breaking beyond all the rock outcroppings, but on the southern edge of the broad cove, I found a strong riptide that was forcing most of the surf on that end of the beach to back off. We sat there and watched what the waves were doing and then methodically crept inside.
The only problem was that the rip was flowing through a series of huge rock outcroppings, so a mistake might mean a demolition of paddleboards and a kayak. When we all decided to go at once, I looked over my shoulder one last time. It was about a 50-yard sprint to the sand. Everyone made it in without incident. We camped on a convenient plateau of cobble and enjoyed our last sunset in Big Sur.
The surf grew larger throughout the night, and the next morning we decided to finish the trip right there, opting to finish another day. After all, Big Sur wasn't going anywhere.