Voices
Selma: And Still We Rise
Santa Barbara Middle School Teen Press Visits with Selma Heroes
" … that one day little black boys and girls will be holding hands with little white boys and girls."
On the eve of the 50th anniversary of Bloody Sunday, the Santa Barbara Middle School Teen Press had the extraordinary opportunity to sit down and visit with two leaders of that walk across the Edmund Pettus Bridge, two partners in civil disobedience: Congressmember John Lewis and 109-year-old lifetime activist Amelia Platts Boynton Robinson.
Reporters Ben Cartagena and Nicos Christou spent an hour with John Lewis in his congressional office on their recent weeklong Teen Press junket to Washington, D.C. Sitting on his leather couch beneath photographs and mementos picturing historic events, the congressmember talked to the kids about what "Little John Lewis" was like, about young boys walking home in hoodies, about black police officers talking to their kids, and about what Dr. King, Malcolm X, and he would talk about if they could meet for lunch at Ben's Chili Bowl. The boys ended their visit by reading the final stanzas from Maya Angelou's And Still I Rise aloud and asking Lewis for a story that might keep us all rising. Lewis held the boys spellbound with his story of a mighty storm that shook his Aunt Seneva's shotgun house one afternoon in the hills of rural Alabama.
He told them how she gathered John, his brothers, his sisters, and his cousins close and told them to hold hands as the house threatened to blow apart … how she had the children never let go of each other as they went from corner to corner to hold the house together. The U.S. representative told the boys that right now a mighty storm is shaking our American house and our world house and that we need to go from corner to corner of this land and this world, holding hands, never giving up, keeping the faith, and keeping our eyes on the prize.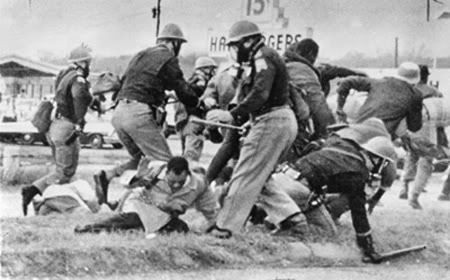 Just days back from D.C., the Teen Press was called on to go south to Malibu by the Creative Visions Foundation. It was Oscar weekend and the woman who convinced Dr. King to come take his next stand in Selma, Amelia Platts Boynton Robinson, was coming to California. Creative Visions founder Kathy Eldon knew Robinson held a special place in her heart for the future, and she also knew of some future journalists who might best capture her stories.
As Hollywood rose in awe of John Legend and Common at the foot of a bridge on stage during the Oscars, the Santa Barbara Middle School Teen Press rose in awe of the 109-year-old (she insists she's only "105"!) woman who was beaten, tear-gassed, and "left for the buzzards" on the real Edmund Pettus Bridge.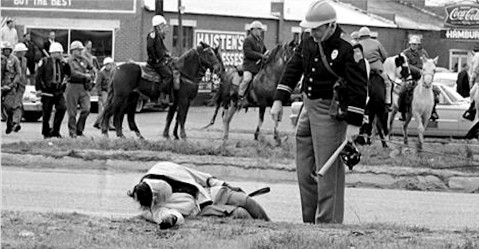 Robinson spoke of her early years working with George Washington Carver, of Joy Land — a place she and her husband created in 1920 so that black children (and white children if they desired) had a place to play outside — and of what it was like to be beaten on the bridge that day. Ben, Ella, and Lamont had read Maya Angelou's And Still I Rise and didn't even get a chance to ask their question based on the book before Robinson instantly spoke to them of how we all should rise. The Teen Press had pages of questions left when Robinson needed to rest, and they instead sped to their last page.
Hoping to evoke some inspiration for the road ahead, the kids finished their visit by playing a song from one of Amelia's favorite singers, Marian Anderson. As "Ain't Got Time to Die" echoed above the Pacific that afternoon, the kids and the entire room looked deep into Robinson's eyes, as the music took her back over a century of a life powerfully lived.
When the music faded, Robinson's face lit up, and the words that came from her lips humbled everyone: "I am a hundred and five years old, and I don't have time to die now …"
A film of the Santa Barbara Middle School Teen Press interviews with John Lewis and Amelia Platts Boynton Robinson can be seen here.
John Seigel Boettner teaches at Santa Barbara Middle School.