News
Oil by Train Opposed
Resistance Grows Against Nipomo Refinery's Bid to Add Rail Transport
Community leaders and activists gathered Monday to voice their opposition to the proposed Philips 66 oil train project. A panel of speakers — including Santa Barbara Mayor Helene Schneider, 1st District Supervisor Salud Carbajal, and environmentalists with ForestEthics and 350 Santa Barbara — addressed the potentially catastrophic derailment dangers facing area communities should the energy company receive approval to add a 1.3-mile rail expansion to its Santa Maria Refinery for crude-carrying trains.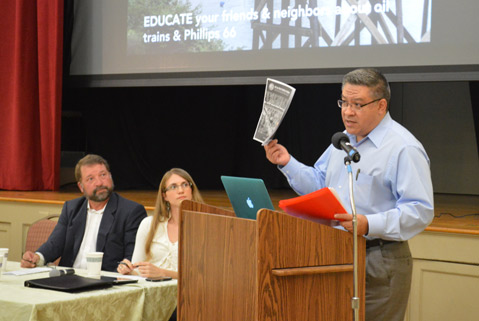 The Philips 66 facility west of Nipomo removes petroleum coke and sulfur from crude oil before piping it north to Contra Costa County for further refinement. If San Luis Obispo planning commissioners approve the company's application, Phillips 66 will begin processing Canadian tar sands and North Dakota crude transported by train. County planners received thousands of public responses to the project's most recent draft Environmental Impact Report, and a public hearing on the final draft is still pending.
The proposal has met with wide opposition due to the risks of derailments, explosions, and spills that come with moving oil by rail. With a minimum of five trains arriving to the Santa Maria Refinery per week, and with each train pulling 80-100 railcars, an estimated 2.1 million gallons of crude oil would pass along the area annually, said Carbajal, who called the project a "trifecta of potential impacts to our public health, our environment, and our economy."
"It has the potential for major economic impact should we have a disaster," he said. "Clearly this is a situation where we need to do everything possible to make sure we're shedding light on it, so that our constituents are safeguarded."
ForestEthics estimates over 25 million Americans live within the one-mile "blast zone" of oil train tracks, with many more working and commuting nearby. An estimated 125,000 Santa Barbara County residents would live within the blast zone if the Philips 66 application were approved.
Monday night's meeting at the Unitarian Society Parish Hall followed three weeks' worth of recent oil train derailments. On Thursday, March 5, an oil train derailed and exploded near Galena, Illinois. Another train derailed the Saturday prior in northern Ontario, with other disasters in West Virginia and Ontario in mid-February. In July 2013, 47 people were killed and 40 buildings destroyed in an oil train disaster in Quebec.
Despite the risks, oil transport by train continues to rise in popularity — traffic has gone up 4,111 percent in the last six years, said Ross Hammond, U.S. Campaign Director of ForestEthics. And with the increase in trains has come an uptick in environmental costs, with more rail oil spilled in 2013 than in the previous 30 years combined.
The Canadian and North Dakota crude that would be carried by the Phillips 66 trains is dirtier and more flammable than conventional crude, the panelists explained. The dilutants in the oil make for a dangerously lower flash point, Nipomo resident Larry Schinderman said, calling the rail cars "rolling time bombs."
Philips66 officials have pointed to a potential loss of jobs if their application goes unapproved, a concern Mesa Refinery Watch member Tom Ryan called a "myth." "Philips would never close their refinery, because they'd never get a chance to build another," said Ryan. "I think it is just a sham. They're just saying people are gonna lose jobs, but it's not going to happen."
Rebecca Claassen with 350 Santa Barbara expressed her hope that the debate would inspire a push for renewable energy. "The oil industry is basically asking us to choose a piece of pie without being shown the entire pie, but we don't have to choose between oil train or pipeline," she said. "We can do a rapid change to renewable energy," Claassen summed up, encouraging attendants to speak to their local supervisors about their concerns.
The expansion would only benefit Philips66 and put hundreds of thousands of locals at risk, Schinderman said. "There is no compelling reason for this to move forward."