Dance
Santa Barbara's Only Aerial Arts Fest Turns Two
2015 Floor to Air Festival Brings Students, Teachers from Around the Globe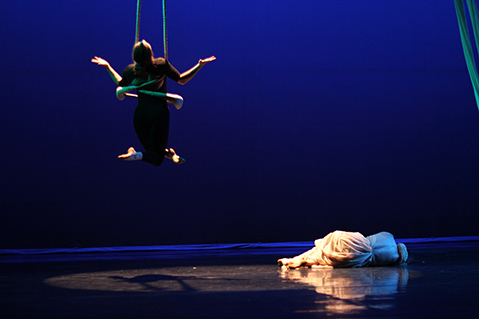 Late last year, I was invited to sit courtside for an intimate performance by the students of the Santa Barbara Centre for Aerial Arts (SBCAA). The evening-length piece took place at their Gutierrez Street studio and brought in a room-brimming crowd of friends and family, all of whom sat barefoot and shoulder to shoulder along the studio's perimeter. There, suspended some 30 feet above my head, aerialists ages 8 through 38 wrapped themselves in silks, hung suspended from metal rings, and contorted into pretzel-like embraces with trapeze bars — all without mats or pads or nets to catch them. Meanwhile I sat transfixed, held my breath, and tried my best to not bite off my entire manicure.
If you've ever seen an aerialist in action, chances are you can relate. The complex, quiet, graceful practice of aerial arts is unlike any other — a unique display of strength, skill, precision, and fearlessness that falls somewhere between modern dance and traditional circus fare. "It's as close as we're going to get to understanding flight," SBCAA founder and instructor Ninette Paloma told me over lunch last week.
Starting this Sunday, March 15, Paloma and SBCAA will play host to more than 100 fellow aerialists from around the globe as part of the second annual Floor to Air Festival. Started last year as a way for Paloma to "reconcile [her] own wanderlust," Floor to Air is one of only two events of its kind in the United States. (There are fewer than 10 such festivals in the world.) Over the course of the fest's seven-day run, attendees will hopscotch back and forth between workshops, classes, and rehearsals led by renowned aerial artists such as Ana Prada of Bogotá, Colombia; Gabrielle Martin of Montreal, Canada; New York City's Airin Dalton; Danielle Garrison of Boulder, Colorado; and Chicago's Karen Fisher Doyle and Jill Heyser, all of whom will spend their stay cohabitating and collaborating in a house in Montecito and at SBCAA's Eastside HQ.
"Aerial work is traditionally a very lonely place to be. It's just you in the air, and that's it," said Paloma, "but I find that the camaraderie down below is what really sets that platform and that confidence to be able to do this kind of work. That familial aspect of aerial is what drives me, I think, just as much as the actual creative work. It's that sense of really growing with one another. When you walk into the studio, you're dealing with everyone's stories — their lives, their fears, their challenges — and they're right in front of you, and there's no hiding from them."
And come this weekend, there will be no hiding from Paloma's aerial troops, either. "We're going to be everywhere, and people around Santa Barbara will surely be wondering what all these people in bright-colored clothes are doing," she laughed.
In addition to the classes, Floor to Air will also double as a testing ground for The Paloma Project, Paloma's newly launched bicoastal residency endeavor, which recently gained support and funding from New York Live Arts program and will eventually result in a full-scale touring production. Both the project and the festival's workshop-based side will collide and culminate in a two-part, evening-length performance — which is open to the public — at the Lobero Theatre on Friday, March 20.
While talking with Paloma, it's impossible to ignore the scope of the undertaking. In addition to hosting her guests, she's instructing, choreographing, and setting two works on a group of mostly new dancers in less than two weeks' time. It's a task that, perhaps fittingly, feels about as ballsy as freefalling from three stories up with only a bolt of fabric to catch you.
"Believe me: After a 10-hour day, with bruises in unmentionable places and everybody in my hair, I do lay back and wonder, what is it all for?" she laughs. As for her answer, though, it's all quite simple: "I think there is nothing more inspirational than a human being discovering their wings."
4·1·1
The second annual Floor to Air Festival comes to Santa Barbara this Sunday-Saturday, March 15-21. For information, visit sbaerial.com. Floor to Air presents Belline at the Lobero Theatre on Friday, March 20, at 7 p.m. For tickets and info, visit lobero.com.