Outdoors
Photog Richard Salas Takes Us On an Underwater Adventure
How One Brooks Grad Covered 4,000 Miles of Pacific Ocean
Four thousand two hundred miles. That is the approximate distance from the bathtub-warm waters near the equator to the bone-chilling cold stretch off the coast of Alaska. It is an expanse longer than the continental United States is wide, and it has been Richard Salas's underwater photography studio for much of the past decade. The vast and varied, wondrous and dangerous aquatic landscape of the Eastern Pacific is celebrated by Salas's just-completed three-part book project in a way perhaps never done before: a large-format, high-definition, quasi-psychedelic, exhaustively complete high school yearbook(s) of sorts for all the critters that call this stretch of sea home.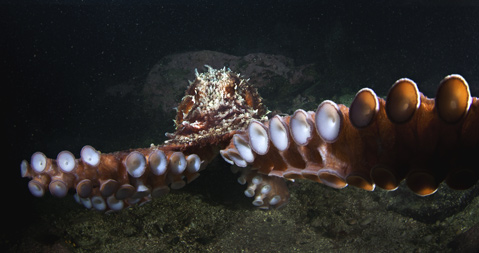 Large in stature but unassuming and disarmingly warm in personality, the 60-year-young Salas is a 1979 graduate of Brooks Institute who mentored under the legendary Ernie Brooks II, earned his diving credentials at the late, great Diver's Den here in Santa Barbara, and discovered his passion for taking a camera into the ocean while interning on Brooks's 57-foot converted trawler, The True Love. It was this experience that brought formative childhood adventures in Laguna Beach full circle. "I would spend hours in the tide pools as a kid, just wishing that I could make myself small and move into their world," recalled Salas recently over a cup of tea at The French Press. "When I started [diving with Ernie], I was immediately like, 'There's a reef! There are all my tide pool friends! Hey, I did it ​— ​I made myself small!' It was just fantastic."
However, the traditional trappings of the American Dream came calling shortly after graduation, and Salas soon found himself taking a three-decade detour into commercial ​— ​and decidedly landlocked ​— ​studio photography work. This included an extended stint in Los Angeles before he and his family found their way back to Santa Barbara in the early 1990s. Even still, it wasn't until several years later, on a dive trip with his eldest son to the Channel Islands just before the boy's departure to law school, that Salas reignited his passion for life under the sea. "To be honest, I'd forgotten how much I loved it," he admitted, "but on that trip to Anacapa, it all came rushing back: the love for diving, the love for the animals, and my love for the ocean."
And so, as the dive trips began slowly stacking and Salas shook the rust off his underwater camera, a truly grand idea began percolating. At first he thought about making one big book showcasing the seals and sea lions, fish and jellyfish, eels, sharks, turtles, and other assorted sea life that call the Eastern Pacific home. But, upon further rumination, he wisely decided that such an undertaking would be too ambitious, too expensive, and​—​even worse​—​might potentially miss his desired mark of intimately introducing land lovers to his ocean-bound buddies. So he parceled out the initial idea into three distinct regions and thus three distinct books. The first, released in 2009, was Sea of Light, dedicated to perhaps our greatest ​— ​and often underappreciated ​— ​local treasure, the Channel Islands. The second installment, Blue Visions, dropped in 2012 and was a visually poetic ode to life below sea level from Mexico to the equator. The trilogy was completed earlier this year with the release of Luminous Sea, which features Salas's work from numerous trips to various ports of call between Washington and Alaska.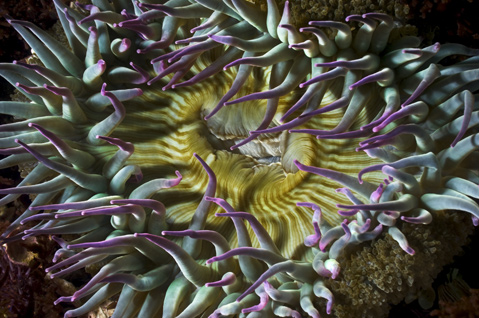 "These are just three photo albums of my friends and family," said Salas with a laugh. "I'm an artist, not a scientist. I am trying to show off the unique personality all these animals have and introduce them to people, maybe for the first time. Then, hopefully, people will let them into their hearts and start thinking about protecting the ocean they live in." And while his sentiment is certainly a good one, his technique is even better. Calling on his years of experience in the studio, Salas creates images and captures candid moments with these animals like few other ocean photographers do. Swimming with his trusty Nikon and his massive double wraparound strobes, he takes perfectly lit and deeply emotive portraits of creatures like the giant Pacific octopus, swimming anemones, wolf eels, Steller sea lions, lingcod, giant manta rays, Pacific green sea turtles, great white sharks, and scores of others both big and small. Though stuffy and hardened science types may scoff at the idea, there is no denying the fact that Salas's work infuses each picture with markedly human qualities, an effect that successfully harnesses the power of art to potentially world-changing ends. I dare you to walk away from his work and not care a little bit more about the health of our oceans and all the lifeforms that call it home.
But really, that is only half the story. While the books, all of them 12-inch-by-12-inch coffee-table-appropriate affairs, each provide their own version of a page-turning, visually captivating journey through the northern half of the Eastern Pacific, they do little to demonstrate the artistic and physical accomplishment Salas has achieved. If you've ever tried to frame even just a simple GoPro shot of a wild animal deep in the sea, then you have some idea of what I am talking about. The underwater world is a wild and dynamic place with endless and ever-shifting variables to contend with, none of which makes what Salas has produced any easier. Quite the contrary, in fact. Consider his efforts to get a shot of the Pacific giant octopus found in Luminous Sea. In the picture, the massive 10-foot octopod is using two of its eight arms to reach up some six feet from the ocean floor and grab Salas's camera. What you don't see is that, in order for that one fleeting moment to happen, Salas had to endure 11 hours of diving in 41-degree water over the course of four days on a boat off the coast of northern Washington. "At most, I got maybe two or three minutes with that octopus," he explained. "Otherwise, I was just floating and waiting outside of a cave. It was one of the greatest things I've ever done."
With the trilogy done, Salas is opening a truly unique art show this month, simultaneously exhibiting his favorite images from all three books at three area galleries. 0 to 60: An Underwater Adventure from the Equator to Alaska opened on March 14 at the Santa Barbara Museum of Natural History with selects from Blue Visions. Meanwhile, the Santa Barbara Museum of Natural History Sea Center on Stearns Wharf is hosting images from Salas's Sea of Light, and selects from Luminous Sea can be found at the Wildling Museum in Solvang. Further, each venue will feature a site-specific lecture by Salas at various times this spring and summer. When asked what it means to him to be at the finish line of such an impressive and lengthy undertaking, Salas, in his typical salt-of-the-earth honesty, took a long moment to reflect before looking me in the eyes and offering with a marked tone of surprise, "You know, I hadn't really thought about it until just now, but that's what these books are. They are me living life to the fullest and being the best I can be. Man, I can't wait to go home and tell my wife."
4•1•1
Richard Salas's 0 to 60: An Underwater Adventure from the Equator to Alaska is currently on view at the Santa Barbara Museum of Natural History, the Santa Barbara Museum of Natural History Sea Center, and the Wildling Museum. For more info, visit sbnature.org or www.wildlingmuseum.org.