News
A Year Without War
Trying Saying Yes, Suggests Joe White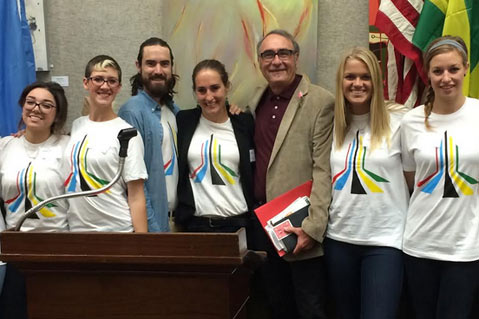 If you're like me, you've heard smatterings about the movement 2020 A Year Without War, but you can't help but be skeptical. Optimism is nice, but a global ceasefire hardly seems possible in five years' time.
SBCC philosophy professor Joe White and a group of SBCC students beg to differ. They took on the challenge of starting a movement about three years ago. With little more than a big idea and a WordPress website, the team set out to get 800 million people to virtually sign their petition by 2020, with the goal to tip history so that international wars halt for one year.
To date, about 40,000 people from 120 nations have signed up. Starting locally, the group convinced Santa Barbara, Lompoc, and Carpinteria city councils to issue proclamations of support. They were pleasantly surprised when the small Midwest town of Akron, Ohio did so as well. A number of local dignitaries have also endorsed them, and three dozen partners have exchanged logos with them. Every Friday, at High Mass in the Vatican, they say a prayer for "2020 a year without war."
"This is the only hope," White said. "It won't come from the top down."
This Saturday, the group is teaming up with the Santa Barbara chapter of United Nations Alliance (UNA) for an event called United Youth from 10 a.m.-4 p.m. at SBCC, which will feature performances and speakers, but also have the space for free expression to hear from the youth.
Given my skepticism about ending all world wars, I decided to sit down with Professor White to see if he could twist my arm for peace.
I hear there is only one question to ask a philosophy professor. That is: Why? And I hear the answer is "because."
[Laughs] It's kind of a joke. Lots of other people take on the question of why. It's not so much particular to philosophy. What is peculiar to philosophy is focusing on the Q in Q & A. People are so grasping of A [that] they start to bend the world to fit their A.
Why do you think people grasp for the A?
I don't think human beings like uncertainty, doubt, or ambiguity. I would suspect it's hardwired into us. If you've ever been on a roller coaster, once you are about to be over the top, this internal feeling inside of you is going, "I'm going to die. I'm going to die." Gut-wise, when you are in free fall, all of evolution tells you, you are dead.
How did you get into philosophy?
I took a philosophy class from a rather dynamic woman, and I was stunned. I have loved history and political science. I felt like I had never been in the basement. And I've never left the basement. That's why I'm so pale.
Why did you get into A Year Without War?
There's two trillion dollars spent every year by the world's militaries. That's enough to start to fix all of the world's social problems — if we just stop killing each other.
The United States still represents the old way of war. We have armies and navies and air forces, and all nicely structured and organized. We're fighting people in caves wearing sandals. And Al Qaeda and ISIS are networks. Loosely organized but following a very strong narrative.
I imagine you run into a lot of skeptics. How do you change their minds?
My first point is when you actually step back and look at organizations that want to make the world a better place, how is the NAACP [National Association for the Advancement of Colored People] doing? I guess there's no racism in America anymore. How's the women's movement going? I guess there is no problem with women's equality anymore. There's a bunch of noble loser organizations out there.
Second point is that you have to be careful in how you define success. If you look at our organization and say we're not going to get 800 million people and there's still going to be war … maybe it will happen in 2025. Maybe it will happen in 2030.
Humans are becoming more peaceful over the sweep of 8,000 years. The weapons have gotten more dangerous. But right now, could you imagine invading Canada? I don't think Germany and France are going to be in a big war again. Things are calming down.
My third point is, don't underestimate the millennials. These kids are smart. And they know things are not going well in terms of sustainability. They are really tolerant, own more passports, eat different foods, seek out novelty, and know that the planet is in trouble.
My last point is what a bunch of grouches you are [if you can't support a dream like this].
How will you measure your success?
If this succeeds, I think the outcome would be similar to the abolition of slavery. Slavery is illegal everywhere on Earth. Are there [still] slaves? Yeah. I've heard estimates of up to 20 million. What would happen with [A Year Without War] is that we have a series of proclamations going through the United Nations. People would sign on and say, "We've got to stop that." [Groups like ISIS] almost become criminal organizations. There is [still] going to be a mafia. There are going to be drug cartels. But they are not wars. We talk about a war on drugs, but we know that is not the same as World War II.
Do you want to distance yourself from or embrace the hippie image?
We are not a peace movement. [That's] way too complicated for us. We are not non-military. We are non-religion and nonpartisan. It's like talking to a [cigarette] addict. Try not smoking for one day. What's that like? We want to show that basically it's okay to have this diversity. There's one thing we share in common. We don't want our children crucified.
We're not anti-military. There's plenty for our military to do. They don't have to be bombing each other. Protect the species. We are living in an age of extinction. That's what we want to have a discussion about.
Smart and intelligent people disagree over the best way to live their lives. For most of our history, when you look at a culture, the good comes first and then comes the right. If you are a good Christian, you know the right thing to do. [Philosopher John] Rawls argued that reasoning itself breaks down the ideas of the good. We need to put the right prior to the good.
What's working its way out is that you can find stability without being homogeneous. That's what the Year Without War is going to do. It's an experiment.
Part of the experiment is I just want you to say yes. And if you can say yes, you can simply sit on the bleacher and watch. You can say yes and ask your brothers and sisters to join. You can say yes [and get] involved.