Sports
UCSB Baseball Enters Home Stretch
No. 8 Gauchos Finish Season Strong; Plus Vaqueros, UCSB Women's Basketball, and Student-Athletes
UCSB's Caesar Uyesaka Stadium, despite its inadequacies, was a rocking place to watch college baseball this season. The Gauchos, playing in one of the toughest conferences in the country, gave one gritty performance after another. They wrapped up their home schedule last weekend against UC Irvine by sweeping the Anteaters with a rare blowout victory (10-5) and two nail-biters (3-2 and 6-5). The Gauchos have played in 20 one-run games, winning 15 of them.
Perhaps the most dramatic occurred earlier in the week, a nonconference road game at Cal State Bakersfield. Trailing 7-6 with nobody on and two outs in the top of the ninth, UCSB got life when Cameron Newell was hit by a pitch. Up stepped Austin Bush, a strapping freshman who spends most games on the bench. Down to his last strike, he smashed a two-run home run, giving the Gauchos an 8-7 lead and, a half inning later, another one-run win. Senior catcher Campbell Wear called the hero "Awesome Bush."
The Irvine series finale on Sunday was designated Senior Day in homage to UCSB's six graduating players: Wear; infielders Peter Maris and Woody Woodward; and outfielders Newell, Luke Swenson, and Scott Quinlan. They've been solid all season. Newell's batting average (.383) tops the Big West. Wear keeps the pitchers on target. Maris mans the hot corner (third base) and delivered a two-run jack that sparked the Gauchos in the Irvine opener.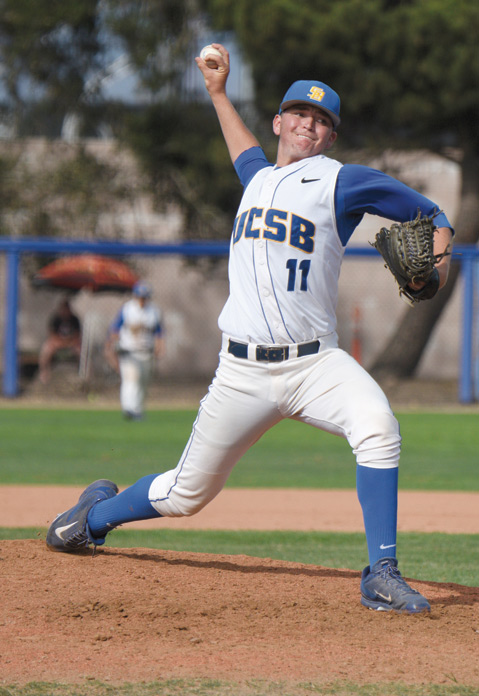 Two other Gauchos most likely played their final home games last weekend: junior pitchers Dillon Tate and Justin Jacome, hot prospects for the upcoming major-league draft.
Coach Andrew Checketts extolled the performances of Gaucho freshmen: Bush for his inspirational blast at Bakersfield, Chris Clements and Kyle Nelson for their clutch pitching in relief, and shortstop Clay Fisher, who was recruited for his glove and has come through several times with his bat.
Fisher was the hero in Saturday's victory, which took 11 innings to accomplish. After Swenson's RBI tied the score in the eighth, and Clements extinguished UCI rallies in the ninth, 10th and 11th, Fisher came up with one out, runners on first and second, and the Anteaters hoping for a double-play ball. What they got was Fisher's hard smash down the left-field line, sending J.J. Muno home with the winning run.
Another freshman, designated hitter Kyle Plantier, got into the act Sunday with a two-run double that gave the Gauchos a 6-3 lead. They needed all of it, as UCI swung the bat aggressively against Shane Bieber, UCSB's third standout starting pitcher. The Anteaters chipped away until Nelson got the last two outs with a pair of runners on base in the ninth.
Robby Nesovic, a junior first baseman who can also be called on to pitch, dug out several throws for putouts and maintained his batting average at .349. Center fielder Andrew Calica, who runs down fly balls like American Pharoah heading toward the wire, had such a fine series against Irvine (.546 on-base percentage) that the Big West named him field player of the week.
With three regular-season games to play — this weekend at last-place UC Riverside — the Gauchos are 39-13-1 overall and 15-6 in the Big West, a game behind Cal State Fullerton (16-5) and two ahead of UC Irvine and Cal Poly (13-8). The conference could send three teams into the NCAA tournament. UCI finished third last year and advanced all the way to the College World Series.
The Gauchos, ranked as high as No. 8 in the national polls, have the best shot at being named host of a subregional round when the NCAA announces its 64-team bracket on Monday. But they can't play on their home diamond for several reasons, including no lights — darkness was the reason they settled for a tie earlier this year. The word is that UCSB may rent a minor-league stadium within driving distance of the Inland Empire and Orange County, where many of their players came from.
SBCC CLOSED OUT: Santa Barbara City College could taste its first appearance in the State Final Four after defeating Orange Coast, the defending state champion, 3-1 in the opener of their best-of-three series at Pershing Park last Friday. But just ask the L.A. Clippers — those close-out games are tough. The Vaqueros did not blow a lead, though; they just had bad baseball luck in a 5-2 defeat Saturday, and the visitors coasted to a 10-2 clincher on Sunday. SBCC finished its best season in history with a 33-11 record.

HEARTY HIRE: New UCSB women's head basketball coach Bonnie Henrickson stoked good feelings in longtime fans by adding former Gaucho standout Mia Fisher to her coaching staff. Fisher was a sure-shooting guard for the Gauchos during the time they reached the Sweet Sixteen of the NCAA women's tournament in 2004. She picked up coaching experience at Stanford and San Jose State. If she can help Henrickson find more Mia Fishers in California prep ranks, UCSB's program may be able to climb closer to its once accustomed stature.
THE WHOLENESS OF A STUDENT-ATHLETE: As much as the NCAA would like them to be called student-athletes, collegians who play sports are customarily called just athletes, and to some of them, the term student hardly applies. UCSB's Golden Eagle Awards Banquet, supported for 28 years by Peter Jordano, salutes the student-athlete ideal. It honored 16 Gauchos for high achievement in academics last week.
One of them is Matt Hamilton, a junior water polo player majoring in mechanical engineering. Hamilton suffered a concussion last fall, and it was so serious that it ended his playing career. "Being a student-athlete here is such a privilege, and it can be so quickly lost," Hamilton said. He felt a sense of disappearance at being a student without the athlete part of his identity. "I thought Matt was no longer there," he said. Ryan McMillen, an assistant coach, told Hamilton that he still had teammates who would always be there for him. When he took those words to heart, Hamilton said, "I became Matt again." A Gaucho forever.