Visual Arts
Space Oddity at wall space gallery
Four Artists Photograph Space in Radically Different Ways
Although the group and duo shows put together by Crista Dix at wall space gallery have consistently demonstrated sophisticated wit through provocative juxtapositions, Space Oddity takes ironic awareness to a whole new level. This show may only be another jaunty step for wall space, but it is a giant leap for the contemporary conversation about photography. Partly in homage to her father, who worked for decades in the aerospace industry, and partly to express her own eclectically inclusive attitude toward modern image making, Dix has gathered four contemporary artists who approach photographing space and space exploration in radically different ways. In every instance, the question of tone is paramount. From dead serious to whimsical in the extreme, taken together the work on display — by John A. Chakeres, Bill Finger, Charles Grogg, and Ryan Zoghlin — constitutes a miniature galaxy of perspectives, each with its own claim to oddity.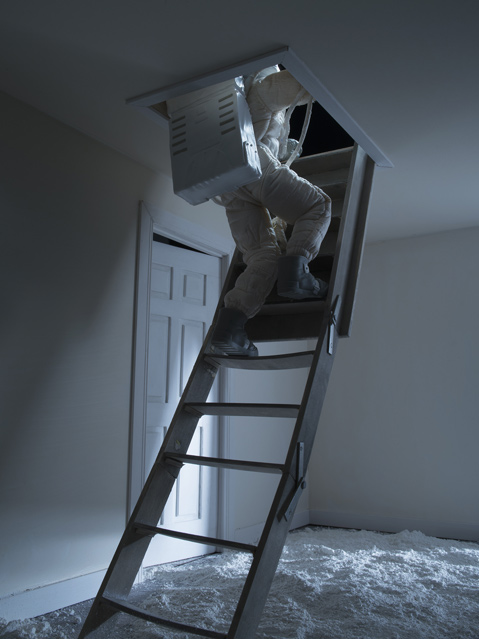 It would be hard to overstate the impact of NASA's Space Shuttle program on Chakeres or the sincerity of the intent with which he photographed the spacecraft. Fascinated by rockets and space exploration as a child during the Apollo era, Chakeres became NASA's go-to amateur expert when it came to shooting space-shuttle launches. In addition to capturing many transcendent pictures of the shuttles in their "stacks" — the supporting rockets that launched the orbiters — Chakeres solved several major technical problems that arose in the process. As he puts it in his artist's statement, "I quickly learned that to be able to capture what I envisioned would require the utilization of new technology."
Using the original Apple Macintosh home computer, Chakeres designed remote camera triggering devices and housings that allowed the creation of images during liftoff. Although Chakeres's technical innovations were initially motivated by his desire to perfect his own work, they were rapidly adopted by all the major news services and networks reporting on the shuttle program. His sharp, iconic images of the shuttles at rest and in flight remain powerful symbols of a moment when, at least as far as space was concerned, anything seemed possible.
With the dramatic failure of the Challenger mission in 1986, all that changed. The shuttle program was immediately cut back and turned over in large part to the military, and witnessing the accident traumatized Chakeres. He turned away from shooting the space program and put the images he had captured into storage. These are some of the first prints made from these carefully preserved negatives since the late 1980s, and they are ravishing.
Finger's work also recalls an earlier era of space exploration, but it does so by a circuitous route. His photography works in tandem with his skill in creating the dioramas that become his subjects. For this particular exhibition, he is showing a series called "Ground Control." The images depict dioramas based on the fact that there are people with no prior training who have volunteered to participate in a planned one-way space voyage to Mars. The gumption of these intrepid souls set Finger's feverish mind to work, and the result is a series of over-the-top recreations of DIY space-training equipment. Finger has imagined a subculture of space flight "pre-enactors" who do things such as build plywood scale lunar modules in their backyards or don full Apollo-style moon suits to go get something from the attic. These amazing photos manage to be eerie, hilarious, and mesmerizingly convincing at the same time.
Grogg's elegant blue images of crema play a trick on the eye that turns looking down into looking up and vice versa. Zoghlin's photographic objects are like those objects left over from dreams that prove to the waking mind that the dream was real. All in the space of a few thousand square feet of gallery space in the Funk Zone, Space Oddity travels light-years.