Living
Ojai Valley Grange's Homesteading Classes
Chewing the Cud on Goats and More with Grace Bueti Malloy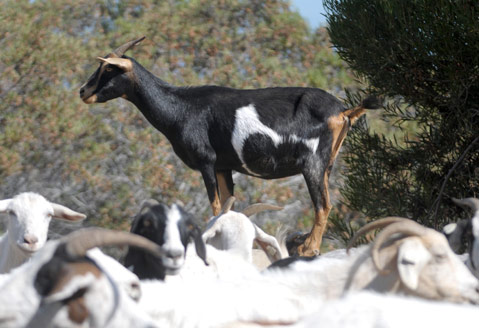 Bleating, butting, and kidding around are all part of a great day at the Poco Farm in Ojai, where Grace Bueti Malloy hosts a class on tending goats for the Ojai Valley Grange's summer homesteading series.
"We are trying to give people access to traditional skills that might have gotten lost in the generation above us," says Malloy, whose goat course is part of an all-ages summer homesteading series that includes training on such skills as bow making, hide tanning, cheese making, and wild pickling. Malloy personally aims to produce most of her own food and was already growing fruits, grains, and vegetables on her Ojai plot before she decided to add goats for meat and cheese to the table.
"Goats are a lot more appropriate for this climate than cows," said Malloy, explaining that the browsing ruminants can eat dry leaves, shrubs, and cactus and are often used to clear brush in fire-sensitive areas that would otherwise require extensive human labor and machinery. And adult male goats are gaining popularity as pack animals for their ready attitude and ability to haul as much as 50 pounds over treacherous mountain terrain.
In the class, Malloy offers an extensive reading list to beginners and suggests they first learn the proper methods from a seasoned tender, which includes an emphasis on starting a herd with good genetics from a high-quality breeder and acquiring a decent understanding of goat-specific veterinary medicine. She believes that if neighborhood relations are good, then goats are a plausible livestock choice even in urban areas because they are not overly smelly or noisy. "If you make really good cheese and ice cream," she advised, "you'll find that people are really excited about your goats."
But before deciding to go the whole hog, Malloy suggests to first chew the cud about the daily requirements of dairy goats. "It is a big time investment," she said. "This is on the scale of a decades-long commitment for your family."
She also feels our culture tends to lead people to do things for the way it will look on Instagram and Facebook and warns that productive livestock is not about having cute pet goats. "The reality of this whole homesteading and farming lifestyle is a lot of manure, long hours, and frustration," she said. "That's what produces the reward of the satisfaction of growing your own food."
Malloy hopes more families will take advantage of all the Ojai Valley Grange has to offer because learning where food comes from is one of the most valuable things both kids and grownups can learn.
See ojaivalleygrange.com for a schedule of upcoming classes, including pickle fermenting on August 8 and cheese making on August 15.