Living
New Stoke Clubhouse for Santa Barbara
Surfboard Shaper Ryan Lovelace's Trim Shop Opens on August 15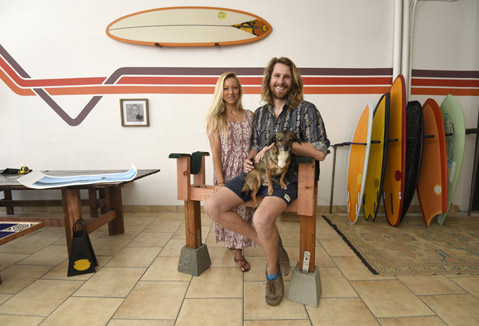 "Surf shops are cool, but this is more of a surfboard store," explains a very tired-looking Ryan Lovelace, who's shirtless, dirty, sweaty, and surrounded by power tools and surfboards in his nearly finished retail space called Trim Shop. But after listening to him wax philosophic about what Trim Shop will be when it opens this Saturday, August 15, it's clear the goal goes beyond the simple sale of surf craft. This place, with its record player, couches, art-covered walls, refrigerator of healthy snacks and drinks, and general air of kicked-back stoke mongering, has all the makings of a primetime clubhouse for surf sliders of a certain ilk.
After a mostly ocean-deprived upbringing outside of Seattle, Washington, Lovelace started leapfrogging up the steep surfboard-shaping learning curve after moving to Santa Barbara a decade ago. Now with more than 3,500 boards under his belt — the majority hand-built and artsy affairs — the soft-spoken regular foot is respected on the international surf scene for prioritizing both form and function. But Trim Shop, which is on Parker Way where Chapala Street hits the 101, is the first time his boards are available on a rack in Santa Barbara. For someone who lives in an old school bus in the hills behind Rincon and shapes boards in half-falling-down hideouts, Trim Shop marks, in Lovelace's words, "growing up, I guess."
Sharing the Trim Shop space is the clothing/lifestyle company Psychedelic Honey, run by Lovelace's girlfriend and artist-of-all-trades, Katie McLean, as well as saltwater sleds from underground South Coast shapers Greg Tally (of White Owl fame), Drew Fletcher, and Connor Lyon. Australian board builders Mick Mackie and Neal Purchase Jr. are also planning on delivering boards to the racks later this year. There are fins, many by Goleta's True Ames, surf films new and old, a carefully curated selection of books, and various hipster knickknacks. There's also one big Plexiglas-pyramid-rocket-ship thing in the center of the store, perhaps the most cosmic board display rack ever conceived.
"To be honest, I thought having a store of my own was still a few years away," admitted Lovelace. "But then this place became available, so I figured, why not now? Let's get people together, sell some surfboards, show some films, have some parties, sell some art. Why not have some fun and see what happens?"
4•1•1
Trim Shop's grand opening at 27 Parker Way is this Saturday, August 15. See rlovelace.com.