News
The 'Fix-It-Yourself' Cyclist
Essential Tools to Keep You Pedaling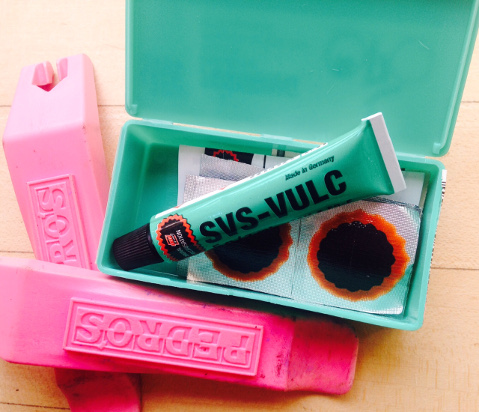 Creak, creak, creak — not the sound you want to hear while riding your bike. As I rode down the Victoria Street hill to Olive Street I was sure that the creak was coming from the headset. So, on a foggy morning last week, I decided that it was time to repair my favorite Lemond bicycle. I could have rolled down to Bici Centro where the awesome shop mechanics and volunteers would confirm my diagnosis and help me with the repair. The headset was old. I was sure I needed a new one, but it would be fun to check it out first. I'm no great mechanic, but I've long done most of the simple maintenance on my bicycles. With the guidance of a YouTube video I soon had the threadless headset loosely apart with the front fork still mounted. To my surprise it still creaked. It took a few minutes of turning the fork and pondering before the "aha" moment set in, and I realized that it wasn't the headset creaking but the brake cables rubbing against the head tube!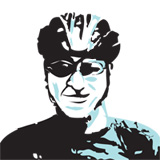 When I'm out on my bike, I always have with me the basic tools to handle simple repairs. The most common problem is a flat tire, so not surprisingly most of the tools I carry will allow me to sit on the curb and quickly repair or replace a punctured tube. Here are the seven items to carry with you to fix the most common problems. They all fit in a little pack that can attach underneath your seat, except for the pump. And, if you don't already have these items, you can buy them for under $40.
Spare Tube: If you're going to be running errands, commuting to UCSB, riding up Gibraltar or down to Carpinteria, the most likely problem you'll have with your bike is a flat tire. So bring along an extra tube. They're inexpensive, and if you're not sure of the right size, stop by your local bike shop. They are fairly compact, easy to change, and you'll be back riding in no time. Every cyclist should know how to change a flat. Practice a few times at home before hitting the road!
Patch Kit: It's great to have a spare tube, but bring along a small tire patch kit. Flat tires seem to come in bunches. Fix one tire and a mile or so down the road I'll get another flat. Or, if I'm riding with friends, someone else in the group, who doesn't have a spare tube, gets a flat tire. Patch kits are very small, inexpensive, lightweight, and easy to fit into a backpack pocket. You can buy one for a few dollars at any local bike shop. It's not a bad idea to check your patch kit once in awhile. The tube of glue can dry out and harden, and there is nothing worse than a flat tire, no spare, and no glue!
Tire Levers: If you're going to fix a flat tire, you need tire levers. These small inexpensive plastic tools slide under your tire and help pull it off your rim when you need to remove the tube to patch it or replace it with a spare. They fit easily in your backpack or jersey pocket. You can purchase them at any local bike shop.
Pump or CO2 Inflators: Whether you carry a patch kit or spare tube, if your tire goes flat, you will need to find a way to get air back into it. That's where a nice little pump comes in. Usually clamped to your frame or small enough to fit in a backpack, these mighty little dudes will put enough air in your tire to get you back on your way.
Some cyclists prefer to carry CO2 cartridges, little cylinders that deliver a burst of pressurized gas and refill tubes in a fraction of a second. They are lighter, but they require a bit of practice so you don't blow out the tube you've just replaced. Plus, they cost about a dollar apiece, for a one-time use. Your trusty pump is good for thousands of flat tires. If you run out of cartridges, you'll be walking home.
I prefer to carry a small pump in my backpack. This is one item where my advice is to spend $20-$40 and buy a good lightweight pump that will rapidly inflate your tire to full pressure.
If you have presta valve tubes, always carry in your toolkit a presta-schrader adaptor. These small lifesavers cost a few dollars and screw onto your presta valve so that you can fill your tire with air at any gas station pump.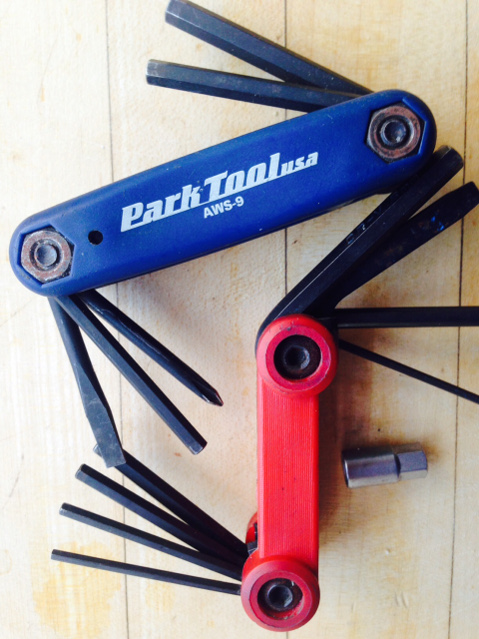 Multi-tool: For any number of potential fixes or adjustments you might face on the road, a multi-tool is a handy gadget that you'll want to take along on all rides. A multi-tool typically comes equipped with a dozen or more individual tools in various sizes, including Allen wrenches, hex bolt wrenches, screwdrivers, a chain tool, and more. Tucked neatly into one small package, it's like a portable toolbox for fixing your bike.
Cell Phone: Before cell phones, I always carried the the correct change for making a call from a pay phone. Cell phones are great for calling home to get picked up in case of breakdown, for calling your friends who may be ahead of you or behind you, taking photos, mapping the ride on Strava, or for just calling ahead to order a pizza. If you are stranded, you can always find the nearest MTD bus stop on your phone with Google Maps and load your bike onto a bus. A bus ride home costs $1.75, and if you've never put your bike on a bus rack, MTD offers some easy-to-follow instructions.
ID and Money: These are just-in-case items that you bring and hopefully never use. If you are into MacGyver fixes, you can repair a blowout in the sidewall of your tire with a dollar bill. Lay it along the split inside your tire to keep your tube from bulging out too badly. And be sure to ride with your identification and insurance cards. You should write down a list of emergency contacts as well as any special medical instructions or allergies to medicine you might have, or you can also keep this info on your phone.
If you're going to be bike touring or mountain biking off trail, far from civilization, there are lots of other tools that you should plan or bringing along. That's another Pedal On column.
For now, enjoy riding this summer, wear a helmet, follow the rules of the road, and carry a few tools so that you can fix it yourself!