Estimated worth today: Last valued at about $785,000 in 2011, but nearby single-family residences have recently sold for more than $2 million.
This was the dream home of Milton S. Stewart and his wife, Ida, who were originally from Duluth, Minnesota. The land itself was previously owned by farmer Jose Moraga and banker William Eddy, who sold to the Stewarts in 1887. They lived on-site in the "Rose Cottage" while the house was built. Milton died at just age 40 in 1891, and his tomb at the Santa Barbara Cemetery reads from poet Robert Burns' works: "Oh! why has worth so short a date? While villains ripen gray with time. Must thou, the noble, generous, great, Fall in bold manhood's hardy prime?" By 1904, the home had become Miss Mary Gamble's Exclusive Home and Day School for Girls, one of California's first academies for young women. In 1914, Ida (who'd live until 1941) and her son also named Milton converted the property into apartments.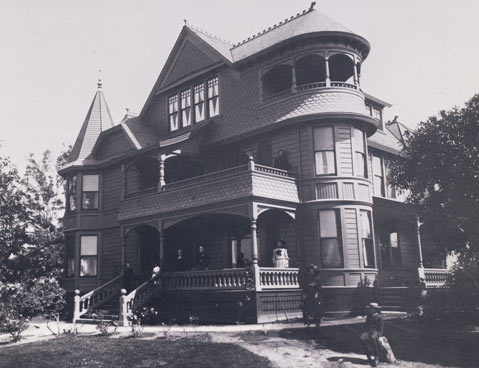 Ida's son Robert had died at just age 25 in 1905, and then tragedy struck again when the younger Milton drowned at age 40, like his father, along with Mary Stewart Wilkinson (relationship unknown), and Dr. Hal Bishop when their skiff went down in heavy seas off of Cueva Valdez on Santa Cruz Island. They were camping on the island with Ed Borein, the Meigs family of Carpinteria, and others.
During the 1925 earthquake, the home only lost the tip of the main chimney. Ida died in 1941, but the property remained known as the Stewart Apartments until 1948, when it was purchased by James Steven, whose family owned it for more than three decades. The owner is now listed as Calvin Marble, an investment banker in Santa Barbara.