Opinion
Dodger Sun Setting?
Chavez Ravine Was a Riot of Noise, for the Cubs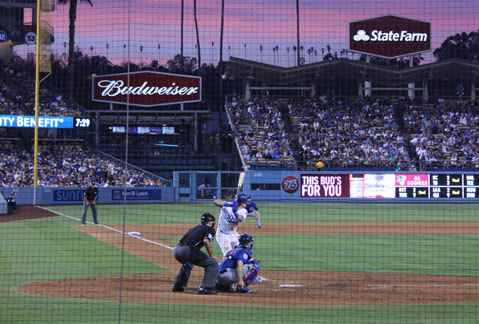 "All the world's a stage, and all the men and women merely players … " —Shakespeare, As You Like It
PLAY BALL! On Sunday, 46,679 of us marched into Dodger Stadium for a day in the sun, but perhaps more important, to play our role in a national TV spectacle.
We just didn't realize what kind of spectacle it was going to be. The Dodgers got hamstrung. Score? Well, I'll get to that.
See, we were there to cheer, boo, or howl basically as sound effects for the millions watching from coast to coast. We were the sound track for their Sunday beer-and-baseball relaxation.
We had to pay for the privilege, of course, spear carriers in the production. After all, who would tune in to watch a game played before empty stands, the only sounds being faint shouts among players and "Red hots, getchure red hots"?
And how uninspiring would it be for the multimillionaires running around out there if no one was reacting to their hits, runs, and (unfortunately) errors? Speaking of Shakespeare and stages, think of an actor reciting "To be, or not to be …" before an empty house.
The score? Well, I'll get to that. Not having been to a Dodger game in about 20 years (wasn't that why TV was invented?), I decided to give the kids as close to an A-ticket experience as possible.
So I hit the computer and learned some secrets about Chavez Ravine. For one thing, you don't have to park a mile away. For a mere $35, I could park a short walk from the field. And by shelling out a shocking amount of money, I could sit within a crack of the bat's sound of home plate. And the seats actually had backs.
A side benefit to blowing months of coffee money on the seats was entrance into the Stadium Club. I'd never heard of it. There awaited air-conditioned comfort and a view down on the greensward below, acres of emerald sod. (What drought? Did you want to watch the millionaires running around on parched earth?)
There I could, and did, reserve a table where we could eat, drink, and be merry (more about that later). Or you could belly up to the bar and watch on a huge flat-screen.
In fact, it turned out that you could belly up to televisions in Santa Barbara and watch the game, too. ESPN chose this one as its Sunday headliner, which broadcasts on Cox Cable on occasion by special arrangement.
Barclay, Wendy, and I opted for a table in the AC-cooled main room, with a great view. (Or we could have sat out on the rail in the heat.) But for that, we were expected to order the all-you-can-eat buffet, a lavish feed costing a mere $40 each, plus the price of any alcoholic drinks one preferred while watching the "national pastime."
Stuffed, we scooted down to our seats. Of the 46,679 paid customers, I would say about 46,000 of them were loud Cub fans, most wearing the once-beloved Cub logos. As the game progressed, they got louder and louder. Where had they come from?
It was Andre Ethier's $18 million against Cub pitcher Jake Arrieta's $3.6 million. Guess who won the battle of the day?
As fate would have it, the colorful Dodgers outfielder Yasiel Puig was not to be seen (on the disabled list). Nor were the Dodgers' famed pitchers Clayton Kershaw ($30 million this year) and Zack Greinke ($23 million).
On the mound was one of the Dodgers' new acquisitions, Alex Wood, being paid a pitiful $190,000, chump change in this era.
The final score? Did I mention that the punchless Dodgers got (ugh!) no-hit by the poverty-level Cubs Sunday? Final score: 2-0. And just (horrors!) nine days after being no-hit by the Houston Astros.
This is not looking good, folks. This is not looking like a World Series team. And if the Boys in Blue don't fight off the hated Frisco (there, I said it, and I'm glad) Giants, they won't even make the play-offs.
The kids and I trudged out of Dodger Stadium with the Cub fans' jeers and cheers bouncing off the walls. It was humiliating.
But on the drive back, Wendy played Beatles songs, and we reflected on the (otherwise) great day. In California, it's the experience that counts.
And as in Ernest Thayer's famed 1888 poem, "Casey at the Bat," the "mighty Casey" has struck out. But for the Dodgers, there's always another day.