News
Cycling Through an El Niño
Rain Gear Can Keep You Biking Despite Rain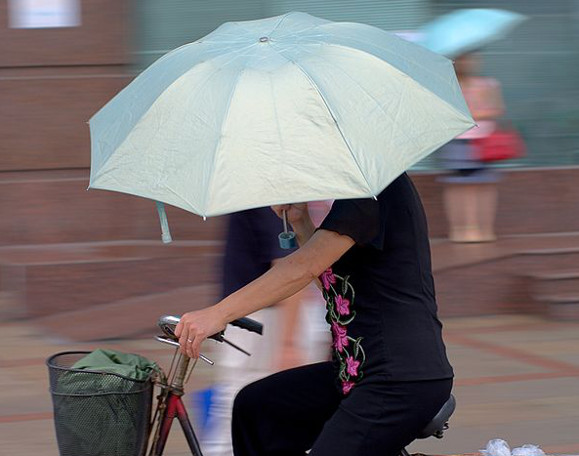 My next-door neighbor, Manny, is a fourth-generation commercial fisherman. His forecast for this winter is a biblical deluge starting in late October. I wasn't living in Southern California during the previous El Niños of 1982-83 and 1997-98, so I can only believe the old timers aren't telling tall tales. Talk about deluge, the rainfall total in Santa Barbara for the month of February 1988 was almost 22 inches!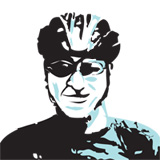 El Niño and the blob that has formed off the Pacific Northwest are combining to build hopes that the winter of 2015 will be one for the record books and help ease our protracted four-year drought. El Niño is characterized by warmer-than-normal surface water temperatures in the equatorial Pacific, in an area that stretches from the coast of Peru to west of the international dateline. Scientists are now saying there's a better than 90 percent chance that we will see a wet and wild winter.
Some cyclists may park their bikes this winter. I'll be riding my Nishiki every day.
If scientists are correct, it is time for Santa Barbara cyclists to up their rain-gear game. I learned many years ago that I'm not sweet enough to melt in the rain. For those of you who are prone to melting, here are some suggestions on how to stay dry.
Rain Jacket The most important item of clothing for battling the rain is a good high-quality jacket. Not only will a waterproof jacket keep your torso dry, it will help you regulate your body temperature. Make sure that it is bright yellow, orange, or fluorescent green so that you are visible on the road. And breathable material is essential so you don't overheat. Gore-Tex, both waterproof and breathable, is the best material
Rain Pants I haven't needed rain pants for the mild winter rains we've had the past six years. I'll be buying a good pair of Gore-Tex rain pants before the rains start. Pants will really help to keep your legs dry.
Fenders There are some cool-looking metal and wood fenders, but in a downpour you will thank the gods that you have a simple pair made out of plastic on your bike. They may not look great and they may rattle, but they are essential. Fenders will help keep all that water on the road off of your feet, lower legs, and back. A flap added to the front fender will give you even greater protection.
Boots and Gloves When your hands and feet get wet and cold, you will feel uncomfortable. Water resistant overshoes are worth their weight in gold, while gloves are a little harder to get right. They need to protect you without being so thick as to hamper your bike control. I've got a pair of lightweight leather gloves that I love for riding in the wet and chill.
Cycling Cap Air vents in helmets are great in the heat, not so much in the rain. A cheap cycling cap worn under your helmet is a good barrier for your head, with the peak giving extra protection for your eyes against the spray.
Standing Water Avoid it. Riding through standing water not only gets you wet, it can be incredibly dangerous as you never know what's lurking beneath. It might just be a puddle, but it could be a wheel-smashing pothole. When you see standing water, check over your shoulder before moving safely out to ride the lane. Most standing water will gather near the curb, but many Santa Barbara streets will become raging rapids in a downpour. Only ride through standing water if you can clearly see what's underneath.
Backpack and Panniers You'll need a good waterproof backpack to carry books, shopping, or computer. I also recommend Ziploc or heavy-duty plastic bags for anything vital or expensive like a computer. Ortleib and Chrome both make excellent waterproof bags for cycling.
Glasses I've got nothing here. If I take my glasses off — I can't see. If I leave them on —I can't see. If you have a great idea, leave me a comment.
Lights There is no doubt that for many Santa Barbara motorists, rain is the equivalent of driving on snow and ice. Make yourself more visible when it's raining, even in the middle of the day. There are plenty of good quality, lightweight LED lights that can be easily mounted on your bike. If riding at night, lights that meet legal requirements are needed anyway.
Chain Degreaser After a ride in the rain, a few drops of lube will protect the chain for the next ride. It's also a good idea to lightly spray the front and rear derailleurs and brake calipers. Ideally your whole bike would get washed down and dried after a wet ride, but for most of us that's not very realistic.
Check Your Tires Rain will wash all sorts of junk onto the roads, and when your tires are wet they pick up more of it than usual. After each ride take a quick look at your tires, checking for glass and other debris. Also check for cuts in the tire that could allow the inner tube to bulge through. I have 25c tires with a heavy tread on my Nishiki that are perfect for the rain.
The signs of El Niño are here. I was at Hendry's recently, and the water temperature was over 70 degrees compared to a September average of 63. So, when you are biking this winter, remember to ride slower, follow the rules of the road, and don't forget a helmet. You should now be ready to ride safely and confidently in El Niño. I'm hoping that Manny is right, and I'll have some tie-me-to-the-mast tales to tell my grandkids.