Sports
Dons Win Big on Peabody Gridiron
Santa Barbara High Football Exerts Offensive Authority in 52-7 Rout of Channel Islands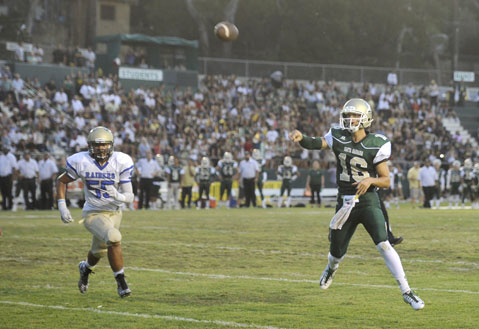 Christopher "Tick" Jellison did not run onto the field at Peabody Stadium before the start of last Friday's Santa Barbara High football game. He skipped. "That's Tick's personality," Dons coach JT Stone said. "He's skipping, or he's doing backflips in the hallway. He's our Energizer Bunny."
Santa Barbara's offense was ticking throughout the game, a 52-7 victory over the Channel Islands Raiders, and Jellison was involved from beginning to end. The 5'10", 175-pound junior returned the opening kickoff to the 41-yard line; he caught six passes, two of them for touchdowns; and he kicked the Dons' last extra points.
"Tick's definitely the best athlete we have," said senior quarterback Brent Peus, who completed 20 of 27 passes for 244 yards. "He plays with a relentless energy that stays from the first quarter to the fourth. He's a character, a funny guy, but he's not rah-rah before a game. He's very calm, and then his energy comes out on the field."
Peus targeted several other reliable receivers during the course of the game. He launched other touchdown strikes to Mason Bigelow and Blake Kelley. "We have four very good receivers [also including Jeremiah Nicholson]," Jellison said. "We've been working together for three years. Try to double-team one of us, and somebody else is going to get open."
The Dons also ran the ball effectively, alternating the straight-ahead action of Sean Babcock with the shifty scampers of Isai Figueroa. They averaged 53 points in their first two games, both victories on the road, and a sizable crowd came out to see if they could keep it going against Channel Islands. Tank tops were the fans' garb of choice on a sultry evening, except for the football uniform that a junior-varsity player was too proud to remove.
"Before the game, we talked about how it was our last home opener at the stadium, and there's been a long tradition to make everybody proud," Peus said. Peabody Stadium, with its unique curving grandstand — it was built as a music bowl 90 years ago — is slated to undergo a $12.7-million makeover into a modern athletic complex. A drive is underway to raise the last $5 million in funding for the project. Four more home football games remain during the 2015 regular season.
At halftime on Friday, the score was 33-0, and there was obvious evidence of deflation — not the footballs, but the visiting team. The Raiders coughed the ball up twice (interception and fumble) to set up Santa Barbara scores, and a center snap that sailed over their punter's head gave the Dons another opportunity that they cashed in when Peus whipped a 23-yard pass to Jellison, who broke free on a corner route to the end zone.
Donovan Zavaleta, one of those spunky little guys (5'6", 150 pounds) who can find a place in prep football, made a nice kickoff return after Channel Islands scored early in the second half to make the score 33-7. The Dons had started to drive again when Channel Islands safety Frank Romero stayed down after helping stop a run. In a scene that's hard on every parent and fan of the game, paramedics tended to Romero in the middle of the field. He was carefully immobilized and taken away on a stretcher. Raiders coach Gary Porter reported Monday that the player "has a deep bruise in his lower back, but there are no other signs of anything serious. He will miss this week's game but should be able to return the following week."
The incident put a damper on the game, but Jellison created more excitement when he streaked downfield on a post pattern and caught a 27-yard TD pass from Peus. "We needed that," the quarterback said. "We can count on Tick to make things happen." Jellison said, "You have to stay positive. It's football. That [Romero's injury] is going to happen. You roll with the punches."
Jellison wanted to play football for the Dons ever since he watched his brother Bradford, who was both a running back and a defensive back in the 2010-11 seasons. "He was fun to watch," Tick said. "He was always exciting."
The younger Jellison was ready when his time came. His nickname, by the way, was his own unwitting creation. As a toddler, he pronounced his name "Tickopher," so his family began calling him Tick instead of Chris.
When Santa Barbara started the sport of lacrosse last spring, Jellison gave it a try and enjoyed it. "It's like football with a stick," he said.
Football is the sport of tradition at Peabody Stadium, and the Dons will try to keep things rolling in this promising season when they host the Rio Mesa Spartans on Friday, September 18. Kickoff is at 7 p.m.
VAQUERO VIDEO: La Playa Stadium has a new scoreboard that was dedicated last Saturday before the SBCC Vaqueros' football home opener, a 21-20 victory over Allan Hancock College. Funded by Union Bank, the scoreboard features a large screen that shows live video of the game in progress. Replays will be introduced at a future time, SBCC Athletic Director Ryan Byrne said. The Vaqueros will play their next game at La Playa on Saturday, September 19, at 1 p.m. against East L.A. College.