Make Myself at Home
Make Myself at Home: Cozy Cottage on Upper Westside
A Look Inside 927 W. Valerio St., Where Adjectives Like Charming and Darling Really Work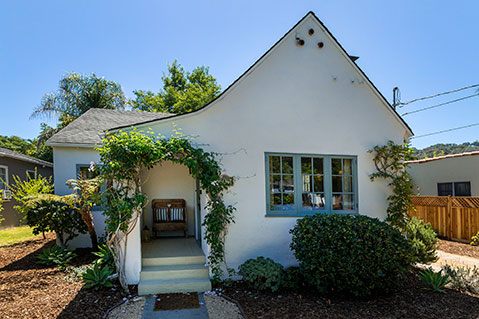 Address: 927 West Valerio Street
Status: On the market
Price: $799,000
Charming. Darling. Cozy. If you read enough real estate ads, you learn that those adjectives can be code for traits like tiny, old, or outdated ― especially in our locale, where the median home price is close to a million dollars and every neighborhood is desirable. It's enough to make any house hunter cynical or at least learn to see a property for oneself before trusting the description.
I happened upon 927 West Valerio Street before I had heard anything about it, driving through the Westside on a different errand and spying the open-house sign. I walked up the front path, not having read the realtor's narrative. So when the word "charming" popped into my head, it wasn't in response to anything other than the thoroughly deserving details of this adorable cottage.
The pointed roofline caught my eye before I even left the sidewalk, the arched entrance held my attention as I reached the porch, and the built-in mail slot had me smiling as I approached the front door. Crossing the threshold, I had the feeling that I was stepping into grandma's house as the hardwood floors and brick fireplace welcomed me into the cozy living room.
Telltale latches on the wood-framed windows and other original details in the front room reinforced my hunch that this home had seen a few generations of inhabitants. Walking deeper into the living room, I discovered my favorite element of this house: The arched doorway between the living room and the dining room hides an honest-to-goodness sliding pocket door.
I learned that the home was built in 1932, so my original sensation of being in grandma's house was right on the money. The two good-sized bedrooms have lots of windows to bring the sunshine in and provide peeks of the side and backyards. There are two full bathrooms, which isn't always typical in a cottage like this. Not surprisingly, there isn't a ton of closet space, but it does have the unexpected bonus of a separate laundry room.
Walking outside through the bright period kitchen, I found the backyard to be much bigger than I had imagined, with a tall wooden fence for privacy and a big tree offering shade and greenery. Down the long driveway, there's a detached garage, which is another atypical extra for a house of this era.
I pulled myself away from this darling home, thoroughly charmed, back to my car and to the reality of my original errand ― but not without those well-deserved adjectives, and thoughts of grandma, still lingering in my head.
927 West Valerio Street is currently for sale in Santa Barbara, listed by Angela Moloney of Berkshire Hathaway HomeServices. Reach Angela at 451-1553.