News
Family Bike Night
Vieja Valley Event Teaches Kids and Parents Bike Safety
Vieja Valley Elementary kicked off the new school year with Bici Familia. A team effort by SBBike, COAST, and a slew of volunteers, the family bike night provided cycling education to students and their parents.
The event was an attempt to address concerns after two boys were involved in a collision last school year. The students, who were hit by a car exiting a parking lot, were not seriously injured, but the accident highlighted a need for improved safety.
Hope School District Superintendent Daniel Cooperman said, "We wanted to do everything we could to improve safety for our children."
The evening began with bike valet and tune-ups. Children enjoyed pizza in the auditorium, and watched a cartoon on bike safety, while SBBike volunteers checked and repaired bikes outside.
Even SBBike Executive Director Ed France got his hands greasy wrenching the pint-sized bikes. "We're really looking for the basic things, tires that need air, loose brakes, things that don't pass the ABC (air, brakes, chain/crank) check," he explained.
Meanwhile, the children were being quizzed by SBBike's education director Christine Bourgeois and COAST's Safe Routes to School coordinator, Kim Stanley-Zimmerman.
"What do you do at a stop sign?"
The auditorium responded in youthful unison, "STOP!"
After the safety talk, participants were invited out to the blacktop where they rode through an obstacle course composed of sidewalk chalk, mini road signs, wooden cutouts, and lots of adult helpers. The young cyclists practiced signaling, steering around each other, and avoiding being doored by a mom-manned cardboard car.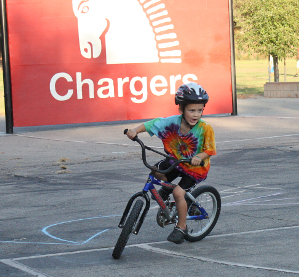 Claudia Henrie watched as her two young boys navigated the course. "This is fantastic," she said. "This is preparation for all of the variety of real life that will come, the doors that pop open, the stop signs.
"I really want them to learn to focus on safety first, because they are always just focused on pedaling and moving forward and not necessarily noticing the road signs and other things going on."
Henrie has thought a lot about cycling safety. She wants her children to become safe, confident riders. All seven of them. With kids ranging in age from 7-months to 14-years, she's got a long road ahead. But, she and her husband have made it a priority.
"We did about 15 to 20 mini safety lessons just to go over how to ride on the road," Henrie said, "The kids all know how to say, 'On your left!'" With so many kids moving about, Henrie says they often use the phrase when walking through the house.
Two of her sons joined the 10-and-over age group. These students were invited to leave the confines of the playground and hit the open road with new principal Juan Ricoy. Donning high visibility yellow vests, they made their way down the street practicing the skills they had learned.
Ricoy said the goal of the ride was to provide practice life experience, "We want to make certain that our students are safe and know how to come to and from school in a safe manner."
Back at the playground Henrie watched her younger sons receive instruction. "I'm so impressed by all the energy the volunteers are giving," she exclaimed.
Standing in the glow of the setting sun, Henrie mentioned early bedtimes, but her boys smiled as they rolled by, and it was clear that no one was ready to head home just yet.
"When we moved here from Pennsylvania a year ago, the first thing I said was, "We're all getting bikes!" Henrie said. Now she's dreaming of the day her entire family can ride them together.
With the help of a successful family bike night, they are well on their way.