News
Stem Cells May Cure a Type of Blindness
Replacement of Degenerated Macula Performed in London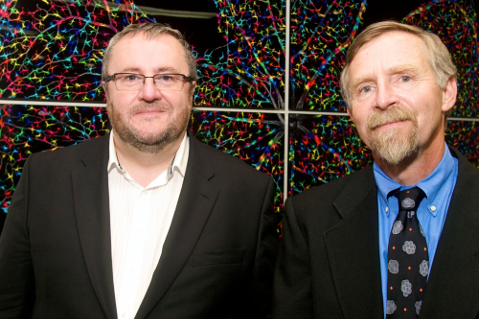 After 10 years of working to perfect the technique, the London Project to Cure Blindness, cofounded by UCSB's Peter Coffey, may have successfully treated a patient with macular degeneration, an eye condition that can lead to central vision loss or blindness. No complications have arisen from the surgery, performed in August at London's Moorfields Eye Hospital, in which stem-cell-derived ocular cells replaced diseased cells in the back of an anonymous patient's eye. Coffey, part of UCSB's Neuroscience Research Institute and University College London's Institute of Ophthalmology, explained in a press release that the clinical trial was to treat sudden severe vision loss due to wet age-related macular degeneration (AMD), which affects about 10 percent of patients with AMD, and that he hoped "many patients may benefit in the future."
As many as 15 million people in the U.S. are estimated to suffer from macular degeneration, which causes about half the vision loss worldwide, generally in people over the age of 50. The dry form appears as a thinning of cells in the macula, and often leads to the wet form, in which blood vessels leak. The macula is a small, oval-shaped part of the retina, and has the highest number of photoreceptor cells — or what the eye uses for central vision, most color vision, and fine detail acuity.
"Cellular therapy has tremendous potential for treating all types of age-related macular degeneration," said Coffey's colleague Dennis Clegg, of UCSB's Department of Molecular, Cellular, and Developmental Biology and cofounder of the California Project to Cure Blindness. "Regenerative medicine using stem cells will likely become a major weapon to fight many diseases," Clegg added. The California Institute for Regenerative Medicine funds the research, which created state-of-the-art methods to determine the visual outcome after stem cell transplantation, according to the London Project.
The trial plans to treat 10 patients and follow them for a year to assess both safety and stability of the cells. Retinal surgeon Lyndon Da Cruz at Moorfields is performing the operations and is the cofounder with Coffey of the London Project. They hope to know whether the initial patient's vision is recovered by this December.