News
Office of Emergency Management Under Fire
County Department Facing Hard Questions Over Leadership, Finances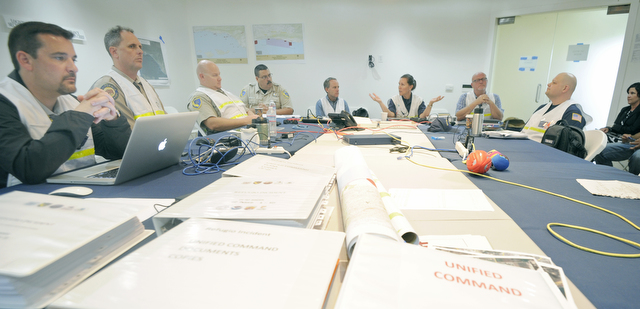 With October the official start to high fire season and El Niño storms looming, the Santa Barbara County Office of Emergency Management finds itself the focus of intense scrutiny. In less than a year, four of its five experienced managers have left the department. One filed a fair-employment complaint with the state, and a lawsuit against the county appears inevitable. In addition, the department has been subject to an unprecedented months-long audit by County Auditor-Controller Bob Geis after accusations arose that grant reimbursements were not billed correctly.
At the helm of the department is Ryan Rockabrand, who worked in the city of Chicago and Los Angeles County and took over a department already awash in turmoil two years ago. Though there was an expectation change was coming, observers noted his first days resembled those of a bull in a china shop. According to several sources, collaboration with local jurisdictions has suffered in recent years. Further, the Orfalea Foundation, which donated $8.1 million to disaster readiness in the county, expressed frustration with departmental leadership.
The four certified emergency managers who left, Joe Guzzardi, Jay McAmis, David Flamm, and Richard Abrams, had collectively worked for the department for 55 years, and their expertise in the field was widely known. Currently, the Office of Emergency Management (OEM) is looking to hire three people and plans to rotate positions between its headquarters and a new office in Santa Maria.
For his part, Rockabrand said the turnover reflects a changing workforce and that the profession is evolving. With baby boomers retiring, he said, there are more vacancies and more opportunities. With five managers at the same level, he said, the structure was "flat." In January, he created an at-will deputy director position and brought on Bob Troy, whom he worked with in Chicago, to be his Number 2. He also created eight new part-time positions and three internships. "While we have had people move on in their careers, we've also increased our capacity," he said.
Nuts and Bolts
Little is popularly understood about what the department does. Emergency managers function like forecasters: They draft contingency plans for natural or man-made tragedies; they work behind the scenes to facilitate policy choices; and they participate in disaster drills.For instance, where should the debris go after a mudslide? How should resources be put in place after a big storm? They are not first responders.
In Santa Barbara, the county department has long had its critics. A Grand Jury investigation in 2006 found the department was ill equipped to handle a major disaster, faulting its public information dissemination, medical care and shelter, and its emergency operations center. A separate report found county department heads had no motivation to prioritize emergency management for their employees. Two years later, the emergency operations center was still housed in trailers in a parking lot in the county campuses off Calle Real; the Grand Jury found it would probably not withstand even a moderate earthquake.
In 2011, OEM moved into its nondescript ​— ​but state-of-the-art ​— ​11,000-square-foot building surrounded by metal fencing and 24/7 surveillance cameras. The Orfalea Foundation chipped in $2 million for the project, and the building boasts solar panels, a generator, a helicopter landing space, conference rooms, and a central room filled with modular workstations.
"I came in and added the bells and whistles," Rockabrand said during a recent tour of the space. Just outside sits an Earthquake Early Warning System that could detect a 7.8-magnitude earthquake on the San Andreas fault three and a half minutes early, explained Rockabrand, who frequently speaks in acronyms. "That's enough time to open elevators and stop trains," he added. His passion for emergency management, and his fondness for equipment, is evident. The department is expected to complement its Nixle notification system with a more user-friendly platform next month.
Plays Well with Others?
Ten years ago, Hurricane Katrina epitomized catastrophe associated with deficient emergency management, and the devastating storm proved the need for effective planning nationwide. That storm in part prompted the Orfalea Foundation, a dominant philanthropic force that will sunset at the end of this year, to take on disaster readiness in the Santa Barbara area. In 2008, the foundation launched its Aware & Prepare Initiative, which trained thousands of people, including 600 in Spanish, and brought together volunteer organizations. "It all happened in spite of OEM leadership and vision," said Barbara Andersen, who was the director of strategic partnerships for Orfalea and worked with the department for eight years.
In fact, in 2011, under the leadership of former OEM director Michael Harris, the foundation rescinded a half-million-dollar grant after the department failed to set up an oversight committee or comply with reporting requirements to manage the funds. The foundation is still seeking a recipient for that grant before it shuts down.
Disasters know no boundaries, and collaboration and trust are essential. To what extent a lack of collaboration significantly affects emergency readiness in Santa Barbara remains to be seen. "An incident that spans multiple jurisdictions will stress our emergency management system because the relationships between the county and city jurisdictions have been weakened over a decade," Andersen said. "The new leadership has not strengthened it."
Rockabrand took exception to the characterization that cooperation has waned. He said the building regularly hosts trainings for other entities. He listed a number of local collaborative efforts, including Emergency Public Information Coordinators, Voluntary Organizations Active in Disaster, Aware & Prepare, Community Emergency Response Teams, and American Red Cross.
He added that leadership could be defined by an organization sustaining itself in the absence of high officials. Creating an environment with a shared vision and commitment is a top priority, he said, "so I know that whether I'm in the area or not, OEM and its partners can be effective." He travels often and sits on federal and state committees. His LinkedIn profile is exhaustive, but his critics worry his connections command a cost to local relationships. "Santa Barbara is very close-knit," said one former employee, who spoke on the condition of anonymity. "It's been acrimonious."
His supporters acknowledged Rockabrand's inclination to make swift changes but argued the working environment at the department today is better than it was in the past.
Hostilities Alleged
Internal bitterness dates back seven years ago when the emergency service planners argued their salaries were among the lowest in the area. The county determined most of them would be reclassified to "program/business leader." According to Human Resources Director Jeri Muth, most of the employees received just under a 25 percent raise but lost their union representation.
Before Rockabrand was hired, it should be noted, two of the former managers applied for the director position, but neither was offered an interview. One of the former employees, Joe Guzzardi, filed an administrative complaint in April, alleging age and physical disability discrimination since July 2013.
Guzzardi, who previously ran for county supervisor and city councilmember, contended he was falsely accused of insubordination, faced unwarranted and burdensome changes in his work schedule and location, and was retaliated against after reporting discrimination and harassment. Guzzardi has retained an attorney, Janean Acevedo Daniels, and said he could not comment on the matter. The parties could settle in the near future, but if they don't, Guzzardi is expected to file a lawsuit. County Counsel Mike Ghizzoni declined to comment.
To the extent Rockabrand has weathered a Santa Barbara emergency, the Refugio Oil Spill was it. During that event, the notion that Santa Barbara is a unique place was painfully obvious. Environmentalists and others within the community objected that the official response was slow from the start and that the public was left in the dark. In the early days, the decision was hastily made to set up the Unified Command post at the Emergency Operations Center (EOC). With hundreds of people from federal, state, and local agencies, along with Plains All American Pipeline executives, crammed into the county EOC, the space proved to be problematic.
The reason the county was able to be at the table in the first place, Rockabrand said, dates back to a Memorandum of Understanding the county has long had with the state. He noted the daily written briefings and telephone conferences to area partners. Of the argument raised that the county did not play a significant enough role in the response, he said, "I would challenge anyone who brings that to me." A disaster council will convene later this month to debrief about the spill.
It remains to be seen if the internal audit will find whether any grants were mismanaged. Part of the difficulty is that the managers who left held crucial information. Geis's office is expected to report to the Board of Supervisors next month.