News
Hundreds of Foster Kids Need a Home
County Honors One Especially Welcoming Family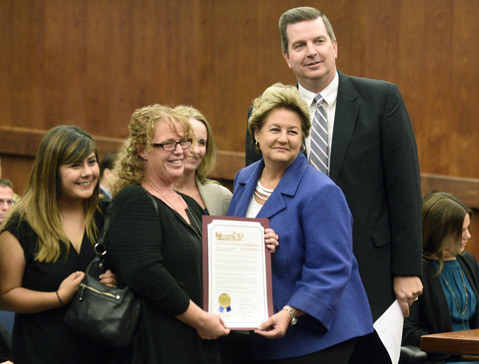 Every time Jamee Baker and her husband bring a new foster child into their Orcutt home, they go to HomeTown Buffet. It's a ritual they began after three little girls ​— ​ages 3, 9, and 11 ​— ​arrived at their doorstep, reunited for the first time in several years. Unfed and unwashed, they were scared to death. Baker's first instinct, as it often is, was to wrap her arms around them. But they were not receptive. "They could not even tell us what kind of food they wanted to eat," she said. At the buffet, Baker could see what foods they chose to eat.
Baker, who is just shy of 50, was one foster parent recognized by county supervisors this week for the 15 kids she has brought into her home in the past five years. Last week, she and her second husband, Ronnie Baker ​— ​whom she married after she lost her husband to cancer 10 years ago ​— ​adopted a 14-year-old boy, Egan. Next month, they will adopt Jonathan, who is 10. They also have five biological adult children between them.
Fifty-six foster homes exist in the county, most in North County. At any given time, about 450 county kids are in foster care, spending an unknown amount of time in a home, sometimes several in one year. In the past five years, an average of 90 kids were adopted annually.
Currently, more than 100 foster children are waiting to be placed in permanent homes through adoption, and 133 children have been placed out of the county. Some have specific needs ​— ​due to substance abuse or mental-health problems ​— ​are living with relatives, or are older and in transitional housing (whether they prefer it or not). Foster parents receive $500-$900 a month per child based on age.
On November 18, juvenile court will finalize seven adoptions. Supervisor Doreen Farr, who has three adopted adult sons and sponsored the county recognition, recalled the county placed her first child with her family nearly 34 years ago. At a foster-care stakeholders meeting Tuesday, social services professionals talked about reducing the number of children in group homes ​— ​there are 37 children now ​— ​because a state law going into effect in 2018 only allows short-term group homes.
When a child enters a foster home, the parents are often unaware of the trauma he or she has experienced. "I think a lot of families, if they [knew] everything up front, they wouldn't want to do it," Baker said. "You are not going to get a foster care kid who doesn't have baggage. You are not even going to get a regular person who doesn't have baggage." At least five of her foster kids, Baker said, asked if they had to shut their bedroom door at night. She could never figure out why.
Baker recalled she would find those little girls tucked into one bed. Later, she learned all three had slept together in one bed in a trailer at their grandmother's house. There had been no running water; they had slept in their clothes. The two little ones had no clue how to take a shower. The youngest spoke little English. "We made it through it," Baker said, before the three were adopted.
Baker knew she wanted to be a mother by the 2nd grade. She became a foster mom one week after she married Ronnie, who had never met his father and was in and out of his mother's home as a child. They never imagined they would adopt a child, but that changed shortly after Egan, who was 11, and his older brother, 13, arrived. "They were just itty-bitty," she recalled. The older brother suffered from mental illness and ultimately needed to be placed in a group home for safety reasons. The decision, Baker expressed, was difficult. She decided to adopt Egan in part so he could stay close to his older brother, who is now 17, has a job, and is doing well.
Finding permanent homes for older children is often more difficult. Baker's decision was made one day when she was touring a house she was looking to buy. "Egan was with us, running from room to room," she recalled. "He stops, and he goes, 'Hey, if this house is for sale and we're buying it, does this mean it's our forever home?'" Baker, who is a devout Christian, knew she was "supposed to be adopting him." Egan, Baker said, still wonders, "Why do you want me?"
In accepting her award, Baker told the supervisors: "If we had a bigger house, we would take more."
To report child abuse, call 1 (800) 367-0166.