News
Santa Barbara Sagas
How the Granada Theatre Was Rebuilt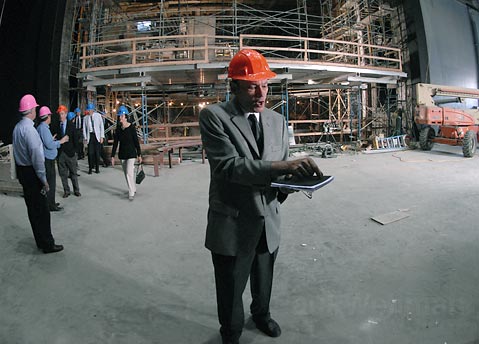 New Orleans and New York tend to vie for first place in lists of the country's Best People-Watching Cities. Looking westward, San Francisco and San Diego frequently make the top 10. But if there were a category for Best People-Saga Cities, I have to think Santa Barbara would rank high.
We run into them all over town. Connie's list alone includes an owl handler, members of a clandestine historical society, and a guy who worked on a government computer center on a secret Pacific island, to name a few.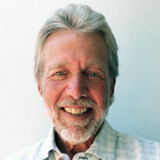 I've scored some of my own along the way. Example: I happened to get chatting with a guy who served as a kind of wrangler for a parking lot on upper State. If a person parked in a space reserved for the stores that owned the spaces, he asked the driver to move. One time a parker got hostile and threw a punch, not knowing until too late that the wrangler had trained in the gym of former heavyweight champ Buster Douglas. Bad news for the parker, but good story for me.
Another knockout saga in a very different realm came from a guy I met on a tennis court. Peter Frisch said he had an interesting story to tell. I listened. He was right.
As many Santa Barbarans may know, Frisch was at the helm of the $60 million renovation of the Granada Theatre in the heart of downtown. Altogether it was a six-year project: two for fund-raising, designing, and hiring, and four for construction. It strikes me as an almost overwhelming job, but it was accomplished, thanks to support from hundreds of Santa Barbarans.
A massive undertaking for sure, and as Santa Barbara appreciatively knows, it got done. But what people may not know is what happened to Frisch after it was completed in 2008.
First of all, that renovation. The enormous, eight-story structure was built in 1924 and tested one year later by an earthquake that did heavy damage downtown but spared the Granada. "It was the only high-rise to survive," Frisch said, attesting to its charmed life. Eighty years after its creation, the building was gutted and recreated in a form meant to remain viable for 100 years.
I didn't see the hall before it was redone, but I've seen it since and have to agree with the raves. Here's one from the 2008 Santa Barbara Beautiful Awards program: "This world-class performance venue has brought back to life the glamour of the 1924 opening with dazzling detail in dramatically sweeping Spanish staircases, classic Moorish arches, and lavish lounges."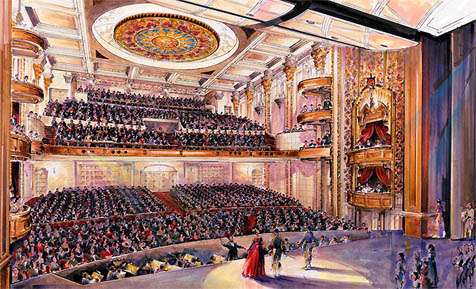 Peter Frisch accepted that award as the guy who spearheaded it all, conducting, among other things, 800 tours along the way. "The Granada was back," he said to me, seven years later.
Yes, but what happened to Frisch? Answer: He didn't go far away.
"I left to start my own studio," he said. It's called the Frisch Studio, and that endeavor in turn spawned a production arm called the Producing Unit, which stages plays at Center Stage Theater, above Paseo Nuevo shopping center. "It's a wonderful, intimate space for us," Frisch said.
He and his team seek out "great, inventive contemporary writing," and by contemporary, he means written within the last five years. Productions in recent years have included God of Carnage (2013), Time Stands Still (2014), 154 and Paradise (early 2015), and most recently What Rhymes with America. They start with 40 titles, then winnow them to six, and finally choose two to produce.
"I'm doing what I love to do," and he says it seems to be working. "Most performances are sold out."
Speaking of which, how's the Granada doing? At the time of its 2008 rebirth, former county arts commissioner Patrick Davis was worrying if it would generate enough business to offset its price tag.
An answer came in the recent press release from the Santa Barbara Center for the Performing Arts (SBCPA), which purchased the Granada in 2003. Over the last five years, according to the release, Granada attendance has increased by 40 percent, events by 149 percent, and individual annual fund donors by "a remarkable 577 percent." Operating revenue is up 64 percent to $2.3 million while costs and overhead are growing at less than 4 percent per year.
The numbers "demonstrate that Santa Barbara loves high-quality performing arts," said SBCPA executive director Craig Springer in an interview. "And the resident companies have stepped up to stage events that the community really appreciates."
As for the hall that hosts it all, Springer said, "Peter and the board that worked on the restoration did a tremendous job."
So the picture appears to be rosy. In Frisch's words, "Santa Barbara used to be thought of as a mediocre theater town. It's changing now."
What helps is a wealth of talent here and nearby, some of which comes from his studio. In addition to Santa Barbara, he also teaches in Los Angeles, bringing his own brand of style culled from many years in the theater — from studying with Lee Strasburg to teaching at Juilliard, Harvard, and elsewhere. Example: he eventually found Strasberg's "Method" too limiting, since it centers on the actor's personal experience rather than the character's possible experience. Instead, Frisch says, "The job is to expand yourself to encompass the character, not to bring the character down to your limited, habitual self." So Frisch focuses on the imagination and processes to develop and focus it.
And that was my introduction to the character named Peter Frisch. My advice to the bored: Stop anyone on any Santa Barbara street and ask for their story. I can almost guarantee it will be exceptional.