Arts & Entertainment
Sean McCann Discusses New Book, New Releases
S.B.-Born Composer Finds Home in Avant-Garde Compositions and Poems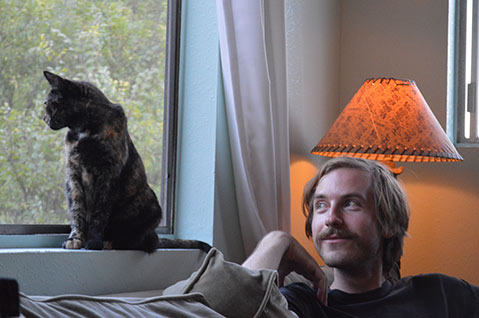 After a hike in Washington's wet Hoh Rainforest, Santa Barbara–born avant-garde composer, record label founder, and author Sean McCann lit a candle in his hotel room and recorded the sound of the flickering flame. He paired with this whisper the gurgle of the hotel coffee machine, rolling a pair of dice to let fate decide how the sounds would harmonize with an equally randomized set of melodies. The resulting piece fell together, with many spaces and silences punctuating the subtle sounds.
This unreleased piece was not unusual for McCann, who is a man unafraid to take chances. Since graduating Dos Pueblos High School in 2006 and studying broadcasting and communication arts at San Francisco State University, he has released dozens of experimental creations, ranging from dense synth clouds on limited-release cassettes to more stately minimalist string and piano compositions. He also runs a record label, Recital, on which he releases avant-garde and electronic works by composers both contemporary and long-standing, such as Annea Lockwood and Loren Connors. Somehow, he also manages to fit in a fulltime job providing production support for sound engineers.
McCann's newest offering isn't music at all, in fact, but rather a book: Pacifics, released December 1. Pacifics is a 65-page poem created from a vast word bank, two years' worth of words and phrases randomized and manipulated into abstraction. "It's definitely a new adventure for me," McCann said, citing the poems and graphical scores of John Cage and Dick Higgins and the novels of Gertrude Stein as inspiration. "The idea of releasing a book, something less ethereal but more personal, more close to home and close to the ocean, was something that I wanted to put myself through."
McCann admits the book isn't for everyone — he's hesitant about sharing it with his linguist sister, for example — but hopes readers will find inspiration in its cryptic phrase collisions. "You would pick it up, read a page or a part of a page, and take from it whatever you want," he said. "It's a weird, abstract thing, but to me, as with my music, it evokes a certain unique environment."
McCann's compositions have quietly attracted worldwide acclaim, including mention in the highly respected experimental music magazine The Wire, though McCann is a little baffled at the exposure. "It's unreal my music has affected people in this way, and it's always kind of embarrassing or awkward when people bring it up," he said. "It's something more internalized, something you make to calm yourself, then you discover, wait, people like this? I can share this with others?"
Though the unpredictable forces of chance and fate are often his greatest muses, McCann has become more deliberate in his approach. This year's supremely beautiful Ten Impressions for Piano & Strings and 2013's Steve Reich-ian Music for Private Ensemble find McCann foregoing electronic ambiences for minimalist and modern classical acoustic arrangements. The approach was a "new hill to climb" for McCann, he said. Next year, he hopes to release a double album titled Music for Public Ensemble, featuring contributions from 15 other musicians.
For McCann's Recital label, 2016 will also be a big year, with a list of releases including archival recordings from American minimalist gamelan composer Daniel Schmidt and a release of tape experiments from Italian poet Giovanni Fontana. Indeed, both in the compositions he makes and the artists his label represents, McCann prefers works with imaginative routes and hurdles where others prefer linear hallways.
Mentioning the pieces of the Fluxus poets and Stein as an example, McCann appreciates things that open new interpretive doors upon each revisit. "You read it once, and it doesn't make sense; you read it the next day, it's gonna be something else. It opens to your interpretation," he said. Open your ears and eyes to his music and words, and you may find yourself entering such new places yourself — to the discreet worlds of candle whispers and rosin resonations, and the silences in between.