Theater
Culture Clash Brings Social Satire to UCSB
Trio Discusses Current Events with Truth and Humor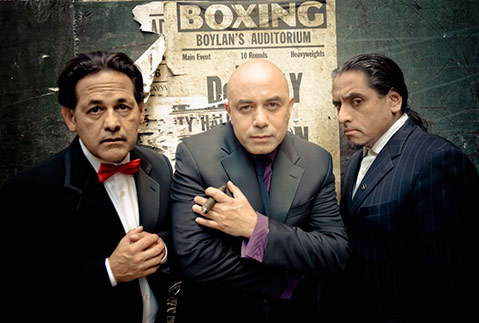 For almost two hours, someone discusses current, serious social and political matters with you. Your response? You're awakened. You're inspired. You're laughing. This is what the satirical performance trio Culture Clash has been doing to audiences for more than three decades. I recently spoke over the phone with one-third of this Latino troupe, Richard Montoya — a conversation the descriptors "lively" and "sprightly" do not do justice — to find out more about their return to Campbell Hall with new show Muse & Morros: True Stories — Real People.
Through their plays and sketches, the trio, which also includes Ric Salinas and Herbert Sigüenza, has been telling stories about people who don't often have the loudest voices but who define who we are as Americans. "There is a whole other America out there," Montoya explained. The oral histories Culture Clash gathers range in topic from heartwarming to inspirational to distressing to eye-opening; through them all, the troupe finds connections among social groups that seem to have nothing in common. "What do African Americans in South Florida have to do with a transgender worker in San Francisco or with a 15-year-old girl crossing the border?" Montoya asked rhetorically. "We give voices to the people that we meet."
Having played here before, Culture Clash already knows the UCSB and Santa Barbara communities, and they feel lucky to be returning. "We've been [to Campbell Hall] before, and it's a pretty desirable audience," said Montoya. "UCSB — shout-out to them — has done an amazing job at developing a diverse group of audience, from the Chicanos to the hippies to the two people from Ojai to the 10 vatos from Oxnard. That's what makes the audience so great." Some topics that will be covered during their show include crossing borders, transgender characters, Black Lives Matter, and young citizens losing their lives across the country. "Sometimes we're in a lowrider, sometimes we're in a Honda Accord, and sometimes we're in an old Cadillac, but we keep introducing new characters [and scenes]," he said.
In the same way that Montoya was able to sit down with Sheriff Joseph Michael "Joe" Arpaio, poster boy for anti-immigration, and find mutual understanding, Culture Clash's show is about finding common ground with people who are opposed to your political beliefs, religion, etc. Montoya explained: "We're going to exploit it, create our own town hall meeting, and talk about gender, class, race, and scale a few walls. We'll come into areas where we disagree, but that's going to be fine, because that's where we turn to humor and poetry." He also confirmed that there will be a Q&A following the show.
Throughout the years, Montoya has been consistently reassured that "we're not a nation of morons. We walk away from a show with more hope," he said. They're ready for a creative, humorous, and thought-provoking night. Are you?
4.1.1
UCSB's Arts & Lectures presents an evening with Culture Clash, Wednesday, January 27, at 8 p.m. at Campbell Hall. For tickets, call (805) 893-3535 or see artsandlectures.sa.ucsb.edu.