Living
Dignified Send-Offs for Society's Youngest
Garden of Innocence Takes on the Painful Role of Burying Unidentified and Unclaimed Babies
The customary rituals that follow a person's death — cremation, burial, memorials — are familiar to us all in one way or another. But what happens with these rituals when the deceased has no one to see to them? And, what if, on top of that, they're only infants?
As macabre as it sounds, these tragic situations find a degree of resolution with Garden of Innocence, a nonprofit that provides burial services for unidentified and abandoned babies.
"We take the babies that are 20 weeks past gestation — and that's usually six months — and the mom has either miscarried them in the hospital or walked away," said Lori Sanchez, the director of Garden of Innocence By the Sea, which serves Santa Barbara and Ventura counties. "The hospital then has 60 days to contact them, or they send a letter to them, and they have 60 days in order to call the hospital back and go and get their remains. But with our babies, nobody did."
Garden of Innocence's overarching mission is to help communities establish their own gardens where they can take over the responsibility of providing proper funeral and memorial services for these babies. The gardens are run by volunteers and are operated under Garden of Innocence's umbrella, and the organization provides each with step-by-step guidelines for how to conduct its work. According to Sanchez, nearly 300 babies have been buried in California since the organization was founded in 1999 by Elissa Davey.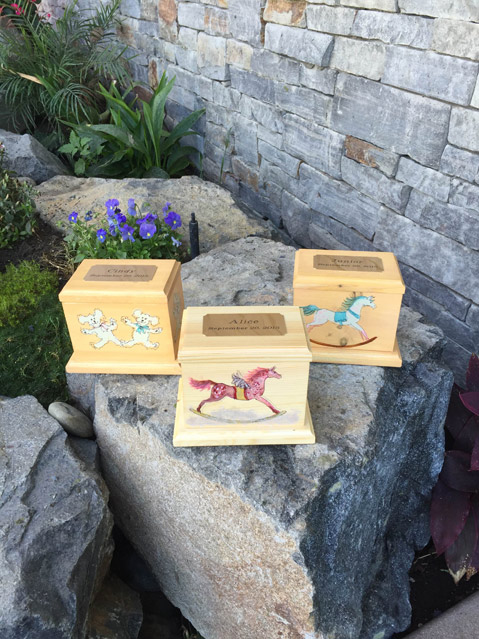 "Before we came about, babies' remains — if nobody stepped up and claimed them — they went into a pauper's field — an unmarked grave with remains of all other indigents," said Sanchez.
With a Garden of Innocence burial, however, infants are provided with their own individualized urns and memorialized by their own monuments — donated by woodworkers and monument builders — as well as their own handmade blankets and poems. The often unnamed babies are also given a name to be remembered by.
In order to conduct such burials, though, the organization must actively reach out to mortuaries and the appropriate public administrators and find out if they have or know of any abandoned or unidentified babies who haven't received any sort of proper burial. Garden of Innocence By the Sea's first funeral was for a baby who was lost for over two decades in a mortuary vault.
With seven gardens already in California and a few pending in other states, the organization is looking to expand into every county in California as well as across the country. Opened last year, Garden of Innocence By the Sea is located at Ivy Lawn Memorial Park in Ventura. The garden's most recent activity was a free, donation-funded memorial service on September 26 for three unclaimed babies.