News
Pedaling Fun in 2016
A Calendar of Bike-Related Events for the Year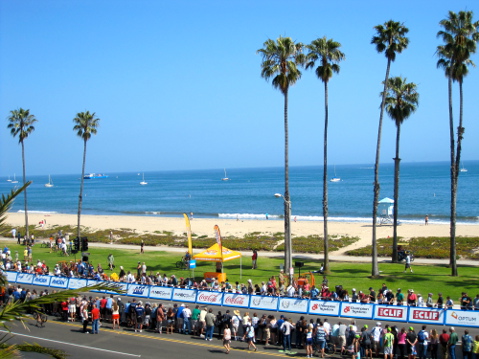 It's early February, and I'm still riding my bike every day and waiting for El Niño's biblical deluge. I'm ready. I've got fenders on my Nishiki, a rain jacket, and new waterproof pants. Rain or not, we live in Southern California so endless summer is right around the corner.
While I write my first Pedal On column of 2016, I'm listening to Janis Joplin singing "Ball and Chain." The Monterey Pops Festival was the start of 1967's Summer of Love. Heroin and Southern Comfort made Janis's live performances unpredictable. They soared or they crashed. At Monterey, for almost six minutes Janis sings about the pain of abandonment and lost love as she pulls her anguished bloody heart out of her chest. Raw, real, and painful to watch and listen to, but we've all been there. From the audience, a mesmerized Mama Cass puts an exclamatory "Wow" to the end of the song.
Almost 50 years later, in Santa Barbara, 2016 will be the Summer of the Bicycle. Here's a look at some of the upcoming cycling events to put on your calendar now.
Approval of the Bicycle Master Plan by Santa Barbara City Council will require the strong support of hundreds of cyclists who are willing to show up and speak from their hearts and minds. Rain or shine, roll out to this critical meeting on February 23 at 6 p.m. at City Council Chambers, 735 Anacapa Street. Santa Barbara's transportation planners and consultants deserve huge thanks for writing a Bicycle Master Plan that will make our streets more accessible to cyclists and safer for all road users. The plan isn't perfect. What is? But it goes a long way to filling gaps in the existing bike network that will encourage more local residents to ride from home to work, school, errands, the beach, or friends.
Registration opens on February 1 for the SB 100 on October 15. In 2015, over 1,000 cyclists of all ages took on the challenge of riding either 100 miles or several shorter rides.
If you are going to ride 100 miles and climb almost 10,000 feet, now is the time to start training with a group of friends. If you need a team to motivate you try Goleta Valley Cycling Club, Echelon, B4T9 Women's Cycling Team, or Tailwinds Cycling Club.
For kids 10-13 years old the Riviera Youth Bike Team (RYBT) is now taking applications for 2016. Last year the inspirational kids on the team trained hard all summer and rode together on the 34-mile course of the SB100!
If you want an extreme mountain biking challenge check out the 4th annual Santa Barbara Endurance Race Series. Race date is October 29, and registration opens on March 1st.
Early April is a great time to head up to Lompoc to visit the new River Bend Bike Park. A Lompoc native and former BMX racer, Dave Baker saw an opportunity to create a safe, protected place for children and adults to ride bicycles. Over 350 volunteers from Lompoc and surrounding areas worked more than 5,000 hours to get the five-acre park built.
This April 16 and 17 be sure to roll out to Santa Barbara's Earth Day celebration at Alameda Park. Ride your bike and SBBIKE will park it for free or use the conveniently located self-park ranks at the park entrances.
Starting May 1, CycleMAYnia, a program of Traffic Solutions once again kicks off spring with a month of events celebrating all aspects of cycling. The 7th annual CycleMAYnia will feature bike rides, parties, classes and events for the young, old, experienced, newbie, BMX, MTB, roadie, or commuter cyclist.
The Amgen Tour of California rides into town on May 17 for the Stage 3 finish. Be there to cheer on the racers as they make the iconic Gibraltar Road climb and cross the finish line at La Cumbre Peak.
On June 4 and 5 the 805 Criterion Weekend will race in Lompoc. Race or watch! If you go, make sure to stop by the Dirt Club outside of Los Olivos for some awesome riding.
Summer is a great time to ride from Santa Barbara down the coast. In 2015, three miles of Coastal Bikeway were completed from Carpinteria to Rincon. The Rincon-Mussel Shoals Bikeway has been named in memory of Ralph Fertig, Santa Barbara's longtime bike advocate. SBBIKE is working closely with Caltrans on the signage and plaques for the Ralph Fertig Memorial Bicycle and Pedestrian Multiuse Path. I biked the path this summer. What a great way to honor Ralph and keep his memory and work alive!
August is Back to School sale time. It is also the time to attend a COAST and SBBIKE Bici Familia event where school-age children can get a new helmet, test their riding skills, get some tips on how to ride safely from home to school, and tune up their bike.
Welcome to new and returning City College students. SBCC is working to mitigate parking congestion by encouraging alternative transportation including biking. The on-campus bike repair shop staffed by volunteers is the place to go for minor repairs or accessories.
Early November is the time to set your clocks ahead and roll out to SBBIKE's Illuminando La Noche. Every year 1,000 sets of front and rear bike lights are given away so that low-income cyclists commuting from home to work, school or on errands can be visible as they share the road.
Bike Moves, a spontaneous themed ride, rolls through downtown Santa Barbara on the 1st Thursday of the month. Dress up and meet up at the Plaza De Vera Cruz off of Cota Street at 7:30 p.m.
If you are looking for other road and off-road races or rides in California, check out this website: usacycling.org/events/?state=CA .
Enjoy new cycling adventures this year. Andie and I both wish every Santa Barbara resident from age 8 to 80 who chooses to bike a year filled with cycling adventures. Wear your bike helmet, be visible, obey the rules of the road, and make 2016 a year of safe biking.