Living
Amazon@IslaVista Celebrates Its Official Opening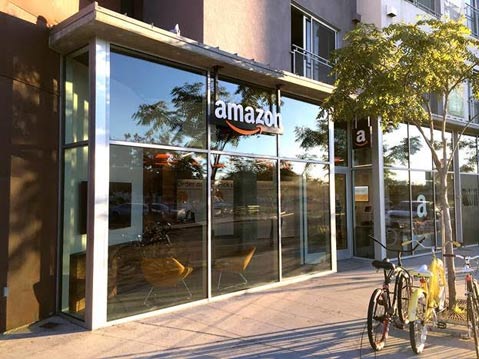 For many in a community of tricky street addresses, where a package left on a doorstep can readily go missing, the official opening of the Amazon@IslaVista store represents a quick and convenient package-delivery option.
The Isla Vista location is the fourth of its kind after its counterparts at Purdue University, UMass Amherst, and UC Davis. According to store management, I.V. was chosen in large part to appeal to students without having to locate on a university campus. The company's four package-pickup stores afford the opportunity to interact with customers face-to-face for a business accustomed to operating almost exclusively in the online realm. A primary selling point for the store is the safekeeping of customers' packages in secure lockers.
"I live in the new Sierra Madre apartments, and we don't have mailboxes over there — and it's not on Maps yet," said UCSB student Natasha McClellan, who would otherwise have to wait longer to pick up her deliveries on campus. "I just came to pick up my first packages here, and it literally only took me 30 seconds, so it's a lot faster."
Once Amazon@IslaVista is added as a shopper's shipping address, users receive emails alerting them that their packages have arrived at the store. Scanning the accompanying barcode from their phone will open the locker containing their package, and Amazon Prime users can receive free same-day shipping on eligible items ordered before noon. If a package isn't picked up after five business days, it's shipped back to the fulfillment center, and the customer is refunded.
Amazon@IslaVista is located at 6533 Trigo Road and is open seven days a week, 9 a.m.-9 p.m.