Real Estate
Fabled Gables: 328 East Anapamu Street
This Italianate-style cottage has had many owners over its 128-year history.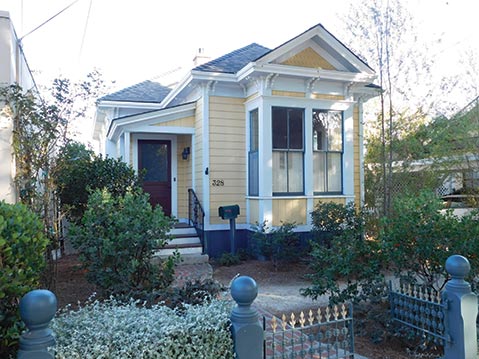 Probable Original Owner: Mary C.F. Hall-Wood
Year Built: 1888
Architect: Unknown
This simple, one-story, Italianate-style cottage with drought-resistant landscaping blends well into the friendly, mixed residential district near Santa Barbara High School, where Italian stone pine trees form a canopy over the street.
In 1867 the City of Santa Barbara sold Lot 13 in Block 121 to laborer Martin Feliz. Sometime during the next 17 years, the property was bought by A.B. Williams, secretary and manager of the gas and electric light works. Williams then sold it in 1885 to real estate and fire insurance agent Clio L. Lloyd and his wife. It was either the Lloyds or the new owner, Mary C. F. Hall-Wood, an editor for Santa Barbara's Daily Independent (which was in publication 1883-1901), who built the cottage in 1888. Records from the Santa Barbara County Assessor's Office in 1888 indicate that Hall-Wood lived in the home and that the total cash value of all improved property on Lot 13 was $1,900. Upon her death in 1900, the home was acquired by Alfred C. Hall, proprietor of the Santa Barbara Electrical Works.
It is challenging to verify ownership between 1900 (Hall) and 1961 (Anna Raich), as the county title records have missing gaps. However, city directories during the time span indicate a variety of people residing at the property, and it is speculated the home was used as a rental during this 61-year period. One of the occupants during this time was Calvin Long, who operated his tool-sharpening business from the site.
In 1975, ownership changed hands from Raich to Emma Hubbard. The following year, 1976, it was acquired by Edwin Quackenbush, yet within a few months, it was purchased by Chester and Margaret Lockhart of Santa Ana, whose plans were to use the home as a rental until they retired. Margaret Lockhart's estate sold the property in January 2006 to Joseph Laranetta for $849,000. Nearly three years later, in December 2008, the present owners acquired the home for $755,000 from CitiMortgage, Inc. Although the residence has had various owners in its 128-year history, it has not had any significant alterations.