Arts & Entertainment
Silk Road Ensemble with Yo-Yo Ma
UCSB Arts & Lectures Presented the Silk Road Ensemble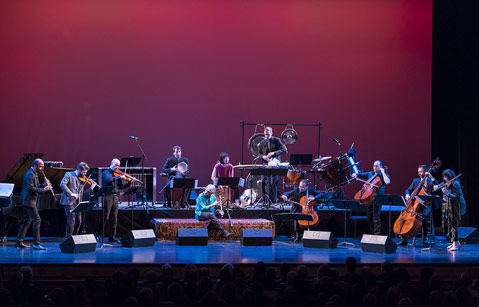 The atmosphere for this first of two concerts by the Silk Road Ensemble was electric with anticipation as a capacity audience jammed the Granada Theatre to see cellist and musical visionary Yo-Yo Ma perform alongside his innovative world-music group. Music fans from a variety of backgrounds joined UCSB students, faculty, and administrators in enjoying an eclectic program that nevertheless cohered enough to leave a compellingly unified impression.
The sprawling band featured 15 musicians performing on instruments ranging from the familiar (violin, viola, cello) to the intriguingly exotic (kamancheh, gaita, shakuhachi). The night's two most ambitious compositions were world premieres. All of the music demonstrated that this ensemble works from a premise unlike that of any other, as the idea of inventing new musical languages and forms is present in everything that Silk Road does.
The opening number, "Vojo," provides an excellent example of one way that Silk Road explores new musical horizons. It begins as a duet between Cristina Pato's gaita, which is a Galician type of bagpipe, and the shakuhachi flute of Kojiro Umezaki. The title "Vojo" is taken from the universal language of Esperanto, and the piece reflects a similar desire to go beyond mere translation in order to establish a new independent language. Rather than write a shakuhachi piece with a part for gaita, or vice versa, the two explored their instrumental vocabularies until common patterns emerged, and then composed the final work based on these mutually acknowledged elements.
Did I mention that "Vojo" is beautiful? Well it is. All of Silk Road's compositions, even the percussion-driven minimalist ones, tilt toward the expressive side of music and seek to fulfill a role that Yo-Yo Ma has repeatedly identified as a core rationale of all music—the desire to experience tangible representations of inner mental and emotional states.
The evening's first world premiere came just before intermission, and it was a knockout. Tabla master Sandeep Das dug into his personal history for "King Ashoka," which celebrates an enlightened early Buddhist leader who happens to hail from his part of India. The piece told King Ashoka's story, which is one of conversion from a warlike, military style of leadership to a Buddhist commitment to nonviolence, but it told it in reverse. The music moved from a gentle representation of Ashoka's Buddhist phase through increasingly agitated passages meant to recall his prowess as a warrior. Throughout, it was Das on table, and occasionally through some very distinctive vocals, who kept the momentum flowing.
The second half began with a delightful piece by ensemble member Umezaki that included both the recitation of a Japanese folktale, "Repayment from a Crane," and Yo-Yo Ma's distinctive presence on cello. It showed vividly how flexible the forms embraced by Silk Road can become, easily incorporating spoken-word elements without distracting from the music in the least.
The night's most expansive and arresting work was the composition "Mille Etoiles" by Glenn Kotche. Kotche, who is the drummer in Wilco, has shot to the head of the current class of contemporary classical composers with a remarkably productive couple of years, beginning with his album Adventureland in 2014. "Mille Etoiles" was written in the South of France and conveys both the majesty of the night sky and Kotche's affection for his wife and children. It's percussive (surprise) and somewhat minimal, but it shimmers and moves with the grace of a shooting star.