Sports
Red Wine for Dodger Blue
Bob Lindquist of Qupé Crafts Syrah and Chardonnay for L.A.'s Boys of Summer
Blue is the color associated with both passions of Bob Lindquist: the Los Angeles Dodgers and the syrah grape. The founder and winemaker of Santa Maria Valley's Qupé wine cellars has combined those enthusiasms into the first-ever bottlings of Dodger-label wines.
His path started in a vintage year for the ball club. "I started following the Dodgers in 1965 when I was 12," Lindquist said. "Sandy Koufax and Don Drysdale were pitching. That was heady stuff. They won the World Series in seven games against the Twins that year. I took a radio with an earpiece to school so I could listen to the weekday games." He lived in Costa Mesa, and the Angels were closer to home, but "I preferred the old-school Dodgers."
A decade later, Lindquist, enraptured by his first taste of really good wine, wanted to learn how the stuff was made. He moved north to Hollister and worked as "a harvest slave" at small wineries in the Hecker Pass area. Eventually he found his way to Santa Barbara County and was "a tour guide and cellar rat" at Zaca Mesa Winery. "Jim Clendenen [then the assistant winemaker] took me under his wing," he said. In 1982, Clendenen and Lindquist started their own wineries, Au Bon Climat and Qupé, sharing the same production facility east of Santa Maria.
Syrah, a grape that produces a midnight-blue juice, was Lindquist's favorite varietal from the get-go, even though it was not well-known at the time. "I wasn't sure how well it would sell, but I'm passionate about it," Lindquist said. He is a pioneer among the Rhône Rangers, vintners who specialize in grapes native to the Rhône Valley of France. He also makes chardonnay, the ever-popular white varietal. "It helps pay the bills," he said.
His biggest splurge was to purchase a share of some box seats at Dodger Stadium. Throughout the wine country, he is known as "Dodger Bob." He made some of his better wines in 1988, the last time the Dodgers won the World Series. "I had tickets to Game 6, but it never happened," he said. The Dodgers beat the Oakland As in five games.
Lindquist had to watch the San Francisco Giants win the World Series three times in the last six years, which led to Mumm Napa producing a $125 Championship Brut sparkling wine. He decided the Dodgers should have their own wine produced by a true Dodger fan. Thus were born the Qupé Dodger Syrah (2013 vintage) and Chardonnay (2014). They were released on March 1 with a price tag of $24 a bottle. The labels feature the Dodgers script on a blue background, with the Qupé poppy in the red color of the uniform numbers. "Getting the rights [to use the Dodgers brand] was costly," Lindquist said.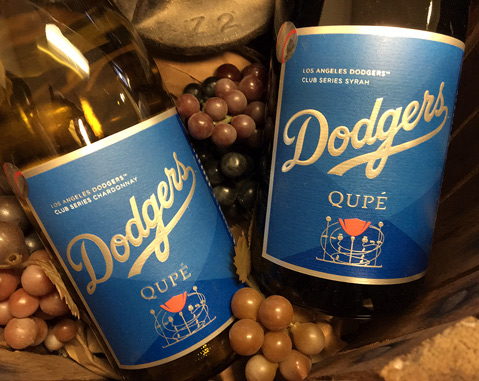 With 1,100 cases of each produced, the wines will be showing up at Southern California grocery stores and wine shops. Don't expect any "bottle-head" giveaways at Dodger Stadium. "They'll have it for the people who spend money at the Stadium Club and suites," Lindquist said.
He is pleased with the way the wines have turned out. "I don't make big, heavy wines," he said. "I try to make them elegant — like the way [L.A. first baseman] Adrian Gonzalez plays."
He'll be serving the wines at a dinner with a dozen fans in Scottsdale, Arizona, on March 15 after the Dodgers play the Chicago White Sox in a spring-training game. "I've invited [White Sox manager] Robin Ventura," Lindquist said. "He's a good friend who lives in Arroyo Grande. I'm hoping he can bring Dave Roberts along."
Roberts is the new Dodgers manager. He and Ventura were L.A. teammates for a time in 2004, Ventura's last year as a player. Roberts finished that year in Boston. He stole a base in the American League Championships that triggered the Red Sox's historic comeback against the Yankees. It was a move that signified Roberts's reputation as a leader.
"I like Roberts a lot," Lindquist said. "I'm always optimistic at this time of year. [The Dodgers] have a balanced lineup. I'm looking for Joc Pederson and Corey Seager to become more consistent at the plate. I want to see Clayton Kershaw continue pitching well and Scott Kazmir get back to his old form. I'd like to see Hyun-jin Ryu get healthy."
But Lindquist is not sure how much of it he'll manage to see unless he attends the games. He subscribes to DirecTV, one of the major providers (including Cox Cable in Santa Barbara) that do not carry Time Warner Cable's SportsNet L.A., which televises most Dodger games, because of a prolonged impasse over the money involved.
When a story about the Qupé wines appeared on the Dodgers' website, a fan wrote in the comments section: "If I buy a bottle will I be able to see a game on TV?"
S.B. Athletic Round Table Athletes of the Week
JM Cage and Ben Clay, Santa Barbara High basketball
Both seniors posted double-doubles in the CIF Southern Section 2A basketball championship game, leading the Dons to a 75-65 victory over Lynwood. Cage scored 15 points and pulled down 15 rebounds. Clay had 16 points and 12 rebounds. The Dons head into the State Regionals with a 31-1 record.
Aysia Shellmire, Westmont College
The junior forward produced a big double-double (25 points, 13 rebounds) in a 72-58 victory over Hope International that sent the No. 2 nationally-ranked Warrior women (27-3) into the Golden State Athletic Conference championship game.