News
Changes Afoot for Bus Service
MTD Holds Meetings, Announces Alternate Transportation Award for UCSB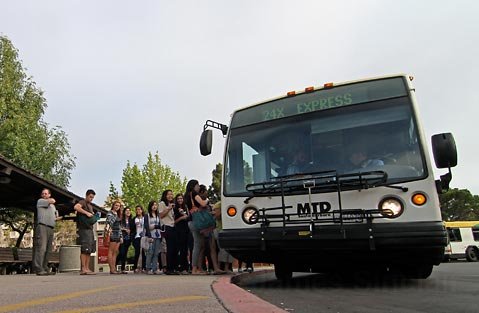 Changes to the bus lines between Santa Barbara, Goleta, and Carpinteria are afoot, and MTD will be holding public meetings this coming week to hear from its riders. MTD's current changes include consolidation of Line 7 in Goleta with Lines 8 and 9 to run through Old Town, across the Fairview Bridge, along Calle Real and La Cumbre to the Transit Center downtown. Lines 6, 11, 23, and 25 will mingle their service areas.
A meeting to gain public comment on the anticipated rerouting takes place in Isla Vista on Tuesday, April 5, at 6 p.m. in the I.V. Theater (960 Embarcadero del Norte). Two meetings will be in Santa Barbara, on Wednesday and Thursday, April 6-7: The downtown library's Faulkner Gallery hosts on Wednesday (40 E. Anapamu St.), and the Metropolitan Transit District Administrative Offices at 505 Olive Street host on Thursday. Both meet at 6 p.m.
A new Line 28 for service between UCSB, I.V., and Camino Real Marketplace starts in August 2016 for the anticipated need from the San Joaquin residences. UCSB students comprise nearly 15 percent of MTD's ridership, and the bus company announced Friday that UCSB had won a Best Practices award from the California Higher Education Sustainability Conference for its collaborations with the bus company. The recognition spotlights the university's efforts to increase bus ridership and reduce carbon emissions. Changes to Lines 12x and 24x last year prompted the award, as well as the work to add Line 28.
MTD, which counted 7.5 million rides last year, holds its last meeting on bus service changes next Thursday, April 14, 6 p.m., at the Goleta Valley Community Center. More information is available at sbmtd.gov, or by calling (805) 963-3364, en inglés y español.