Make Myself at Home
Make Myself at Home: Hacienda Andaluz
Meticulously Restored 1920s Adobe Estate in Montecito Evokes a Bygone Era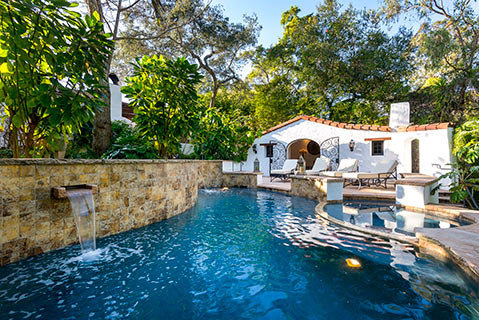 Address: 470 Hot Springs Road, Montecito
Status: On the market
Price: $5,450,000
Springtime in Santa Barbara means the sight and scent of roses blooming all around town, this weekend's Earth Day celebration kicking off the festival season, and — just in case you think your ears are playing tricks on you — it also means the start of Old Spanish Days. I kid you not. This Saturday, April 16, at noon, a squadron of hopeful young dancers will audition at La Cumbre Junior High School for the coveted roles of Spirit and Junior Spirit of Fiesta 2016, bringing the historic era of Old Spanish Days to life upon the stage (visit oldspanishdays-fiesta.org for tickets). So if you hear the sounds of flamenco music mixed with the scent of roses, that's the reason.
When I visited Hacienda Andaluz last week, a lovingly restored adobe estate at 470 Hot Springs Road, I found the beauty and romance of the same bygone era. This home and its grounds are patterned after Casa de la Guerra, arguably Santa Barbara's most famous residence, home to Don José de la Guerra and family in the mid 1800s. The Spanish Colonial Revival style is evident at a glance both inside and outside the hacienda, from its double-barreled mission red-tiled roof to its terraces and walkways, the eucalyptus vigas in the ceilings, and the Saltillo tile floors. It's most distinctive architectural feature, and very typical of this period, is the central interior courtyard, onto which the living room, family room, dining room, kitchen, and one of the bedrooms all open.
The real magic of this lovely home, however, is in the authenticity of its details. The house was carefully remodeled in 2009, with area designers and artisans enlisted to refurbish and re-create custom light fixtures, cabinetry, paint, and wrought iron throughout the property. I found myself opening more than one of the windows just to marvel at how well the old-world hardware functions. Perfectly patterned after the original, but smooth and seamlessly operating, these touches have obviously been wrought by hand because they literally don't make 'em like they used to.
In addition to its three bedrooms and three baths downstairs, the main house has an elegant master bedroom suite upstairs, with a bookshelf-lined sitting area, a small office, a sundeck overlooking the backyard, and a sumptuous master bathroom with a huge walk-in closet, and a gorgeous sunken tub with a remote-controlled fireplace in the corner.
As stunning as the main house is, the garden and grounds are what really stole my heart. The lot is not huge, at less than three-quarters of an acre, but across the lawn, down a staircase, and over a bridge lies a beautifully landscaped secret garden area. A separate cabana house faces the sparkling pool and spa, which are bordered by a wall with fountains and greenery, sitting just low enough from the main house to be in a world of their own.
Walking back through the house for one last look at the central courtyard with its trees, fountains, fireplace, and bar for entertaining, this home struck me as someplace one could live in happily ever after and never have to leave. Its timeless fairy-tale quality makes it easy to conjure up visions from the past, complete with the scent of roses and a flamenco soundtrack.
470 Hot Springs Road is currently for sale in Montecito, listed by Nancy Kogevinas and Thomas Schultheis of Berkshire Hathaway Luxury Collection. Reach Nancy at (805) 450-6233 or Thomas at (805) 729-2802.