Voices
Caucus for UCSB for Bernie Sanders
Democratic Caucus Gathers Sunday at Trinity
UCSB for Bernie Sanders formally announces it will be running three students and one professor for the 24th Congressional District's elected delegate positions pledged to Bernie Sanders in the Democratic Party. This is a chance for Bernie Sanders's supporters to have their voices directly heard by the California Democratic Party. We are calling out to the community to come caucus on Sunday, May 1, at Trinity Episcopal Church, 1500 State Street in downtown Santa Barbara from 1-3 p.m.
How does the democratic delegate selection process work? The rules vary state by state and sometimes by congressional district. The Democratic Party is not a government agency. For lack of a better description, the Democratic Party is an elite group of party officials who have maintained the organization of their private club. Bernie Sanders and his political revolution are the group challenging the system in 2016. If you are upset that the United States government does not do everything it can to make sure that your vote matters, then it is time to show them.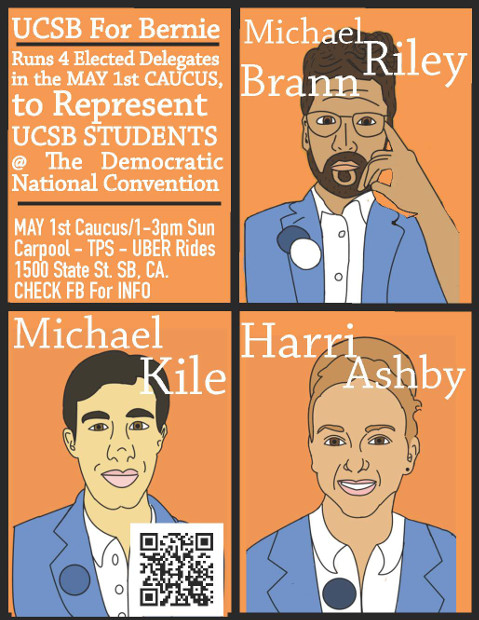 This is how the delegate selection process works in California and what it means for the 24th: Harri Ashby, Michael Kile, professor Bob Samuels, and I are running to be elected delegates pledged for Bernie Sanders in the 24th. California-wide, 475 elected delegates will either be allocated to Bernie Sanders or Hillary Clinton based on the popular vote that takes place June 7 in the presidential primary. Our district, the 24th Congressional District, allocates six of the 475 elected delegates: three females and three males, plus one alternative male. UCSB for Bernie Sanders is running one female and three males total. The May 1 caucus is to vote for the "seeds" of these positions in our congressional district. Caucus goers will vote for each of the six spots, so, each voter gets six votes. This means that at the caucus, people can vote for the four UCSB for Bernie Sanders delegates and two more people, if they so choose.
At the caucus we want to completely and utterly flood the system with UCSB students, millennials, Bernie supporters, and people from all facets of our community who want to demonstrate to establishment politics that we are not satisfied with the current system and will not halt our efforts until we are heard. All around the country, millennials, Bernie supporters, and activists are taking to elected positions to show their support for Bernie and his political revolution. Erin Schrode is a 24 year old woman, recent college graduate, and environmental activist who is running to be the elected congressmember for the 2nd District of California. John Fetterman has become vehemently disgusted with the political framework of his home state, Pennsylvania, which has yielded high levels of income inequality. From the East Coast to the Best Coast, people all over our nation are beginning to stand up to the stigma of being nontraditional politicians and have their voices heard. It is time for UCSB to follow in step and ensure the security of our democracy. By garnering the support of 500 Democratically voting UCSB students and other Bernie supporters in the May 1 caucus, we will make a point loud and clear to the Democratic Party and establishment politics, that we can and do contribute to ensuring democracy in our country.
UCSB for Bernie Sanders wants to go to the Democratic National Convention (DNC) in July to show the Democratic Party all of our communities' involvement with politics in and around campus. We want to sit in front of other elected delegates and super delegates and tell them how we have already registered over 2,500 people to vote. We want to tell them that we have been working collaboratively with other groups on campus to register students and community members in the Santa Barbara, Goleta, and Isla Vista communities. We want to announce to the DNC that Isla Vista Voter Registration has plans to register 15,000 people before the November elections. We want to tell them the results of our Latino Outreach Program, which we have been working on with the local communities. As Elected Delegates, we want to tell the Democratic National Convention in July that students, millennials, and youths are more than willing to be involved in politics.