Positively State Street
Cinco de Mayo Brings Free Shows, Tasting-Room Concerts
The Movement, Travis Meadows, and Rent Party Blues Band Play Tonight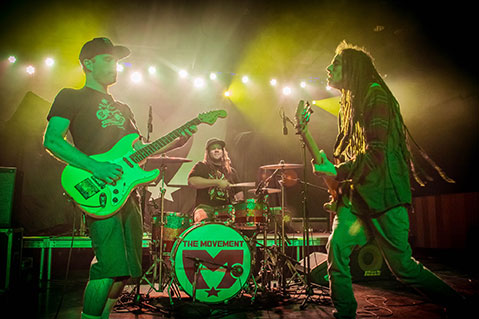 FIVE ALIVE: Today, Thursday, May 5, is Cinco de Mayo, a day in which we commemorate Mexico's victory over France at the Battle of Puebla. As we fold ourselves into the uncertainty of another century ahead, I can't help but ponder why it is we continue to mark one set of relatives' conquest over another's, and remember rivalries and wars no longer being fought. For how long will we credit our existence as the outcome of an ancient argument? For how long will we celebrate these tidal shifts in national fortunes, when so many successive tides since have reshaped the truth, and will do so yet again?
But there is a reason for it, in that we mark the struggles we had to endure in order to produce the life and circumstances that have taken us to today. It's a reminder how a culture as rich, deep, vital, and powerful as Mexico's and Mexican-Americans', like any enduring culture, needs to fend for itself against continual challenges to its existence — not exactly an unchanged scenario, really, given the threats of certain American figureheads. Even if the fighters change, there are battles of national identity still going on. And who am I kidding? There will still be, long after our drinking water supply runs out.
What does all this have to do with music? Quite a bit — music being often the victory cry of survivors and interpreters of pain and challenging circumstance. Take Mississippi-born, Nashville-based Travis Meadows, for example, who plays tonight at Standing Sun Winery in Buellton (92 Second St., Unit D, at 7:30 p.m.). The man has had a rough lot in life, from losing his brother at an early age to a bone marrow cancer diagnosis at age 14 to a multiyear struggle with drug and alcohol addiction. He lives on in song and has found triumph in his music despite major obstacles and losses. Hear his stirring country songs, and taste some nice wines, always a good drink for brooding or mulling over the life you've shouldered, while celebrating the times you've, somehow, still pulled through.
Taking a peppier path with a genre known for these themes is the Rent Party Blues Band, who play tonight at Blind Tiger (409 State St., at 9 p.m.). The area bluesmen, who at the start of this year won big applause and lauds at the International Blues Challenge, have raised heart tempos and eyebrows alike with their bumping brand of blues. With it being a special Cinco de Mayo show, they are sure to honor the lively spirit of the celebrated day.
At Velvet Jones (423 State St., at 8:30 p.m.), reggae fusion is on the dock with a free show by The Movement, King Zero, and Iya Terra. Reggae and all its descendent musical genres, of course, are also music for triumph and celebrating the hard-won good times, and this free show will make for an excellent way to spend this fifth day of May. The Movement, coming from South Carolina, have worked with such kings of chill as G Love and like to blend their reggae-inspired sound with Southern rock elements, such as harmonica and wah guitar. And, of course, we've got King Zero, the S.B. band famed for its uplifting and high-energy shows.
TECHNOLOGIC: Tomorrow, Friday, May 6, will be here soon. If you find yourself fresh off the work week with the need to dance, head on up to Elings Park, where the Santa Barbara Electronic Music Festival will bring Party Thieves, Bling, Future Relic, Bix King, and DJ Burd to town. The entire mesa park will become a new moonlit dance floor.