New Push for Change in Steelhead Water Releases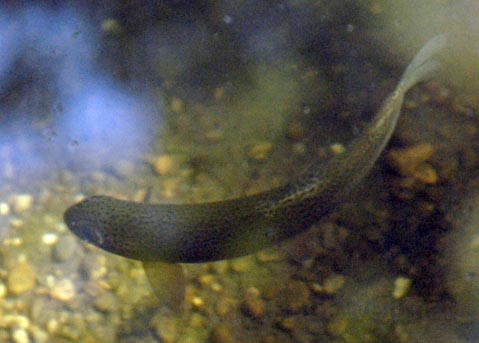 Some members of the Cachuma Operations and Maintenance Board (COMB) are pushing to change how much water in the dam is released to preserve habitat for endangered steelhead trout and where those releases take place. Without these changes — which would have to be approved by the Bureau of Reclamation of National Marine Fisheries Services — they contend the account holding water set aside for steelhead release will go dry this summer.
Currently, 3.3 acre-feet of water is released daily for steelhead restoration efforts. Of that, 2.1 acre-feet goes into the stilling basin below the dam and then down the main stem of the Santa Ynez River. Because there are predatory fish in the stilling basin that eat steelhead fry, they argue this effort is fundamentally flawed. Instead, they seeking permission to release the steelhead water down Hilton Creek, which currently gets 1.1 acre-feet a day. Hilton Creek, they contend, is far more hospitable to juvenile steelhead. By eliminating flows to the main stem, they say the Hilton Creek releases can be extended longer with better effect for the steelhead.