Living
Tooling Around in the Garden
Must-Haves for Your Backyard Needs
Although those colorful, spongy gardening clogs may come and go, it seems that some gardening tools and accessories will always remain essential. I can't live without my rakes, shovels, and stretchy green nursery tape, but an owl box up in the oaks or a toad house in a garden bed make me smile on the days when the weeds and the aphids are winning. Here are some more things that I may need.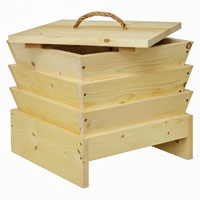 WORM BOX: You get a rectangular, wooden, or plastic box. In goes some worms, shredded newspaper, coffee grounds, and other green kitchen waste. Out comes worm castings, or rather worm poop — the richest, organic compost ever to grace your garden beds. Island Seed & Feed (islandseed.com) will build you one or give you the plans to build your own.

DIGGING FORK: Yeah, it's old-school, but every gardener needs one hanging in their potting shed. It's used for dividing and digging up plants and breaking up clods of soil. Matt Buckmaster, owner of Island Seed & Feed in Goleta, was heard to say, "How to wax poetic about a digging fork? Island Seed & Feed likes to promote quality tools — and this one, made right down the road in Los Angeles, meets those kinds of specs."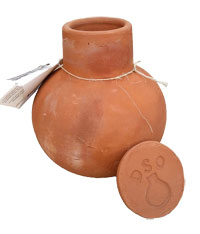 OLLAS: Pronounced "oy-yahs," these bottle-shaped, unglazed terra-cotta pots are buried up to their necks in the ground near your shrubs, flowers, veggies, or trees and then filled with water. The seeping moisture slowly irrigates your plants with little evaporation or waste. In 2014, Ricky Escalera and his wife, Danielle, found out about ollas and wanted to use them at their farm but were unable to purchase any in Santa Barbara. "So we started our own business, Sustainable Living Solutions, to provide and teach our community about saving water by using the ancient ollas in their gardens and container plants," Ricky told me. It may be an ancient irrigation technology, but they're so cool lookin', I haven't had the heart to bury mine.
FELCO HAND PRUNERS: The last word in professional hand pruners, these babies come in different models to fit all types of hands. There's a pair for small hands, "leftie" hands, and regular hands. Ask any gardener what he's packin' in his holster, and I bet he points to his Felco #2's. The blade can be hand sharpened or easily replaced with a new one.
DRAMM WATER GUN: During a drought, crimping the hose or watering with your finger over the end of it is never politically correct — especially when there are so many types of hose nozzles available. But all are not created equal. Billy Dole, manager of 7 Day Nursery (7daynursery.com), told me, "The Dramm Water Gun is a well-built unit that provides a diverse choice for watering, whether it be a mist, shower, or full jet spray." Clearly, it's not your grandmother's nozzle.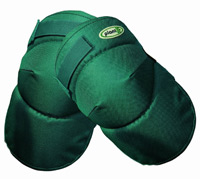 KNEE PADS: Garden kneelers are those foamy padded things that you put on the ground and kneel on while you're gardening. They used to be made of soft foam, but now they're available in a deluxe gel type. I tried tying one to each knee, but they didn't stay on.
THE NEW SUNSET WESTERN GARDEN BOOK: This is the gardener's bible — and the only gardening book you'll ever need. Well, sort of. The newest edition finally has photographs instead of those squiggly, nondescript drawings. I always keep one in my house and one in my truck.