News
'Are You a "Cho-Mo"?'
Getting Sorted in Early Days
MAY 17, 2016: The first days on the floor are a huge transition. One is not only confronted by a completely different culture, but there is an urgency to adapt to that culture, a not-too-subtle sense that one's safety is dependent on it.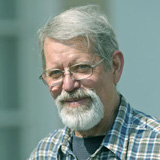 As I walked onto the floor that first night, it took only a minute or two before I was approached by three white men. The very first words out of their mouths, "Are you a Cho-Mo?" I know from prior experience that they were asking if I was here because I was a child molester. "No" I replied. "Then why are you here?" I explained that I had been given four months for violating my probation, and they wanted to know the original charge. I explained that I was charged with trespassing on a military base. They seemed convinced and kindly pointed out the designation for the seven meal tables in the common area: one for the Cho-Mos, one for the whites, the rest divided between the blacks and the Latinos. They also brought me a pair of shorts and a T-shirt (so that I could get out of my white jumpsuit) and a bar of soap and a radio with dead batteries. It would be another day before I would get my clothes and another week before I could buy supplies from commissary.
Since I had arrived on the floor at about seven o'clock at night, I was assigned a bunk in the only cell that had one available. My cellmate was a "south-sider" (Latino). This presented the opportunity for all of his companions to stop by the cell, one at a time, and inform me of how I could expect to be treated after lockdown at 8:30. I had no fear that what they were suggesting might come to pass; I was sure they were having a good laugh at my expense. But I felt exceedingly awkward not having the tools to respond in a way they would respect or understand.
I tossed and turned in the upper bunk that night and was grateful when, at five the following morning, I heard the bolt turn on my cell door, and we were released to the common area to have breakfast and start our day. I was sure to sit at the correct table.
Breakfast has been the same every morning since I arrived: one of those individual plastic containers of Malt-O-Meal bran flakes topped by a piece of dense oily cornbread, and a clear plastic pouch of milk. A white plastic "spork" is included for convenience. My white reception party from the night before stopped by to say they had heard about the taunts the night before, and not to worry, they would get me moved into a white cell as soon as possible.
The entire floor is painted gray, the walls, the pillars, the showers. The trim is painted a darker shade of gray. No surprise … my mood is about the same color.
Dennis Apel is serving four months in the federal Metropolitan Detention Center in Los Angeles, having been found guilty of crossing the "green line" during peaceful protest at Vandenberg Air Force Base, and then refusing to comply with supervised probation.