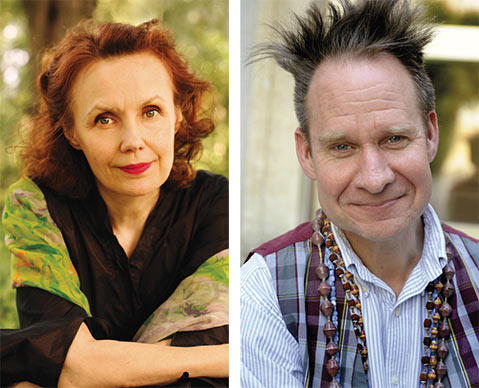 In an era of increasing eclecticism spawned by the endless musical choices now offered through YouTube and streaming services, the Ojai Music Festival continues to stand apart not only for its pioneering efforts on behalf of new music and its spirit of relentless innovation but also for its openness to international currents and non-Western traditions. Founded an astonishing 70 years ago, the festival provided an early platform for some of the greatest artists in the history of 20th-century music: Igor Stravinsky perhaps most famously, along with John Cage, Pierre Boulez, Luciano Berio, and Eric Dolphy. In recent years, under the directorship of Thomas W. Morris, the programming has remained daring and diverse without ever succumbing to the siren call of an overly scripted thematic approach. Part of its appeal unquestionably lies in the aura of magic that surrounds its primarily outdoor locations. The beautiful and recently renovated Libbey Bowl provides an ideal atmosphere for audiences seeking to experience the outer limits of contemporary music.
For the festival's 70th anniversary, Morris has named Peter Sellars as music director, an entirely appropriate choice given Sellars's status as the greatest proponent of adventurous presentations of music both new and old in this generation. From his early productions, as a Harvard undergrad, of Wagner's Ring Cycle (done with puppets) and Shakespeare's Antony and Cleopatra (performed in the Adams House swimming pool) to his recent work directing Desdemona, Toni Morrison's play based on Othello, Sellars has never stopped growing as an artist, learning from other cultures, or challenging audiences to reimagine the theatrical experience.
Speaking with Sellars by phone last week, I was buoyed by his effervescent enthusiasm and captivated by his remarkable command of a wide range of musical genres and traditions. The conversation began with Sellars praising the work of this festival's main featured composer, Kaija Saariaho. The two have worked together many times in the past, but this will be the first visit to Ojai for Saariaho. On opening day, Thursday, June 9, the evening performance is La passion de Simone, a chamber version of Saariaho's opera about the life of French philosopher and mystic Simone Weil. Soprano Julia Bullock stars as Weil and will be joined by the vocal ensemble Roomful of Teeth and ICE, the International Contemporary Ensemble. "The Weil material is charged" Sellars said, adding that Bullock, who will also be appearing as Josephine Baker in a late-night performance on Saturday written by Tyshawn Sorey, intends to explore the lives of people like Weil and Baker who, albeit in very different ways, were "changing the world with their bodies." Saariaho's music takes center stage again on Friday-Saturday, June 10-11, at 1 p.m. at the Libbey Bowl, where a variety of musicians will perform in two programs of her chamber music. Saturday's midday concert begins with her celebrated composition Nymphéa for string quartet and electronics with the Calder Quartet and Jean-Baptiste Barrière.
Friday night's twilight concert features Dina El Wedidi and Band performing a program called The Sounds of Tahrir Square, Cairo. Sellars met El Wedidi two years ago, and he has been haunted ever since by both her music and the historical circumstances that have conditioned Egypt's experience of the Arab Spring. "Some things are going to have to wait," Sellars said in regard to the military crackdowns that followed the revolutionary demonstrations of 2011 and 2013 in Cairo and elsewhere, "and music, especially the music of Dina El Wedidi, talks to people and helps them internalize their experience while they wait."
As a way of acknowledging the spiritual traditions present in the Ojai Valley beginning with the Chumash and extending through the arrival and teachings of Jiddu Krishnamurti, Sellars has also invited Aruna Sairam and her ensemble to perform on Saturday evening. "We are on a long arc that goes way past this week's headlines," Sellars proclaimed of the festival's ritual intent, and "Krishna needed the insight and transcendence that only South India's Carnatic music could provide." On Sunday morning, the Youth Orchestra Los Angeles (YOLA) arrives to participate in a free family concert that is also a world premiere for composer/conductor Tania León. It's all part of Sellars's plan to open the festival to new audiences, a strategy that will culminate in a free street party concert on Main Street in nearby Santa Paula.
Before that, however, the musicians of ICE, Roomful of Teeth, and conductor Eric Dudley will wind up the proceedings in the Libbey Bowl with what is perhaps the most exotic item in an extraordinarily diverse four days of music. Kopernikus is an opera by the Canadian composer Claude Vivier that includes Mozart among its characters and that will surely astonish the faithful with its concentration, clarity, and scope. Sellars praises Vivier for his devotion to disclosing "secret voices" and "universes of hidden love" in this rarely performed piece. While these highlights merely scratch the surface of what's on offer this year, hopefully they have excited your curiosity and whetted your appetite for the region's premier festival of contemporary music.
4·1·1
The Ojai Music Festival runs Thursday-Sunday, June 9-12, in and around the Libbey Bowl. For tickets and information, visit ojaifestival.org or call (805) 646-2053.